Meghan Markle Keeps Wearing Her Wedding Gift From Prince Charles & You Haven't Even Noticed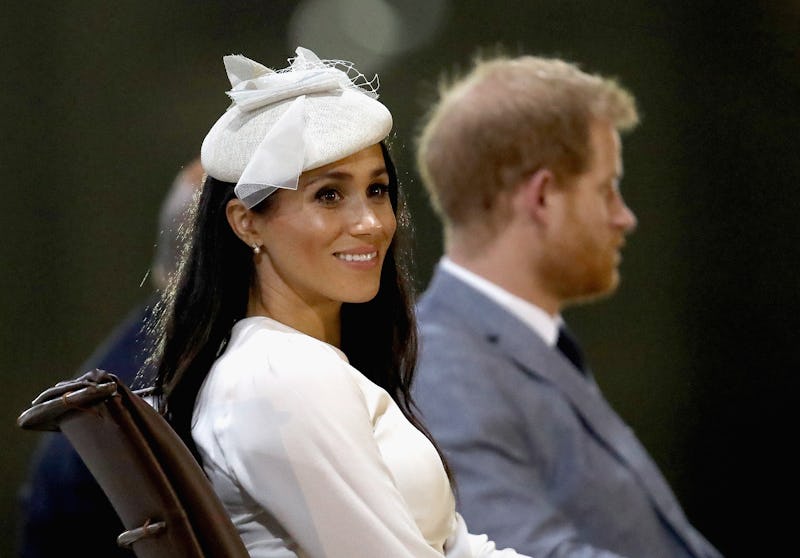 Chris Jackson/Getty Images Entertainment/Getty Images
Unless you've been living under a royalty free rock, you probably know that Meghan Markle and Prince Harry are on a royal tour in Australia. The trip has brought style lovers some serious heavy hitters from the duchess, but Meghan Markle's tennis bracelet may just be the big star of the trip. No, it' not because it's jam packed with diamonds (but that doesn't hurt). It's because the bracelet was actually a wedding gift from her father-in-law Prince Charles, and Markle's been wearing it in plain site with no one being the wiser.
According to Cosmopolitan, royal report Emily Andrews confirmed that the the tennis bracelet was a gift from Prince Charles, and most recently, Markle was seen wearing the demure but surely very costly piece during her arrival in Fiji. From far away, the bracelet looks simple, but consider that it's filled with diamonds, it's most certainly not. Talk about getting the father-in-law of the year award, right?
The magazine goes on to explain that not only did Markle wear the bracelet upon her Fijian arrival, but she's worn it to numerous events throughout her time as the duchess. Not only was the gift a sweet gesture from Prince Charles, but Markle clearly loves it.
Perhaps one of the sweetest moments was when Markle wore the bracelet to Prince Charles' 70th birthday event. While people didn't know at the time, it was a sweet gesture for Markle to wear the bracelet.
Of course, Markle's tennis bracelet from Prince Charles is far from being the only meaningful piece of jewelry she's wore as the Duchess of Sussex. In fact, she pays homage to the royal family often thanks to her jewelry decisions.
Other than wearing the tennis bracelet from Prince Charles, Markle recently wore a piece from Prince Harry's late mother's, Princess Diana's, personal collection. While greeting people in Australia, Markle chose a pair of butterfly earrings that Princess Diana herself wore.
Paying homage to Princess Diana isn't exactly new to Markle, though. She's done in it in the past and still with her jewelry choices. The most obvious piece of Princess Diana's that Markle has worn may be the gorgeous aquarmarine cocktail ring from the late princess's collection that the duchess wore to her wedding reception. While Markle's reception look was minimalist and sexy, the ring was statement piece that certainly stood out against her white Stella McCartney gown.
Of course, it's hard to forget about Markle's engagement ring. While not totally her choice, her engagement ring features a subtle homage to Princess Diana as well. Two of the diamonds in the ring are from a brooch in her personal collection.
Meghan Markle's tennis bracelet from Prince Charles may be the newest addition (or at least the latest discovery) to her family-inspired jewelry choices, but it's far from the only one. Markle seems to pay homage to the royal family, particularly Prince Harry's parents, quite often, and it's just another reason why she and her husband are one of the most watched couples on the internet.