Meghan Markle Is Apparently Wearing Disguises & Who Can Blame Her?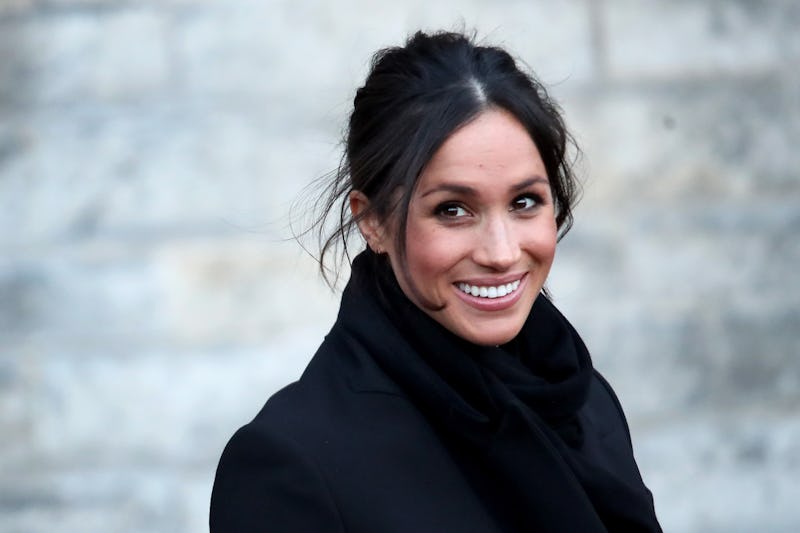 Chris Jackson/Getty Images Entertainment/Getty Images
It seems like just yesterday that Prince Harry and Meghan Markle got engaged. (In reality, the official announcement came in November.) But it looks like the Suits star is already getting used to the intense scrutiny that comes with being connected to the royal family. Apparently, Markle is already resorting to disguises so that she can get around London without being recognized.
As part of E! News' "Countdown to the Royal Wedding" list, published Wednesday, sources told the outlet about the disguises the former Suits star has apparently started using in her quest for a bit of privacy in London.
"Kate can be spotted almost every day if people looked for her. But Meghan and Harry have taken their privacy to a whole new level," an unnamed source told E! News. "They swap cars all the time, Meghan's been using different disguises, hats. They're being extremely clever so they can go in and out without being seen. They are taking a completely different approach than William and Kate."
And while resorting to disguises while coming and going from Kensington Palace might seem a bit extreme, it also seems to be working. It's unclear exactly what the disguises are besides hats, but the outlet points out that there aren't many photographs of Markle taken during personal activities, as opposed to the public appearances she and Prince Harry make together.
Disguises aren't unheard of the royal family. One journalist pointed out to E! News that Princess Diana was known to wear wigs to disguise herself back in the day. Fans of the 2013 movie Diana will remember Naomi Watts in character as the late princess, wearing a wig to avoid being recognized on a night out. (Diana didn't fare well with critics, earning just an 8 percent rating on Rotten Tomatoes' Tomatometer. But according to a soure who spoke with E!, that detail might be accurate.)
And even though Prince William and Kate Middleton aren't always going to the same levels of disguise strategy, they've sought privacy during personal outings, too. Back in 2012, fans saw the couple dressed down in jeans and a baseball cap, sneaking into a screening of The Avengers. The royal couple was also spotted in a similarly casual ensemble at London's King's Cross train station in 2014. Plus, Prince Harry himself has also been seen pulling off the baseball hat trick: He was spotted in a baseball cap and carrying a duffel bag while visiting Markle's former home in Toronto last spring.
But while Markle may have a new hometown, she hasn't changed who she is or stopped living her own life. According to E! News, Markle has been spotted shopping in London and has visited an A-list facialist in the city. It's understandable that she'd want to be able to go out on her own without being recognized, though — being a celebrity you're always in the spotlight, which can be exhausting for anyone. (Remember when Beyoncé and Blue Ivy Carter were seen at a Target store in California last year?) And while she was already a TV star before dating Prince Harry, Markle's life has been subject to a much higher level of scrutiny ever since the engagement was announced.
With the royal wedding on the horizon, things probably aren't going to slow down for Markle anytime soon. But it sounds like she's found a way to still enjoy her new city without being immediately spotted every time she walks out the door. And if you happen to be in London, keep an eye out for unique hats — you never know if you'll spot Markle out and about.