Clues About What To Expect At The Royal Wedding, Based On Meghan Markle's Old Instagrams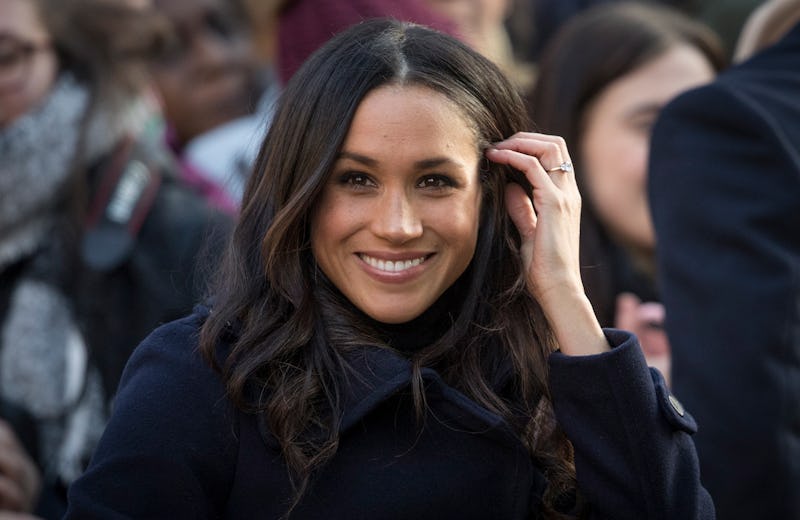 Christopher Furlong/Getty Images Entertainment/Getty Images
When it comes to the details about Meghan Markle and Prince Harry's wedding, fans know the when and where, but not too much else. If you can't wait to find out more info, then go ahead and deep dive for clues about the royal wedding on Meghan Markle's Instagram. Sure, you may not find anything definitive, but, hey, it's a start.
Unlike many other brides-to-be, Markle has not been updating her social media accounts with any pictures of her plans for friends to like and follow. Your best friend from college can post her ideas for that perfect centerpiece for their beach-side wedding on her Pinterest page, and your cousin can share a sneak preview of his corsage on Twitter, but the royal family (and soon to be royal family members) aren't into personal social media accounts. As such, Markle has not updated her Instagram since April 2017 — not even to post the near-obligatory engagement picture.
Still, the photos that remain on Markle's Instagram do reveal quite a bit about the American former television actor. You might not be able to definitely discern her guest list, the cut of her dress, or the menu for the hor d'oeuvres being served, but you might get in a few solid guesses.
1. Canadian Prime Minister Justin Trudeau May Be There
We all know about Prince Harry's friendship with Barack Obama, but the 44th president might not be the only foreign world leader on the potential guest list. Markle met Trudeau while she was a counselor at a One Young World summit in Ottawa. They seem pretty friendly.
2. Markle Also Probably Won't Mind Extending An Invite To Hillary Clinton
She 'grammed her support for the 2016 presidential candidate during the Democratic National Convention.
3. There Might Be Other Big-Name Guests
After all, she's friends with celebs, like tennis superstar Serena Williams.
4. The Reception Will Likely Have Some Tasty Small Plates
During Markle's vast international travels, she loved taking pictures of the food. Particularly feasts made up of yummy small plates.
5. Maybe Some Dishes Will Be Of The Seafood Variety?
She's really into oysters.
6. She Probably Would Like A Helping Of Fruit With Her Wedding Cake
Markle loves posting picture of desserts with fresh fruit.
7. They Might Have A Banana Flavored Cake
There's also a rumor going around that Prince Harry loves the flavor of bananas, and that he might even want a banana-flavored cake. Markle might just be down for this, if the cute picture above is any indication.
8. She Won't Shy Away From Wearing White
Markle loves wearing white in pictures all over her Instagram. It seems unlikely she'll buck tradition and choose a colorful wedding dress.
9. Don't Be Surprised If Some Furry Friends Are Invited To The Reception
Markle loves her pups — and this one looks like he's happy to become a British citizen. Maybe the queen can bring some corgis for them to play with.
10. They Will Probably Choose A Warm Location For The Honeymoon
Markle has so many pictures in warm-weather locations that she was giving people Insta-envy even before she won a prince's heart.
11. Peonies Basically Have To Be Included In The Floral Arrangements
Markle posts about peonies a lot. In one 'gram, she wrote, "special thanks to Anna at my neighborhood flower shop for finding peonies for me because she knows how much I love them!!!"
Even arrangements that heavily feature other blooms seem to include at least a peony or two.
Seriously, she is passionate about peonies.
Peonies typically bloom in later spring and early summer, but gardeners connected to the British monarchy might be able to find some exquisite blooms by May 17.
Though it seems unlikely that Markle will pick up Instagram again in the months and weeks leading up to her wedding, fans are probably still going to hold out hope for a secret peony-heavy Pinterest page.