Here's The One Color Meghan Markle Always Wears — And What It Means About Her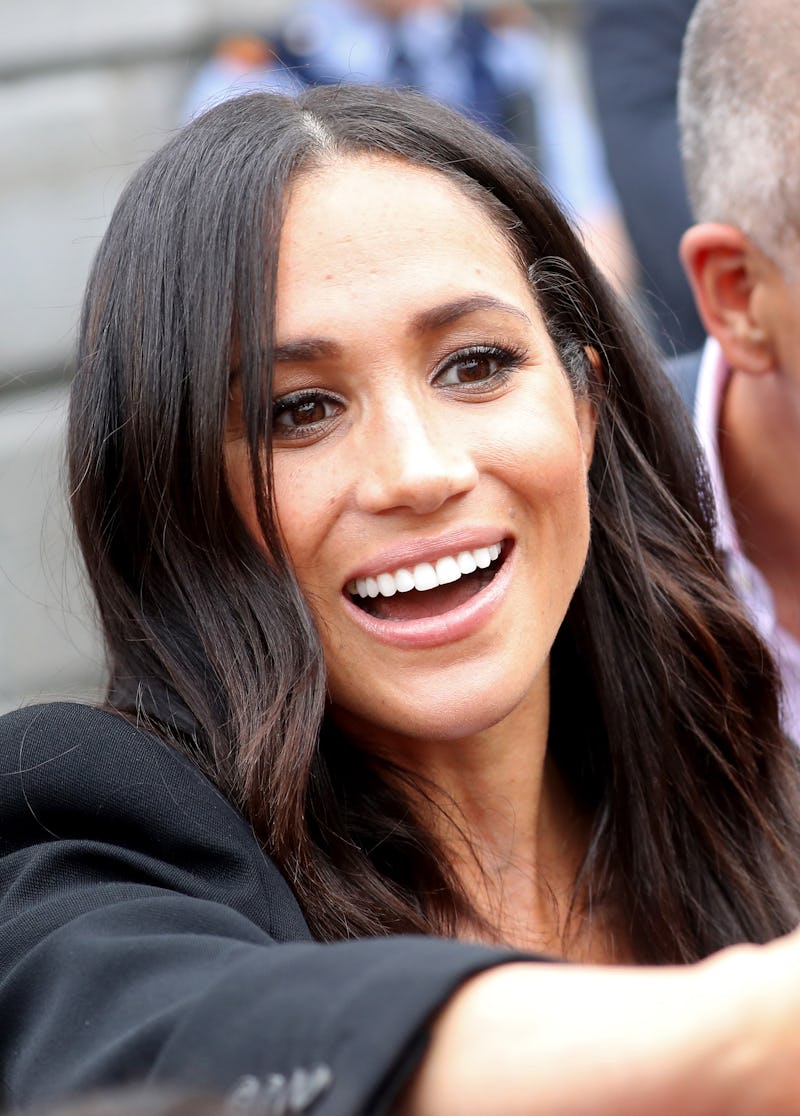 Chris Jackson/Getty Images Entertainment/Getty Images
Besides her talent for acting, Meghan Markle, as we've come to learn, has a gift for being the Duchess who breaks royal fashion protocols like its her 9 to 5. But despite her shortcomings as a "perfect" princess, Meghan Markle stays true to consistently wearing navy blue, a royally-approved color. If you haven't noticed her affinity for the hue yet, prepare to be shook.
In this house, we love a rebel — and Meghan Markle is no exception. Going against the grain by either immorally dressing her hair down in a messy low bun or "inappropriately" wearing her shoulders out on display, Meghan Markle is one of many iconic rule breakers who we can all admire. Not even the royal family can shake her strut.
Today, as she attended the Coach Core Awards, she tossed a few balls around (in heels, no less) and wore a chic navy blue belted wrap blouse with black pants to complete her royal ensemble. Despite having danced to the beat her own drum in regards to royal rules, she has managed to at least continue paying tribute to the importance of the color she wears so often.
While navy blue to the everyday person is probably a great color to complement a set of gold hoop earrings, navy blue is actually a color that has a long history with Britain. The color was often worn by officers in the British Royal Navy since 1748. Looks like she's taking her style inspo from old Britain.
As a result of the trendsetting naval Brits, many other navies from around the world incorporated it into their uniforms.
Once you notice how often Markle wears the cool toned color, you'll probably find that you won't be able to un-notice it. To be fair, most of us are not always immediately reaching for the deepest navy-colored outfit in our wardrobe (because black exists, duh), but I've never seen navy blue done up so well. And let's get real: Meghan rocks the hell out of it.
Considering Markle has no issue with breaking any of the other royal fashion rules, it's a wonder why she remains unfaltering with this one color so dark, it's basically been declared as the new black.
Although we love all the nude and black ensembles Markle puts together for public events, any chance she gets to wear color, like real color, it's something to note that works well with her glowy skin.
If you think I'm stretching the truth on Markle's obsession with wearing navy blue, let's just remind everyone that she was spotted wearing said shade of blue at the last three events to which she attended.
Early last week Markle wore a bright navy blue jacket over an all-black dress to host her first event at Kensington Palace, celebrating the launch of a cookbook. And even earlier in the month, she'd attended the "100 Days of Peace" concert in London wearing a dress with a similar bright shade of navy blue with shapely ruffles along the front of the dress. Not only is blue a color for British Naval officers, its beautiful and calming to look at—hence why you probably can't stand to be away from the beach.
It's also worth mentioning that blue is a symbol for trust, loyalty, wisdom and confidence, which, it's safe to say are all leadership traits that Markle embodies wholeheartedly.
Maybe navy blue is simply her style or maybe it could be that this new cooler weather has prompted this new all out blue obsession. What we do want to know is how she makes navy blue look that good.