Meghan Markle Wore A Pom Pom Dress & Now You're Going To Want To Do The Same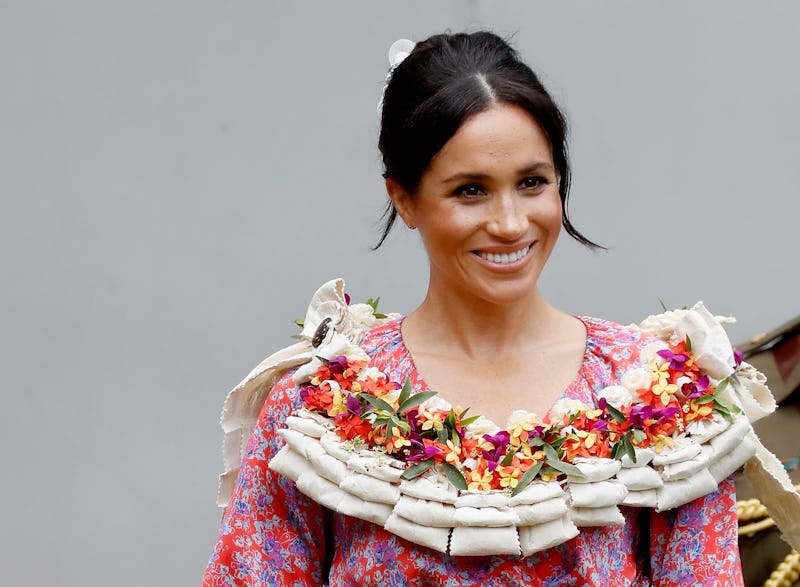 Chris Jackson/Getty Images Entertainment/Getty Images
Throughout her first royal tour, the Duchess of Sussex has been showing a new side to her sartorial life. Whether it's the hot and humid locations she's in or her personality finally getting the chance to shine through, the 37-year-old has been showing a distinctly relaxed and playful side. The latest royal appearance in Fiji brandished a fun new accessory. And duping Meghan Markle's pom pom dress is super easy, believe it or not.
To visit the University of the South Pacific and a women's market, Markle chose a pink printed wrap dress by a brand called Figue. Its pattern alone screamed "I want to have fun" and this high-spirited message was echoed by the pom pom belt wrapped around her waist. Interestingly, the £1,250 dress is said to have been inspired by a artist and revolutionary, Frida Kahlo. Shame about that price tag though.
The Duchess finished off the daytime look with a pair of black espadrille wedges by Castañer and a patterned clutch made by local women in Suva. If you hadn't already worked out that Markle was embracing a break from rigid royal style rules, it was clear in her hairstyle which was tied up and accessorised with white flowers. True holiday vibes.
Markle impressed the locals with her first royal tour speech which emphasised the need for female education. "Everyone should be afforded the opportunity to receive the education they want, but more importantly the education they have the right to receive. And for women and girls in developing countries, this is vital," she said. "When girls are given the right tools to succeed, they can create incredible futures, not only for themselves but for all of those around them."
She also impressed the fashion crowd who are now preparing to stick pom poms bought from their local art store all over their wardrobe. Or you could just buy some ready-made pom pom goodies. Here's a few.
Time to get crafty.