Meghan Markle Just Schooled All Of Us On How To Wear White To A Wedding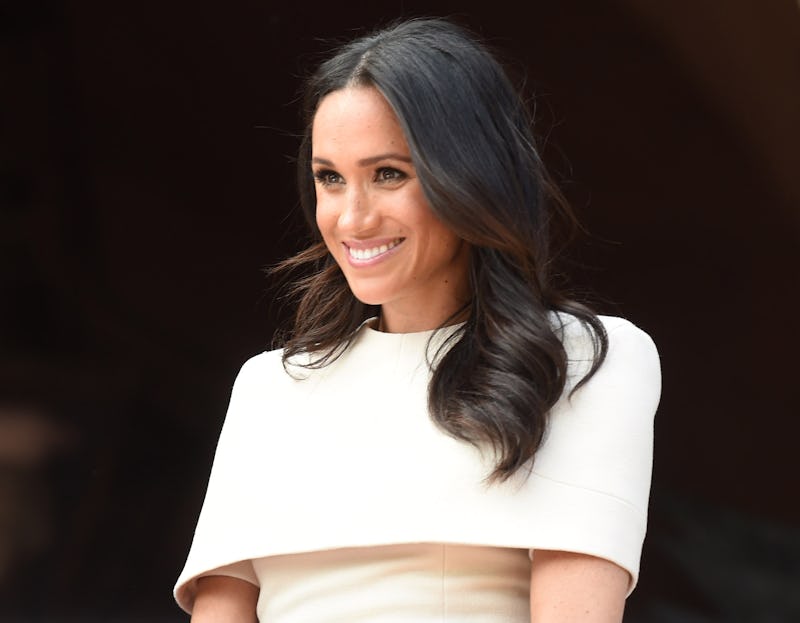 WPA Pool/Getty Images Entertainment/Getty Images
Another day, another major fashion moment for Meghan Markle that works the royal family-loving internet into a frenzy. When it comes to her wardrobe, the former actress can seriously do no wrong, even if it means making a huge fashion no-no. Bending the rules yet again, Meghan Markle wore white to someone else's wedding, and she looked darn good doing it.
Prince Harry's cousin, Celia McCorquodale, recently wed in Lincolnshire, England in the same tiara that her aunt Princess Diana wore at her own royal wedding in 1981. An iconic tribute to Princess Di, you'd expect that all eyes and cameras would be on the newlywed. But that's nearly impossible when you have a fan-favorite couple like the Duke and Duchess of Sussex in attendance. Always dressed in enviable garb, Meghan Markle once again stole the show, and this time she did it by wearing the same hue as the bride — gasp!
This is the same fashionista that doesn't always wear pantyhose when she's supposed to and steps out in off-the-shoulder tops that break royal fashion protocol, so it's not too surprising that Markle went against the grain. Still, it's a shocker that she nearly upstaged the bride in a beautiful, white number of her own.
Attending the summer nuptials in an Oscar de la Renta dress fit for the occasion, Markle was a vision in white. Opting for a loose-fitting gown whose airy fabric flowed with her every movement, Markle had a casual nature about herself. Yet, the wrapped and floor-length design of the dress, and Markle's accessorizing with a white, sculptural fascinator, kept things elegantly chic.
With a floral pattern design, the gown retailing for $5,490 wasn't entirely in competition with the bride's white dress. Those blue accents were the only thing that kept the Duchess from all the way wearing the traditional bridal hue.
Markle pulled her look together with a small, cream-colored clutch and matching pumps. But her greatest accessory of all wasn't even worn on her body. Her hubby, Prince Harry, was the ultimate compliment to her wedding ensemble. Accenting his morning coat with a blue tie, Prince Harry matched his wife's summery outfit, making for photos that were so couple goals.
If you've got the funds, you, too, could hit the scene in the Oscar de la Renta piece that Markle so effortlessly wore. Just don't expect to rock the garment during this year's wedding season like the Duchess. The long-sleeve cocktail dress is currently available for purchase, but isn't expected to ship out until between October 9, 2018 and March 14, 2019. That means you likely wouldn't be wearing the floral-printed masterpiece until next year's wedding season if you snag it for your wardrobe.
For now, you can totally copy the Duchess' royal look with similar styles that prove you can wear white to a wedding à la Meghan Markle without totally being taboo.
This wrapped maxi with ruffled short sleeves and a high-low hem is nearly a spot on match for Markle's garment. It does her style for much, much less, so it's a true winner.
This floral maxi gives the shoulders a little sun action, but still captures Markle's essence with blue floral embellishments.
Put a sultry spin on Markle's wedding style by opting for a floral number like this maxi that features a plunging halter neck and sheer fabric.
There's just no going wrong, no matter how you choose to imitate Markle's wedding garb. The trendsetting royal that has the gall to show up to someone else's ceremony fabulously wearing white deserves to have her style copied.