Meghan's Trooping The Colour Dress Broke Royal Protocol, But Does The Queen Care?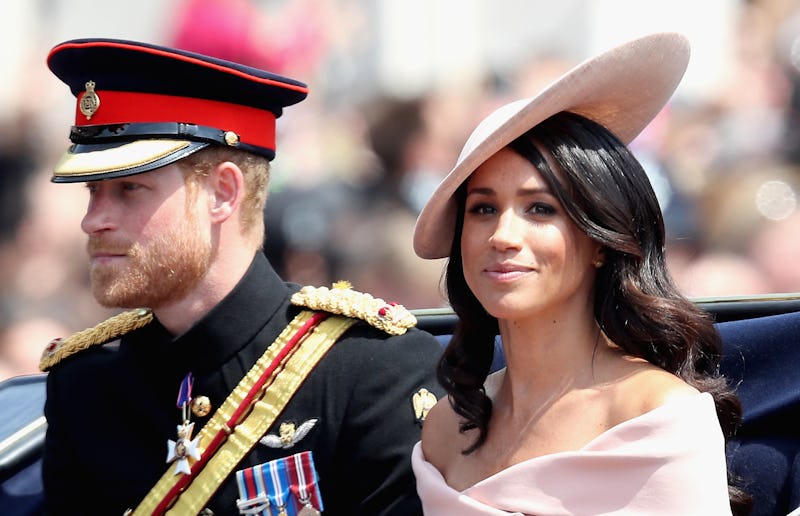 Chris Jackson/Getty Images News/Getty Images
As soon as one enters the royal family, it is expected that one will follow the rules. Along with a bunch of etiquette guidelines, royal women must stick to a long list of fashion regulations. But at Saturday's Trooping the Colour parade, it seems that Meghan Markle's dress broke royal protocol.
For her second official engagement, the newly married Markle chose a bespoke two-piece design by Carolina Herrera. Consisting of a button-up top and midi skirt, accessorised with a matching £1,185 Philip Treacy hat, the blush-hued look seemed innocent enough. But one little detail appears to have gone against a strict royal rule. Markle's pink top was designed in an off-the-shoulder style, breaking the unofficial law that says royal women cannot reveal their shoulders. While the 36-year-old has previously worn shoulder-baring styles out in public — and did so even on her wedding day — it is believed that she was given the all-clear as she had not yet married into the royal family.
But now the former Suits actress is the wife of Prince Harry and has been appointed the Duchess of Sussex by Her Majesty. So, will her refusal to bend to certain royal rules carry a greater weight than before?
After seeing Markle's Carolina Herrera look, one person tuning into the celebrations on TV suggested on Twitter that the duchess' ensemble went too far:
Meanwhile, a different viewer complained that Markle should follow the rules:
Another blamed Markle's age for her style choice, tweeting that she garnered all the attention instead of letting the spotlight shine on the Queen:
Fortunately, not everyone decided to judge the newest member of the royal family on her super wild decision to display her shoulders (how is this conversation even happening in 2018?). In fact, others praised Markle's indifference to the rules. Labelling the duchess as "gorgeous", one fan tweeted: "I love that Meghan Markle is breaking 'traditions'."
The Duchess of Sussex has received constant style criticism throughout her relationship with Prince Harry. From digs at her "messy bun" to eye rolls at her decision to wear ripped jeans, royal fans are a hard bunch to please. Markle even broke the Internet just for wearing flesh-coloured tights during her first official engagement to mark the 70th birthday of Prince Charles.
While her shoulders have caused controversy, Markle seems set on wearing what she feels comfortable in. And why should that be a problem? After all, the Duchess of Cambridge regularly shows off her shoulders and walks out in high street dresses that she doesn't mind getting creased and dirty. Talk about double standards, people.
Kate Middleton may have chose a square-necked Alexander McQueen dress for Trooping The Colour on Saturday but in the past, she has been spotted in a number of off-the-shoulder dresses including a white Barbara Casasola number back in 2016 and a bright red Alexander McQueen design in Berlin in 2017.
Some might argue that both of these occasions (one was a museum bash and the other a garden party) are much less formal than a public event like Trooping the Colour. These same critics seem to be of the opinion that Markle should choose her more daring looks for events not attended by the Queen.
But in all honesty, Her Majesty really didn't look too bothered in the slightest. I can't imagine the Queen has time to give people a telling off for daring to show a hint of their shoulders. She herself is recovering from cataract surgery, meanwhile, her husband Prince Philip is still on the mend after undergoing a hip operation in April. Markle's shoulders are probably the last thing on her mind.
Anyway, if anyone is seriously questioning whether Markle is getting on the wrong side of the Queen, then why has Her Majesty invited Markle to spend the day with her in Cheshire on Thursday? She didn't have to. Nor did she have to ask the former actress to travel on the royal train with her. I don't think you need to be a rocket scientist to figure out that the monarch clearly doesn't have a problem with Markle's approach. As for rules regarding shoulders, perhaps the royal family really is changing. And for the better.