You Could Actually Buy The Bracelet Meghan Markle Wore At Her Wedding If You Really Wanted To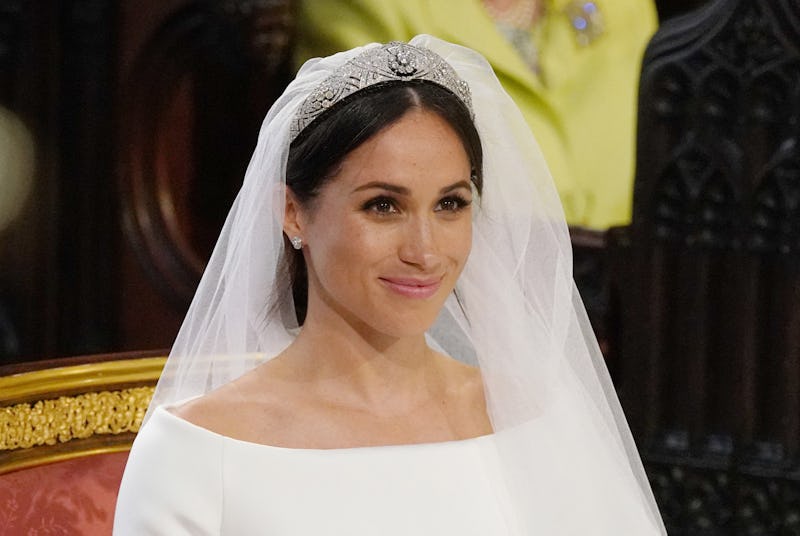 WPA Pool/Getty Images Entertainment/Getty Images
The royal wedding is here. Well, technically, Meghan Markle and Prince Harry are already married, but honestly, this is an all-day affair with a reception still come. As for the ceremony, though, royal fans may be looking for the need-to-know info of who designed Meghan Markle's wedding jewelry. While the bride chose to keep her wedding day gown elegant, classic, and minimalist, she still chose to add some seriously blinging jewels to accent the gown.
According to fashion journalist Laurie Brookins' Twitter account, Markle chose to wear the famous brand Cartier to her wedding, and while the jewels were obviously not the shining star of her ensemble (because did you see that tiara?), they were the perfect, beautiful accents to her simple and elegant gown designed by Clare Waight Keller of Givenchy.
According to Brookins, Markle wore two pieces from Cartier. Her earrings were the Galanterie de Cartier earrings in white gold with diamonds. The bracelet around her wrist was from the Reflection de Cartier collection. If you're willing to save your pennies (for the next decade or two), you could also own the pieces as they're currently listed on the Cartier website as items that are up for sale.
According to the Cartier website, the Galanterie de Cartier earrings are set in 18 karat white gold and while the direct weight of Markle's earrings are known, the pieces can feature 0.18-0.22 carat or 0.4-0.44 carat diamonds.
As for the price if you'd love to purchase them, well, you'll need to contact Cartier directly to find out. There's no price listed on the website. You don't have to find them in store, though. You're able to request a price directly from the website.
As for Markle's bracelet, the direct item does not appear to be on the Cartier website any longer. There's only one Reflection de Cartier bracelet, and while they're of extremely similar designs, they don't seem to be exact duplicates.
The similar bracelet to Markle's that's listed on the website also features an 18 carat white gold setting just like the earrings. This piece, however, has 104 brilliant cut diamonds that reaches 4.5 carats as well as 52 baguette cut diamonds that total 5.61 carats. Overall, the bracelet alone is a stunning over 10 carat diamond piece. That probably explains the price tag. According to Cartier, it retails for a whopping $155,000 plus taxes. Basically, it's down payment on a house that just casually hangs out on your wrist.
While the diamonds may have been next level, that wasn't the case with Markle's gown. The dress, from famous French design house Givenchy (though now headed by British creative director Clare Waight Keller), features a classic boatneck neckline, three-quarter length sleeves, and perfect a-line silhouette. It was minimalist, elegant, and basically embodies Markle's classic style.
Of course, it wasn't just the dress. The new Duchess of Sussex paired the gown with a stunning 16 foot veil that was embellished with stunning lace appliqué around the edges. It was draped over the Queen Mary Diamond Bandeau Tiara which she was loaned by Queen Elizabeth herself. Essentially, Markle looked perfect.
If you have an event or your own wedding coming up and want to emulate Markle's accessory style, start saving now. Her wedding day Cartier jewelry is certainly a bit pricy (and the cost of the earrings isn't even known). Start saving your pennies now in order to be getting the exact duplicates. Don't worry, though, there's bound to be more than enough recreations to go around for your own special events. Because everyone wants to sparkle like Markle.