Meghan Markle's Mom's Dress Followed A Royal Wedding Fashion Trend Perfectly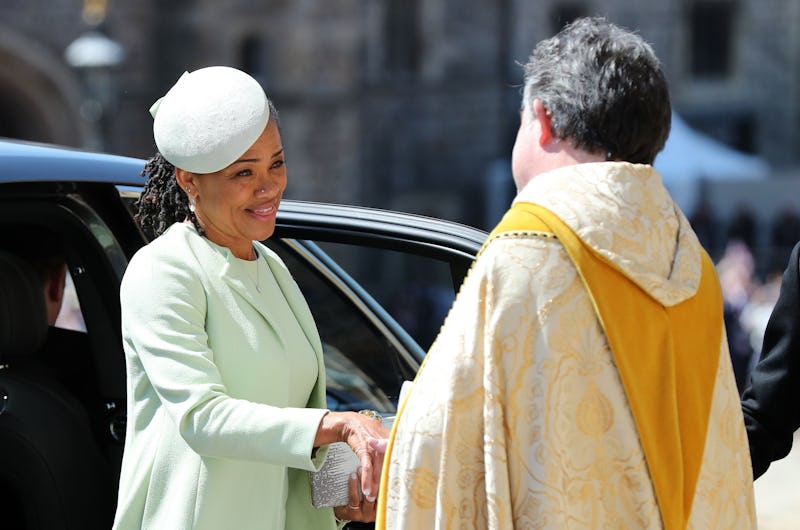 WPA Pool/Getty Images Entertainment/Getty Images
Immediate hype leading up to the royal wedding of Meghan Markle and Prince Harry involved the bride's family. Prior to the ceremony, Markle confirmed her father Thomas' health took a turn for the worse and he would be unable to attend. Clearly, Markle's mother Doria Ragland, who attended the ceremony in a chic mint green dress, became an even more central familial figure in her life as her big day commenced — due to the nuptials themselves, as a support system due to the medical situation with her dad, and the fact that other family members have been vocal and somewhat intrusive in the press.
Ragland has worked as a clinical therapist, a social worker, and a yoga teacher, according to Town & Country. So it would appear that Markle's mother has dedicated much of her life to serving the needs of others. That character trait most certainly had to apply here.
All of that drama aside, Ragland made an absolutely gorgeous mother of the bride on Saturday, May 19. Her soft green dress was paired with a matching coat; both featured white embroidery. She donned a fascinator hat that was chic and appropriate. It was also the same color as dresses worn by the Queen of the United Kingdom and Kate Middleton's little sister Pippa.
Ragland was just enchanting. Clearly, green was a royal wedding fashion trend and all three women looked unique in their take on the shade and crushed it.
All hail!
And Pippa, too! Did they all call each other the night before to coordinate? Just sayin'.
Ragland accompanied her daughter in the car to St George's Chapel, Windsor Castle. She certainly dressed for the task of being Markle's ride or die for this event. While all eyes are on the bride at weddings —naturally— Ragland's attire was classic and appropriate alongside that of her daughter.
Markle has talked about Ragland's dreads and her funky style in the past, most notably in an often-referenced 2017 article Markle wrote for Glamour. At the Royal Wedding, Ragland owned her dreads, wearing them swept back yet still visible under her hat.
In terms of accessories, the mother of the bride wore simple drop pearl earrings and carried a clutch. Her makeup was soft, just like her daughter's. It emphasized her natural beauty. Markle is the spitting image of her mother and they both opted for minimal makeup for the ceremony.
Mother of the bride dresses are always of interest to royal wedding fashion watchers. At the 2011 wedding of Prince William and Kate Middleton, the bride's mother Carol wore a soft, knee-length, and powder blue dress with a matching jacket and hat.
We would be remiss not to mention the fact that we, along with millions of royal family enthusiasts, totally thought about what the late, beloved mother of the groom might have worn the wedding. Princess Diana was a style icon in her day and remains such to this day. She was also one of the most photogaphed women in the world. We can't help but think about what ensemble Diana would have worn or how happy she would be to see her youngest son swap vows with his lady love.
At Di's 1981 wedding to Prince Charles, her mother Frances Shand Kydd wore a lovely, ruffled lilac ensemble.
The Queen wore a bright yellow ensemble, complete with a hat and gloves, to William and Kate's wedding. The groom's stepmother Camilla Parker Bowles went with a blue and white ensemble and show-stopping hat.
But it wasn't all about the royals and the groom's much more famous fam. Doria Ragland represented Markle's family — and America, in a way — perfectly.