The Queen Wore Lime Green To The Royal Wedding & She Looked Incredible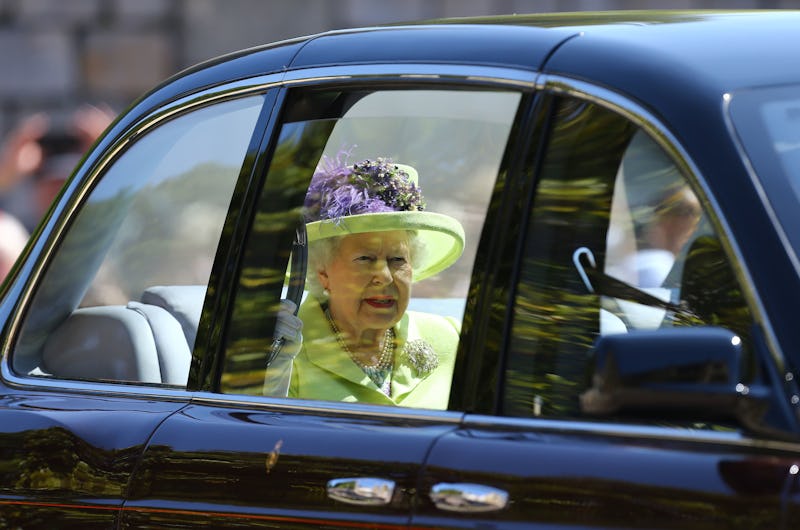 WPA Pool/Getty Images Entertainment/Getty Images
Even though Meghan and Harry were the stars of the royal wedding show, the world was also excited to see what the Queen would wear to the big event at Windsor Castle. She is, after all, the Queen, as well as someone who's quite well-known for her fashion choices.
While she's obviously all about tradition and decorum, the Queen is not one to shy away from a bright color or a fabulous hat. And her outfit at the royal wedding proved to be no different. The Queen wore lime green at the royal wedding, and with the purple accents, it was an absolutely bold and fabulous look for the matriarch of the family.
We've seen her wear lime green before, so it wasn't too surprising that she arrived for the day in the shocking shade. (A favorite color of hers, perhaps?) The Queen's outfit was by Stewart Parvin, and featured a skirt with matching jacket. Her hat, also lime green, had a giant purple flower atop it, as so many of her hats do.
The look was exactly what we expected the Queen to wear to the royal wedding. And she looked great. Don't you agree?
By the way, fancy hats are pretty much required fashion for major, royal engagements like this one. Apart from being an expected adornment whilst inside St George's Chapel, there's a fun reason for them, too. Apparently, the wackier the hat, the happier you appear to be for the wedding couple. (Imagine peering out at a sea of fascinators, from your perch in St George's Chapel, Windsor Castle. So happy.)
Also, the more elaborate the hat is, the higher the wearer's rank is in society. As noted on PopSugar, "As you go up the social ladder and into royalty, hats become more outrageous, functioning not only as displays of style but also wealth and stature." Which may explain the Queen's headwear choices, like this one from another hat-worthy event.
Speaking of required clothing items, the royal wedding dress code is nothing if not strict. Women have to wear tights, nail polish must be a subdued neutral shade, and again, hats are expected to be worn inside the church.
The Queen, despite her love of color and feathers and cool sunglasses, has quite a few things she deems impermissible, such as wedge sandals, simply because she doesn't like them. But the rest is just tradition.
While Markle has been doing an excellent job keeping in step with tradition, she has already broken a few of these rules. Apparently, she's worn black when she wasn't supposed to, she regularly steps out with bare legs, and she even donned a floppy hat despite the fact floppy hats are not the norm.
For the royal wedding, however, Markle kept with tradition, wearing a tiara and a long veil embroidered with flowers, probably in part due to the watchful eye of the Queen. (I certainly wouldn't want to upset my future grandmother-in-law.) But also because she's a classy lady, and now a duchess.
Both women looked incredible for the day, and every bit prepared for such an important event such as this.
The Queen's wedding attire included sensible black pumps with a squared heel, a black bag, and white gloves. She wore simple jewelry in the form of earrings, a brooch, and a strand of pearls. And it appeared she was wearing minimal makeup.
It was all very royal and simple. And yet that lime green set her apart. The Queen knows, after all, how to dress. And when it comes to colorful outfits, she's not one to hold back.