Meghan Markle's Old Blog Post About Princesses Is The Ultimate Blast From The Past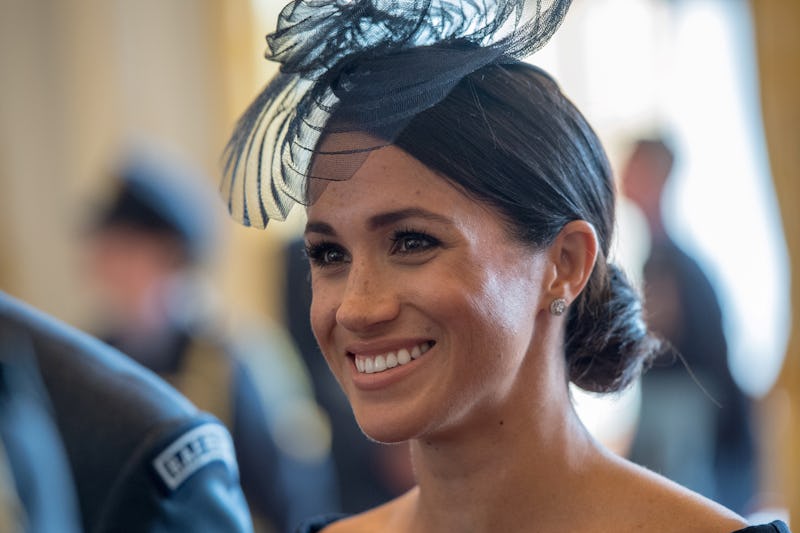 WPA Pool/Getty Images Entertainment/Getty Images
Before she married into the British royal family, or even met Prince Harry, Meghan Markle embraced her princess side years ago. As People reported, Meghan Markle wrote about princesses on The Tig, her since-deleted lifestyle blog. In the post, which was written in 2014, the former actor spoke with Princess Alia Al-Senussi and even offered up an interesting tie back to her now-sister-in-law, Kate Middleton. Basically, it's one of the biggest blasts from the past.
In the intro for her interview with Al-Senussi, Markle reportedly wrote about how girls relate to princesses when they're young. She also offered up a pretty cool choice when discussing her own favorite fictional royal. The Duchess of Sussex wrote, "Little girls dream of being princesses. I, for one, was all about She-Ra, Princess of Power." It's really no surprise that the former Suits star's favorite cartoon royal was an actual princess of power. After all, she is an amazing and powerful duchess in her own right.
In an even wilder connection to her new royal life, Markle mentioned the Duchess of Cambridge and the 2011 royal wedding in the intro for the piece, according to People. Interestingly enough, her discussion about the previous royal wedding, and the allure of princesses, could seamlessly serve as commentary for her own May nuptials to Prince Harry. She wrote,
"Grown women seem to retain this childhood fantasy. Just look at the pomp and circumstance surrounding the royal wedding and endless conversation about Princess Kate."
Ironically now, Markle has joined that exact conversation right alongside her new sister-in-law. How mind-blowing is that?
It's fun to revisit Markle's blogger past, especially since it offers some incredible throwback gems such as this recently unearthed interview. The duchess has, unfortunately, left her editorial past behind, as the site shut down in April 2017 (only a short while before she and Harry would announce that they were engaged in November 2017). Thanks to the Wayback Machine, though, you can still read some of The Tig's old entries so that you can see what Markle has to say about food, traveling, and, yes, princesses.
The duchess' interview with Al-Senussi and her commentary on princesses isn't the only fun royal connection. As the Daily Mail noted, courtesy of an old home video, Markle totally embraced the royal lifestyle when she was only a youngster. In the video, the former actor donned a crown and gave her best Queen-like performance at a friend's birthday party when she was 8 years old. The now-actual royal and her friends even created their own show called Your Royal Highness, and Markle was the star. Not only did she get to put her acting skills on display, but it sounds as though this was some really fun practice for her future royal role.
These previous royal connections are that much more interesting considering the fact that, you know, Markle is actually a member of the British royal family now. What these connections really show is that basically the Duchess of Sussex was always destined to hold a royal title of her own.