There's Actually A Really Cute Story Behind Why Meghan Markle Named Her Blog "The Tig"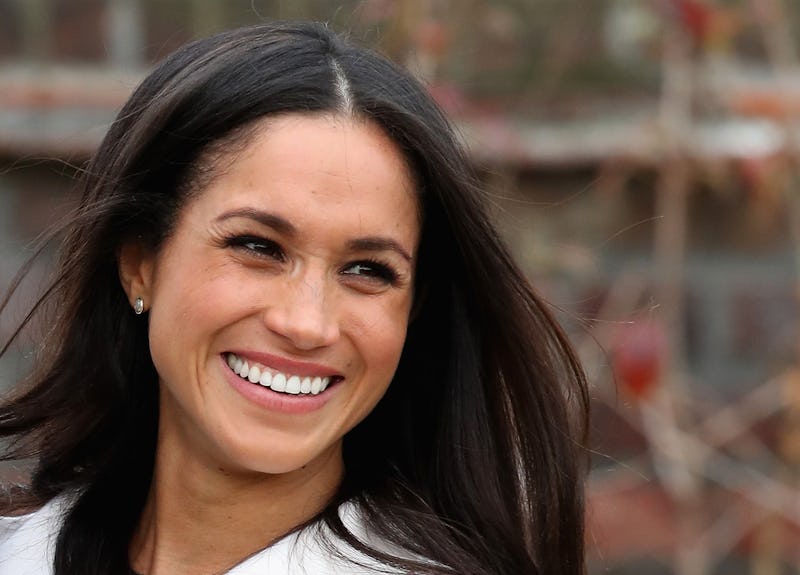 Chris Jackson/Getty Images Entertainment/Getty Images
If you, like many others (*raises hand*), have spent at least some time in the months since Meghan Markle's and Prince Harry's engagement was announced looking up random information about the Suits star, you've probably uncovered the fact that she used to run a lifestyle website called The Tig. If you have also found yourself wondering, "What does 'The Tig' mean, anyway?"… well, you're probably not alone. As it turns out, it's not just nonsense; indeed, the phrase is significant on multiple levels. What's in a name? A lot, it turns out.
The short version of the story is that The Tig, which Markle originally launched in 2014, was named for the actor's favorite kind of wine: A full-bodied red called Tignanello. Created by Tuscan winery Antinori — which has deep, deep roots; it dates back some 600 years, according to Wine Spectator— Tignanello hit a lot of firsts for winemaking: As its facts page on Antinori's website notes, "It was the first Sangiovese wine to be aged in small oak barrels, the first modern red wine to use such non-traditional varieties as Cabernet in the blend, and among the first red wines from the Chianti Classico area to be produced without white grapes." It was also one of the earliest of the "Super-Tuscan" wines — a term which kicked up during the '70s to identify, as Wine Folly puts it, "red wines from Tuscany that may include the use of non-indigenous grapes, particularly Merlot, Cabernet Sauvignon and Syrah."
According to online wine resource Italian Wine Merchants, Tignanello is a blend of 80 Sangiovese, 15 percent Cabernet Sauvignon, and five percent Cabernet Franc. The Antinori website describes the 2014 vintage as "an intense ruby red in color with purple highlights," with a nose of red fruit, sweet spices, and underbrush. It's not cheap — online, various vintages can set you back from anywhere between $90 and $150 a bottle — but it does sound delicious.
2014 Antinori Tignanello, $89.97, Total Wine & More
Now, you'll find this little tidbit of information — the fact that The Tig was named for Tignanello — mentioned in a wide variety of pieces and profiles about Markle, particularly those that zero in on love of good food and drink; often, though, there isn't a ton of additional information included. A piece about Markles' favorite things published by People in September 2017 honor of her birthday has about the most you'll find: "Tignanello is a full-bodied red wine that I tried about seven years ago," she said to the outlet. "In wine circles, it is nicknamed 'Tig.' It was my first moment of getting it — I finally understood what people meant by the body, structure, finish, legs of wine. The TIG is my nickname for me getting it. Not just wine, but everything."
And that is where the long version of the story lies — a version that's much more meaningful than the short one. Although "tig" might be short for the name of a wine, for Markle, it turns out there's so much more to the word than a nice glass of red.
You have to dig to find it, though, which in this case involves going to the Wayback Machine and looking up an archived page of The Tig snapshotted on an appropriate date. The Tig, you see, is no longer operational; it shut down in April of 2017, so when you visit thetig.com these days, all you'll find is a single page containing farewell message. If, however, you head to the miracle of an online preservation database known as the Wayback Machine, put in The Tig's homepage, and navigate to a snapshot taken on a date prior to the site's shutdown, you can check out the site's archives (albeit in a limited fashion — the Wayback Machine doesn't always have every single page of a website archived, particularly if it's a site which has published large amounts of content).
From here, you can access The Tig's old "About" page, which tells you everything you need know about the phrase itself and what it means to Markle. Here's what she wrote:
"Several years ago I had a sip of wine called Tignanello (pronounced 'teen-ya-nello'). But let's be real – in the states most people said 'tig-na-nello'… or just plain old 'Tig.' The Italiano of it all gets a little tricky, so the bartender kept it simple; it was a glass of 'Tig.' So there I am, with very minimal wine knowledge and I take a sip of this wine. It wasn't just red or white — suddenly I understood what people meant by the body, legs, structure of wine. It was an ah-ha moment at its finest."
But for Markle, the moment which she associated with the wine wasn't just about the wine — it was about that feeling of the lightbulb going off inside her head. "For me," she wrote, "it became a 'Tig' moment — a moment of getting it." And the way she saw it, any moment that inspired that feeling could be a "Tig" moment, whether or not wine was involved.
"For that point on, any new awareness, any new discover or 'ohhhhh, I get it!' moment was a 'Tig' moment," she continued:
"At New York Fashion Week understanding that clothes aren't just pieces of fabric, but that they can be art. So Tig. Traveling off the beaten track and hand diving for sea urchin in Jamaica — understanding that travel is adventure and discovery, culture and surprise. A Tig moment, indeed. And the same could be said for my love of cooking and dining, for cultivating friendships that inspire you, for the idea of 'beauty' and what that means to us."
Ultimately, said Markle, Tig was, "An understanding that comes with living your life to the fullest so that it bursts at the seams. An unbridled joy. An insatiable curiosity." She concluded, simply, "That's what Tig means to me."
And you know what? I kind of love that. The feeling Markle talks about is one with which I'm familiar, and one that I adore; what's more, I love the idea of coming up with a name for it — a name that's meaningful to you, which you can then share with those around you, thereby spreading that feeling of "unbridled joy" and "insatiable curiosity" to more and more people. Those are feelings I don't think we experience enough; anything that allows to get more in touch with them is, I think, a good thing.
So, there you have it: The unexpectedly deep meaning of the name of Meghan Markle's defunct website. May you carry it through life with you, always searching out that next Tig moment, and embracing it fully when you find it.