This Simple Hack Is The Key To Meghan's Royal Wardrobe Always Looking On Point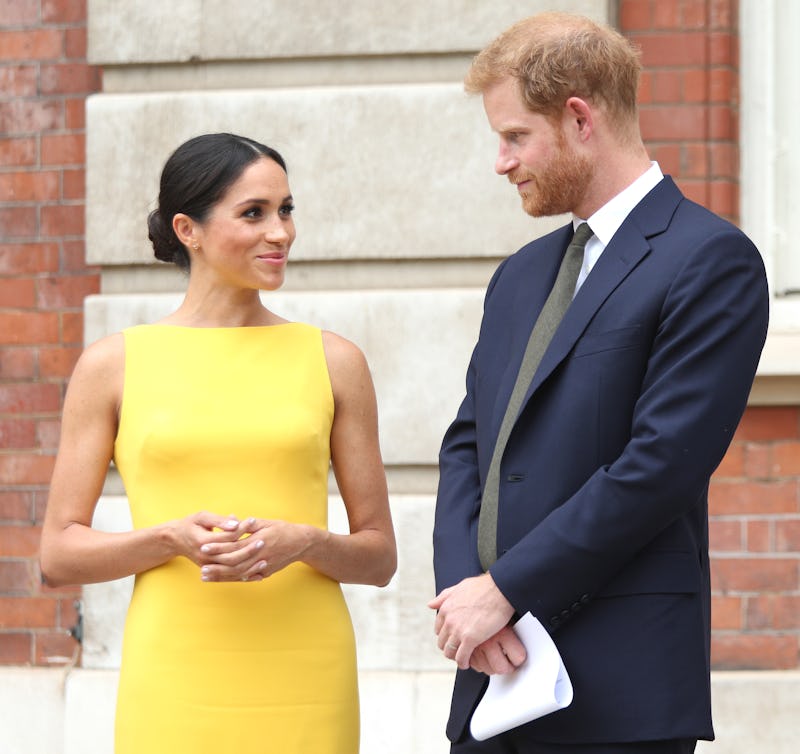 WPA Pool/Getty Images Entertainment/Getty Images
Since marrying into the royal family, the Duchess of Sussex has showed off a wardrobe full of designer garments. Unlike many famous people, however, she buys a lot of her stuff from pre-existing collections, rather than having it custom-made. So how does everything fit her so perfectly? Well, I think I may have found the secret to Meghan Markle's royal wardrobe once and for all.
Markle has shown admiration for a range of brands since becoming a Duchess. Givenchy, currently helmed by British designer Clare Waight Keller, appears to be her favourite, having designed her bespoke wedding dress, her Royal Ascot look, and the outfit worn on her first trip with the Queen. But the 36-year-old also likes buying things straight off the rails.
For the wedding of Prince Harry's cousin, she chose a blue-and-white printed dress from Oscar de la Renta's Resort 2019 collection. Due to its easy breezy style, it didn't appear that any alterations had been made to the original design.
But her dusky pink Goat dress worn to celebrate Prince Charles' 70th birthday had definitely enjoyed some extra work. The original style has a slightly darker cuff on the sleeve. Markle's, meanwhile, was the same colour throughout, suggesting that some alterations were made.
What was most interesting, however, was the bright yellow dress Markle donned on Thursday night. The sleeveless design came from American talent Brandon Maxwell's SS18 collection and looked to be the same as the one shown on the model.
If you weren't aware that photoshoots require a lot of hidden clipping and pinning in order to give the illusion that a garment fits, you'll definitely know the feeling that comes with receiving an online order that looks totally different to what you were expecting. So the fact that Markle's yellow dress was fitted perfectly to her frame raises some questions. Namely, how does she do it?
I spoke to a couple of experts to find out. Debbie Moorhouse, former fashion designer and co-founder of Made in the UK — Clothing, Fashion & Accessories Initiative, says that although she "wouldn't expect every Markle look to have been tailored and altered to fit perfectly," there is some evidence to suggest that the Duchess of Sussex visits a tailor every now and then.
In fact, Markle was photographed back in March wearing a tell-tale sign of a tailor's influence. On the back of her navy J. Crew coat was an X-shaped white stick — otherwise known as a "tailor's tack" — which is used to keep the shape of garments that have a slit as they are transported. Either Markle or her stylist had clearly forgotten to remove it before stepping out to greet the public, which is, you know, easily done.
Women's tailor Dara Ford agrees that Markle's "impeccable" style is the result of some clever tailoring. On the topic of that yellow dress, Ford proves that my eyes haven't got quite what it takes, saying that the style does in fact "look to have been altered." She explains:
"Looking at the original, the neckline was actually a little higher and not quite the wide boatneck that she is wearing. Making this subtle change makes the dress her own and matches her signature style."
Apparently, such an alteration would be pretty cheap too, with Ford estimating a cost of around £25.
However, she doesn't agree with suggestions that the Goat dress worn for Markle's first post-wedding appearance has been altered. While the cuff may indeed be a different colour, Ford says that the dress "doesn't fit as well across the bust and waist. The result is a more unfinished look; one that isn't as consistent with the impeccable style we have come to expect from her."
Moorhouse adds that designers will often either have a VIP department or meet with a client like Markle and create a bespoke design that offers a few subtle tweaks. "The Queen has her own private dressmaker Angela Kelly to ensure the perfect fit every time," she notes, "but Markle's clothes (and the Duchess of Cambridge's) look steamed and pressed to perfection which can make a lot of difference."
So should all of us be looking to a professional tailor every now and then? Ford believes that a simple alteration can "make a big difference to someone's appearance." A psychological study by the University of Hertfordshire actually found that a person wearing a tailor-made suit versus an off the peg equivalent was deemed to be more confident, successful, and a higher earner after just three seconds.
"This is even more important with seemingly simple styles such as the clean tailored looks Markle favours," continues Ford. "When the fabric is plain and there are few embellishments, there is nothing to distract from the fit."
I'm relieved to hear that tailoring a store-bought garment is nowhere near as expensive as I thought. According to Ford, shortening a hem can cost as little as a tenner with dress alterations only setting you back £20 and jackets a little above that.
While it might not be worth the money for certain outfits, following in Markle's footsteps for special occasion looks could turn a simple garment into something extra special. Now, where's my nearest tailor at?