Twitter Thinks The Royal Wedding Was Basically 'Cinderella' & The Resemblance Is UNCANNY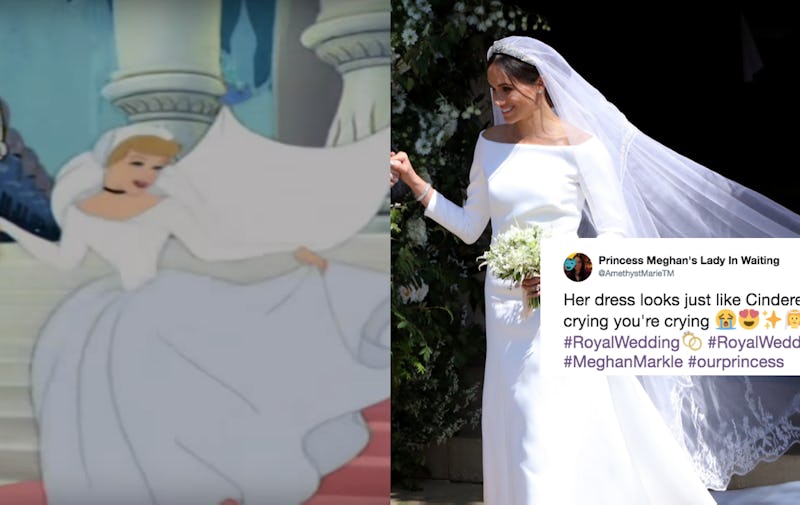 WPA Pool/Getty Images Entertainment/Getty Images; Disney; AmethystMarieTM/Twitter
The royal wedding has come and gone, and oh boy, was it a beautiful ceremony. The guests were dressed to the nines, and the love between Prince Harry and Meghan Markle was palpable. Like, every time these two looked at each other, you could feel it. It was wonderful. The trope of finding a prince and marrying him is a constant in, oh, every literary canon, but in this case, Markle literally did it. She is now a royal, and Markle's royal wedding Disney princess moments were real. And don't think people didn't notice, especially on Twitter.
And really, what's not to love about this whole thing? Prince Harry, now the Duke of Sussex, was out there in the world in July 2016, minding his own business, when he got set up on a blind date with actor, blogger, and philanthropist Meghan Markle, now the Duchess of Sussex, by a mutual friend. A relationship blossomed, and even though Meghan is by no means the traditional choice for a royal spouse — she is biracial, American, and divorced — Harry proposed, and the two decided to make it official.
It's a monarchy for the modern age, and many on Twitter couldn't help but notice the striking similarities between those classic Disney stories we all heard as children and this real-life royal wedding.
People Noticed The Cinderella Vibes
Maybe Meghan got some inspiration from her favorite childhood movies, because her dress and veil and demeanor have serious Cinderella undertones.
Seriously, look at those similarities.
Some Likened It To Disney Life In General
Disney should probably be paying the royal family some sort of royalties.
Others Used This Fairytale As An Escape From Everyday Life
You can care about the world, but also want to look at a woman in a pretty dress, too. You can have both.
The Fairytale Made Some Believe It Could Happen To Them, Too
I mean... you never know, right? It could happen.
One Tweet Summed It All Up
Beautiful, amazing, fairytale, gorgeous, etc. etc.
As if the wedding itself wasn't iconic enough, the party following will probably be even better. According to Sky News, the Queen is hosting a reception right after the wedding for all 600 guests, but tonight is when the real fun starts. Prince Charles is hosting 250 of Meghan and Harry's closest friends and family for a true wedding reception, one with dinner and dancing and plenty of drinks and music. It's being held at Frogmore House, which is on the grounds of Windsor Castle, making it an easy trek for the guests. Both Meghan and Harry are expected to give speeches, and they'll probably just enjoy being with their families.
One huge highlight of the night? Sir Elton John, who was a close personal friend of the late Princess Diana, Harry's mother, will perform for the newlyweds. Singer James Blunt is also in attendance at the wedding, so maybe he'll croon a tune or two, too. Later, everyone will eat that much-talked-about lemon-and-elderflower cake (Harry and Meghan picked it in lieu of a traditional fruitcake, which, honestly, was a great choice), maybe even smashing it into each other's faces. Who knows?
The bottom line is that what Harry and Meghan have accomplished on Saturday is a real-life fairytale. It looks like the ones we see in the movies, but there's reality to it — each has found their other half. That's not an easy feat, especially for a pairing that seems so unconventional at first. But it works, and, like they say in those movies we all love, may they live happily ever after.