Prince Harry Commented On Meghan's Family & Her Sister Took To Twitter To Call Him Out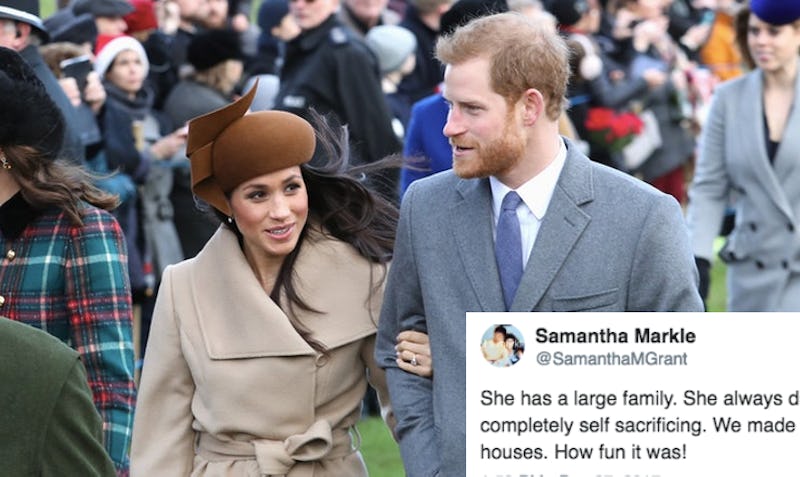 Getty Images/Bustle
There is some drama involving the British Royal Family. Meghan Markle's half-sister has responded to Prince Harry, after he made a remark that she strongly disagrees with. Samantha Grant took to Twitter Wednesday reacting to Harry discussing Markle getting used to his family's traditions. He said, "She's done an absolutely amazing job, she's getting in there and it's the family that I suppose she's never had."
In direct response to the 33-year-old royal's statement, which he made during his guest spot at Radio 4's Today, Grant tweeted,
Actually she has a large family who were always there with her and for her. Our household was very normal and when dad and Doria divorced, we all made it so it was like she had two houses. No one was estranged ,she was just too busy. Read my book complete with facts and photos.
She didn't stop there and continued,
Meg's family(our family) is complete with sister, brother,aunts, uncles, cousins, and the glue of our family, our amazing completely self-sacrificing father. She always had this family,..Marrying merely extends it.
After a person tweeted, "I know Meghan is estranged with many relatives but what a tactless comment from Harry," Grant replied, "She has a large family. She always did. Our dad is amazing and completely self sacrificing. We made it so that she had two houses. How fun it was!"
It's pretty clear how Grant feels about what Harry said. She sees her upbringing as nothing but positive and that Markle was always welcomed with open arms.
As for Harry's remark, it's unclear what he means by they're the family that "she's never had," but Markle does have a relationship with both her mother, Doria Radlan, and father, Thomas Markle. The actor appears to be closer to her mom, who even went to the 2017 Invictus Games with Markle to support Harry. As for her dad, in 2016, she wished him a happy Father's Day with the sweetest Instagram message that read in part, "I'm still your buckaroo, and to this day your hugs are still the very best in the whole wide world. Thanks for my work ethic, my love of Busby Berkeley films & club sandwiches, for teaching me the importance of handwritten thank you notes, and for giving me that signature Markle nose."
As for Grant's response to Harry's comment, it really comes as no surprise, because she's been extremely vocal about her sister and her royal romance. She's also writing a tell-all booked called, The Diary of Princess Pushy's Sister. The title speaks volumes, but as Grant told Good Morning Britain at the time of the announcement (via the Daily Mail), "Well, it is true that I'm writing a book and the title is accurate, what is not true [is] this unbelievable swell that's been created that it's some sort of slamming 'tell-all'."
Grant also told GMB about the premise of her book:
"First of all, it's only a tell-all in that I go through and recant some of the beautiful nuances of our lives, our family home. But more importantly, it has to do with the inter-racial evolution of this country through the lens of my life and my family since the Civil Rights Act until present, and how that intersects with this recent event with my sister, you know, my feelings about it, my family's feelings about it, and how sad it was going through it all. But it's more of a beautiful, warm, witty story of our lives and my life."
For those unaware, Grant (who is 16 years older than the former Suits star) and Markle have the same father. When Markle was young, her mother separated from her father. The relationship she had growing up with Grant isn't entirely clear other than what Grant has said about it. In October, a source told People that Markle hasn't had any contact with Grant or her other half-siblings for more than a decade. Vanity Fair reported that Grant has denied that she and Markle were estranged and that she even "helped raise" her for years.
Their relationship as sisters definitely appears to be tenuous, but Grant did have some nice comments about Markle's engagement to Harry. While chatting with Good Morning Britain in November, she said about Markle, "When I watch her with him it's very real and normal. You know, we only get that once in a lifetime if we're lucky. It's not about royalty so much as it is about love. And that's wonderful for them."
It's probably safe to say that Grant isn't going away anytime soon and when she feels the need to comment on Markle, her relationship with Harry, and the royal family, she will.