Mel B Hinted A Spice Girls Reunion Is Happening SOON, Fueling Those Royal Wedding Rumors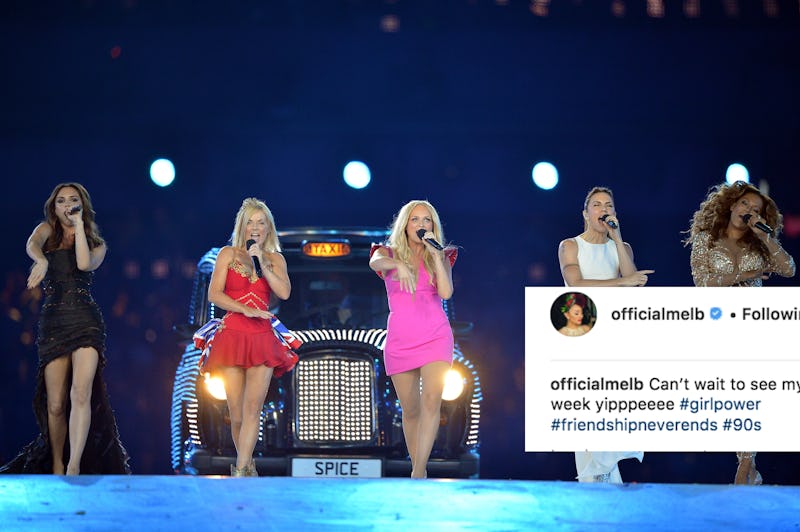 Jeff J Mitchell/Getty Images Sport/Getty Images; officialmelb/Instagram
Scary Spice cannot keep secrets, apparently. Or maybe she's been playing us all along. Either way, Mel B hinted that the Spice Girls are reuniting next week — and while it's not clear why, where, or how many of the band members will be in attendance — next week just so happens to be when the royal wedding is going down. So, perhaps there was some truth to those Spice Girls performance rumors after all?
On Sunday, May 6, Mel B posted a throwback tribute to the Spice Girls with a snap of the group's 1997 Rolling Stone cover. "Can't wait to see my girls next week yipppeeee," she captioned the photo, alongside the hashtags, "#girlpower #friendshipneverends #90s." Interesting that she hashtagged an old Spice Girls song — #friendshipneverends, which seemingly nods to "Headlines (Friendship Never Ends)" — and now, her post is making actual #headlines. Just a happy accident? Hmm.
Based on the Rolling Stone cover shot, it's probably safe to assume that Mel's "girls" are the other Spice Girls — Geri Halliwell, Melanie Chisholm, Emma Bunton, and Victoria Beckham. And "next week"? Well, next week (May 19, to be exact) is when Prince Harry and Meghan Markle's royal wedding is happening.
Sure, they could all just be getting together next week for lunch again or whatever. But — based on recent rumblings, rumors, and comments —  it kind of seems like a Spice Girls reunion at the royal wedding might be a bit more likely.
For months now, there have been all kinds of rumors about the Spice Girls getting back together to do all kinds of things. In 2018 alone, fans have gotten their hopes up about no less than: a full-blown reunion tour (which Beckham later shut down) a Spice Girls TV show, and an animated film —  not to mention the confirmation of both a Spice Girls museum exhibit and a Spice Girls-themed brunch. It's been a very confusing, very Spice-y year.
Mel B really got tongues wagging during a Feb. 27 appearance on The Real, though, and pretty much implied that all the girls in the group would be attending the royal wedding. OK, so she didn't say they'd be going, but she did let it slide that "us five Spice Girls" all got invitations.
After she dropped that news-bomb, Jeannie Mai — one of the co-hosts of The Real — pressed Mel B for more information. "Will the Spice Girls be performing at the reception?" Mai asked excitedly. Scary Spice didn't confirm anything one way or the other, but the way she reacted — throwing her cue cards up in the air with a shrug of the shoulders — really made it seem like Mai's question was right on the money.
Not long after Mel B's appearance on The Real, though, TMZ cornered the Spice Girls' manager, Simon Fuller, to ask him about Brown's comments about the royal wedding. "Maybe [Brown] knows something I don't," Fuller laughed. The Spice Girls and their team are clearly champions at giving non-answer answers.
So, the question of whether or not the Spice Girls will be performing at the royal wedding reception remains TBD. All five Spice Girls reportedly got invitations to the royal wedding — according to Mel B, at least — but that definitely doesn't mean that they're all going.
Most people would probably clear their schedules for the opportunity to attend — or even be in the vicinity of —  a royal wedding, but, then again, the Spice Girls aren't most people. Who knows, there's really no telling. In the meantime, though, it can't hurt to keep your fingers crossed that Mel B will let something more substantial slip out in the very near future.