Victoria Beckham's Response To The Spice Girls Reunion Tour Rumors Will Disappoint You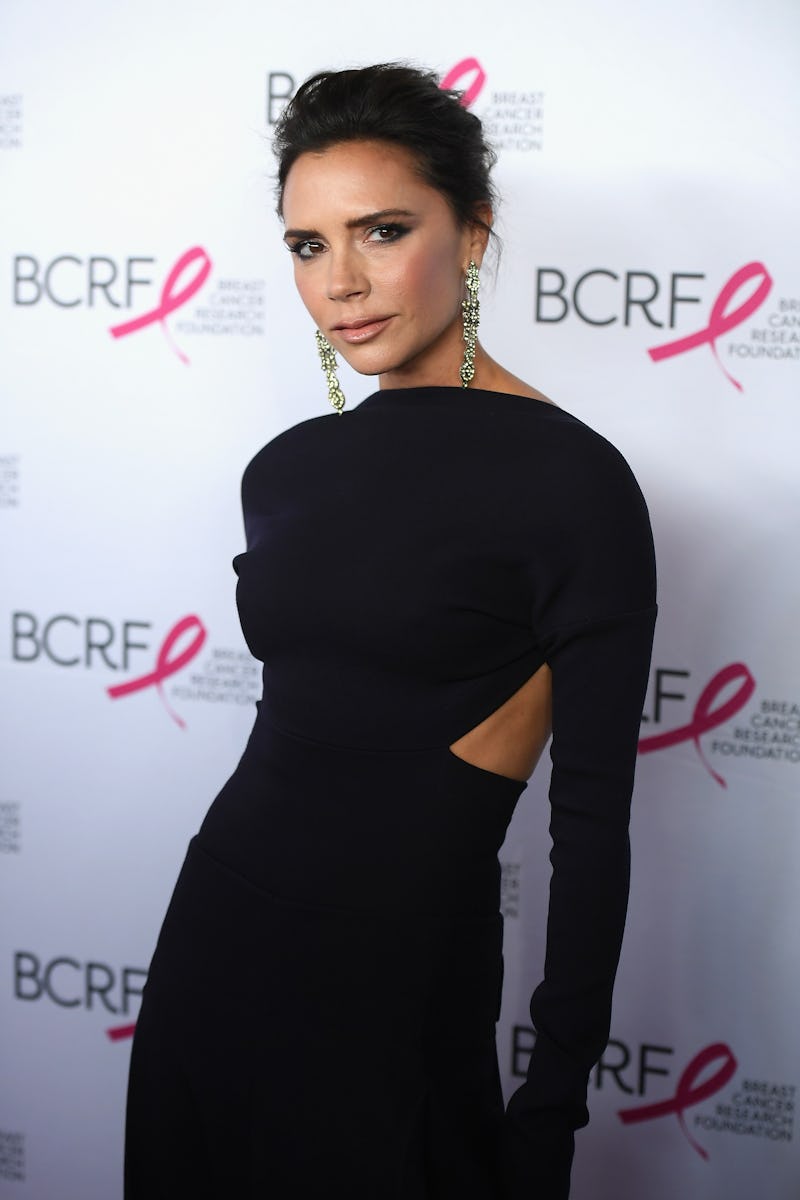 Dimitrios Kambouris/Getty Images Entertainment/Getty Images
The Spice Girls rumor mill has been working overtime in 2018. Whispers of a second reunion tour have quickly been picking up steam, leading the Internet to speculate exactly when, and not if, the group would be hitting the road again. The artist formerly known as Posh Spice spoke to Vogue UK on the subject, and Victoria Beckham shut down the Spice Girls reunion tour rumors. The magazine caught up with the British designer at Fashion Week, where she made her position clear: "I'm not going on tour. The girls aren't going on tour."
Per Beckham, as long as fans have been waiting, they may have to keep waiting a little longer:
"It was so great to see the girls. We had such a fun lunch. It was really, really, really lovely. I still speak to them all individually, but for us all to get together was really lovely. There's something so strong in the message of what the Spice Girls stood for. What is that in the future? What does that look like? We were just bouncing ideas around. Brainstorming... But [fashion] is what I do."
Fair enough. After all, the magazine did catch up with her behind-the-scenes of her own show at New York Fashion Week. Now that people have heard from Posh Spice herself, it's probably — key word, probably — safe to assume that a Spice Girls reunion tour isn't happening this year. Or is it?
The Spice Girls first reunited for a reunion tour in 2007. In the decade-plus since then, it feels like rumors of a second reunion are reignited every six months or so. Most of the time, it isn't clear to fans exactly who came up with the reunion idea first. Not this time, though. All five members of the Spice Girls — Geri Halliwell, Melanie Brown, Melanie Chisholm, Emma Bunton, and Beckham — posed for a photo at Halliwell's (now Horner) house. It could have been a simple brunch, a reunion between former bandmates who all happened to be in the same place at the same time. Not if you're a Spice Girls fan, though, and you've been praying for a second reunion tour.
"You know, there's so much bad stuff going on [in the world], and the Spice Girls were about fun and celebrating individuality. I think there's so much that the brand can do, and it's such a positive message for young kids," Beckham told Vogue UK. Even so, she said, the future of the group does not include Beckham rocking "a catsuit". (That's likely a wink to her Posh Spice days, where her outfits were mostly timeless minidresses.) So, at the very least, it seems that Beckham is open to the idea of resurrecting the Spice Force 5. Perhaps, it's just the idea of a tight timeline that's making her nervous.
The Spice Girls are all grown up! As Beckham said, she does primarily work full-time as a designer now, and has four children to take care of as well. Her four former group members also have work and family obligations that could conflict with a massive international touring schedule. No matter where and when the group chooses to reunite, even if it's one night only, the fans will be there.
With their diversity, inclusivity, and messages of girl power, the Spice Girls inspired an entire generation of fans to be fun-loving feminists. Their dance hits, incredible looks, and fierce personas encouraged fans worldwide to embrace their favorite qualities about themselves. Whether your goal was to be fearless, fabulous, sweet, sporty, scary confident, or any combination of those, the Spice Girls helped their audiences come on and do it. So, when they're ready for a comeback, fans will be ready to spice up their lives.