Melania Shared A Christmas Selfie On Twitter & Things Got Super Intense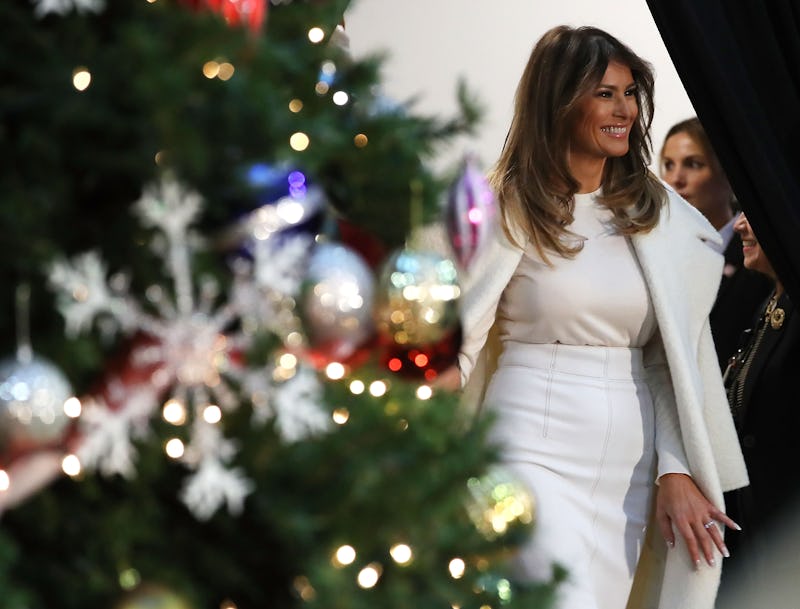 Mark Wilson/Getty Images News/Getty Images
After joining the president for a Christmas Eve mass near the Mar-a-Lago golf resort in Florida, first lady Melania Trump posted a Christmas selfie for her followers to enjoy early Christmas morning. The image, which was taken using a Snapchat filter, shows Trump making a duck face and staring wide-eyed at the camera, adorned with a Santa hat, complete with golden reindeer surrounding her head. She also tweeted a number of other Christmas photos of herself volunteering at organizations like Toys For Tots and the NORAD Tracks Santa program.
In the span of a few hours, the first lady's selfie, which was captioned "#MerryChristmas," received over 7,000 retweets and 44,000 likes. While the photo was a pretty innocent, playful attempt at spreading holiday cheer and interacting with her millions of followers, it has generated quite a bit of buzz online, with supporters tweeting their praise, and critics of the first family tweeting their disapproval. Some have even offered theories about the origin of the photo, speculating that the first lady may have a top-secret Snapchat account.
Trump has been spending the holiday break with the president at his golf resort in Florida, even attending mass on Christmas morning at the same church where she married President Trump in 2005. But regardless of how she spends the next few days of her holiday, she'll definitely have quite a few interesting Twitter responses to scroll through to keep herself occupied.
For example, some people pointed out that it's easy for Trump and her family to have a very merry Christmas indeed, given that they are incredibly wealthy and will receive a pretty hefty tax cut as a result of the new tax bill that the GOP-controlled Congress passed last week. In fact, some critics even called the bill "a very big Christmas gift from [President] Trump to himself." This Twitter user pointed out that for millions of everyday, working class Americans, it's not quite as easy to enjoy the holidays.
Others pointed out that Trump has the power to give a gift to the president's critics by convincing him to resign. The president's most recent poll numbers, which were collected by FiveThirtyEight just before the holiday weekend, show that at this point in his term, the former reality star has the worst approval rating of any president in the history of modern polling at just 37.1 percent.
While the poll numbers show that a majority of Americans might approve of the President's decision to resign, it's doubtful that the first lady could ever convince him to do so. Trump has called himself his own adviser in the past, and even his daughter Ivanka Trump hasn't been able to change his mind on a number of key issues.
Others online made jokes about Melania's eyes, suggesting that it looks like a demon may be hiding behind her eyes. To be fair, though, some Snapchat filters make almost anyone look demonic.
One person compared the first lady to infamous, let-them-eat cake Queen of France Marie Antoniette.
Yet, this isn't the first time the comparison has been made in reference to the first family — in January, the first daughter and her husband Jared Kushner were criticized for posting an Instagram photo in glamorous dress just as the president passed a travel ban on refugees and immigrants from a number of Muslim-majority countries.
Trump's other Christmas pictures weren't spared, either. The first couple's official White House Christmas photo, which they shared earlier in December, also raised questions about why their son, Barron, wasn't included.
While Trump's Christmas selfie is a pretty harmless attempt to ring in the holiday season, it's safe to say that no matter what the first lady posts online, it will be sure to make headlines and spark controversy online.
Read more on Melania Trump:
Melania Trump Wants To Get The Heck Out Of Here For The Holidays
Here's How Melania & Donald Trump's Body Language Has Changed Since The Election
Why A Former Secret Service Agent Thinks That Melania Trump Conspiracy Theory Is BS
We Got A Body Language Expert To Analyze The Trumps' Christmas Photo & Hoooo Boy