Watch Donald Trump Literally Forget Melania Exists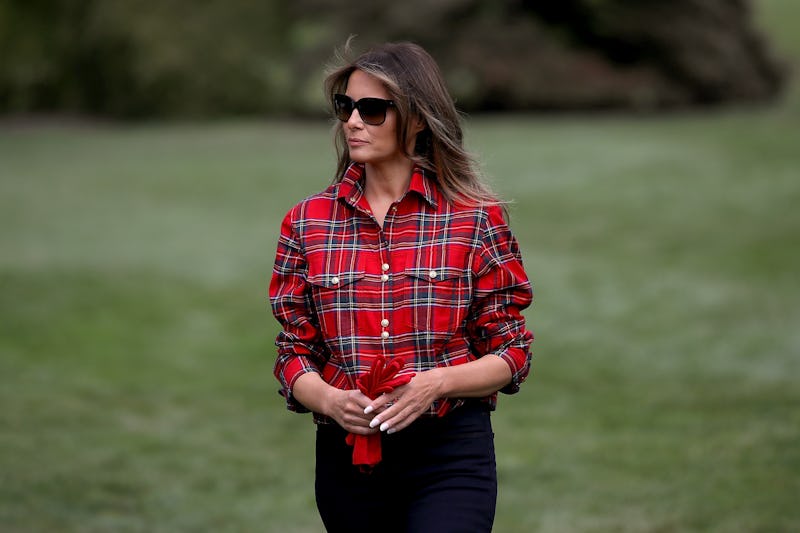 Win McNamee/Getty Images News/Getty Images
In the aftermath of Hurricane Irma, President Trump visited Fort Myers, Florida to speak about his administration's recovery efforts in the state. The president was joined by his wife and vice president — but while addressing the crowd, Trump seemed to forget that Melania was standing right next to him, and instead told the audience that the First Lady "really wanted to be with us."
But she was with them. Melania and Vice President Mike Pence were right by Trump's side, as were Sen. Marco Rubio and other local officials, as he spoke about the post-Irma cleanup effort.
"I just want to thank everybody," Trump said. "The first responders. On behalf of myself, our vice president. Melania really wanted to be with us. She is really — it's really touched our hearts what's going on." As he spoke, Melania was standing to his left in a white baseball cap.
In fairness to the president, there is a plausible interpretation of his comments that doesn't imply that he forgot his wife was standing right next to him. As you can see from the transcript, he spoke in disjointed sentence fragments, so it's hard to discern exactly what he meant; however, one could argue that when he said "Melania really wanted to be with us," he simply meant that she had the desire to be there, and was there as a result.
Still, the phrase "really wanted to be with us" is generally used in reference to people who, in some sense or another, are not with us. It's rare that somebody says, "so-and-so really wanted to be with us today, and that's why they showed up!" In any event, the interaction was reminiscent of an earlier incident in Trump's presidency that also involved him referring to a person while seemingly unaware that they were mere feet away from him.
During a televised meeting with members of his cabinet in February, Trump announced that he would be turning the floor over to former New York City Mayor Rudy Giuliani, who was appointed as the administration's cybersecurity advisor but, according to CyberScoop, hasn't actually been doing all that much advising.
"Rudy's very much an expert on cybersecurity, it's been a very important thing to him and to what he does, and maybe I'll ask Rudy to say a few words," Trump said at the meeting. Then, looking back and forth a few times, he asked, "where is Rudy?"
In fact, Giuliani was seated directly across from Trump, and started speaking moments after Trump's apparent befuddlement.
The Fort Myers incident also isn't the only time an awkward interaction between Trump and Melania has been captured on tape.
On Friday, the First Couple spoke at an event at Joint Base Andrews in Maryland, and Melania introduced her husband to the crowd. After she did, the president walked on stage, and greeted his wife with a handshake. Then, he said "go sit down" and gently ushered her off of the stage.
It struck many as a strange way for a married couple to interact. On his late night show the next week, Jimmy Kimmel called the interaction "perhaps the most uncomfortable display of affection between any husband and wife this year," joking that Trump "shut her down like a robot from Westworld."
Months before that, a video went viral of Melania swatting Trump's hand away as he tried to hold it during a presidential visit to Israel.
Of course, it's impossible to include anything with certainty from any of these clips. Even the video of Melania at Trump's inauguration, in which the smile on her face turns into a scowl the moment her husband looks away, doesn't necessarily mean anything. These are simply individual moments that could well have more context to them than is possible to communicate in a seconds-long video clip.
That doesn't make it any less awkward to watch, however.
Read more on President Trump and first lady Melania:
Trump Shook Melania's Hand Instead Of Hugging Her & It Was Painfully Awkward
These Awkward Moments Between Melania & Donald In Public Actually Hurt To Relive
15 Photos Of Melania & Donald Trump Together