Here's What Oprah Is Saying About Michelle Obama's Book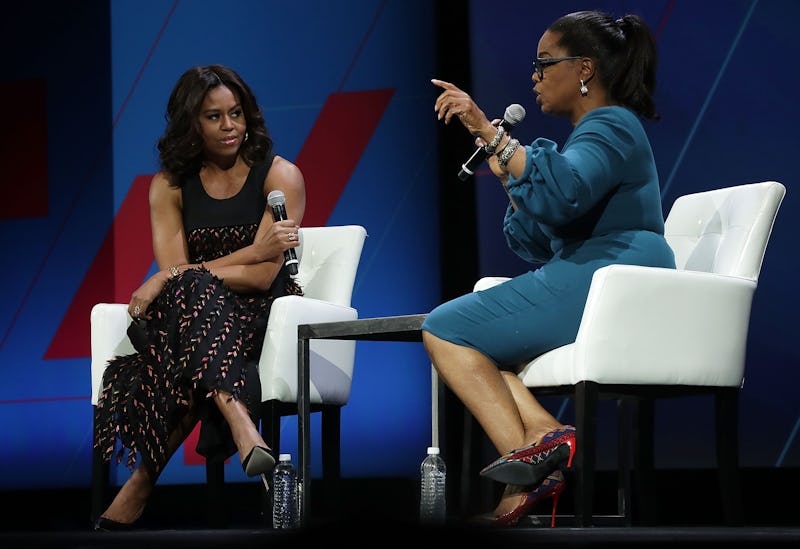 Alex Wong/Getty Images News/Getty Images
In the biggest piece of book news you will hear today, Oprah Winfrey has picked Michelle Obama's memoir, Becoming, for her book club. If you haven't already snagged your copy of Becoming, out this week, you're definitely going to want to grab one now, and fast. In a tweet announcing the pick, Winfrey wrote: "From the very first pages of "Becoming" I knew I wanted EVERYONE to read it. I've known Michelle for 14 years, but this book is so vulnerable, I felt like she was in my ear."
Additionally, she told Associated Press in a statement: "This book is everything you wanted to know and so much you didn't even know you wanted to know. I believe it's going to spark within you the desire to think about your own becoming. It's so well-written I can hear her voice; I can hear her expressions; I can feel her emotion. What she allows us to see is how she was able to discover, define and then refine her voice."
Becoming hits store shelves on Tuesday, but it has already drummed up plenty of media attention. In her memoir, former FLOTUS Michelle Obama gets brutally honest about her opinions on Trump — she'll "never forgive him" — reveals her struggles to conceive Sasha and Malia, and explains how she really felt about being in the public eye.
Putting Becoming on her Oprah Book Club list isn't Winfrey's only contribution to the book's buzz. When Michelle Obama kicks off her book tour on Tuesday in Chicago, Winfrey will interview her on stage. Oprah Winfrey Presents: Becoming Michelle Obama, a TV special and separate interview, will air Thursday night on OWN, and will appear on Facebook and in podcast form, according to USA Today. That interview will also appear in the December issue of O, the Oprah Winfrey Magazine, when it hits shelves on Nov. 20.
Becoming is part of the joint book deal Barack and Michelle Obama signed last spring. Although the details of that deal were not made public, it's rumored that the Obamas netted around $65 million for it, in exchange for one book each. Additionally, publisher Penguin Random House made a $1 million donation to bookish charities in the Obamas' name.
Tickets to Michelle Obama's Becoming book tour have been notoriously difficult to secure, but the former First Lady has taken measures to ensure that young people and charity organizations can come to the tour stops. Ten percent of tickets at all locations have been given away to community organizations local to the venue. Certain national groups, such as the Girl Scouts, have also received tickets to the Becoming book tour.
Even if you don't see Michelle Obama on tour, you can still read Becoming when the book hits store shelves on Tuesday. Hardcover, large-print paperback, eBook, eAudiobook, and book-on-CD versions will all drop on Nov. 13, so everyone can read Becoming the day it comes out. All versions of Michelle Obama's memoir are available for pre-order today from your favorite retailer.