Michelle Williams Used Her Globes Speech To Talk About Abortion & Amen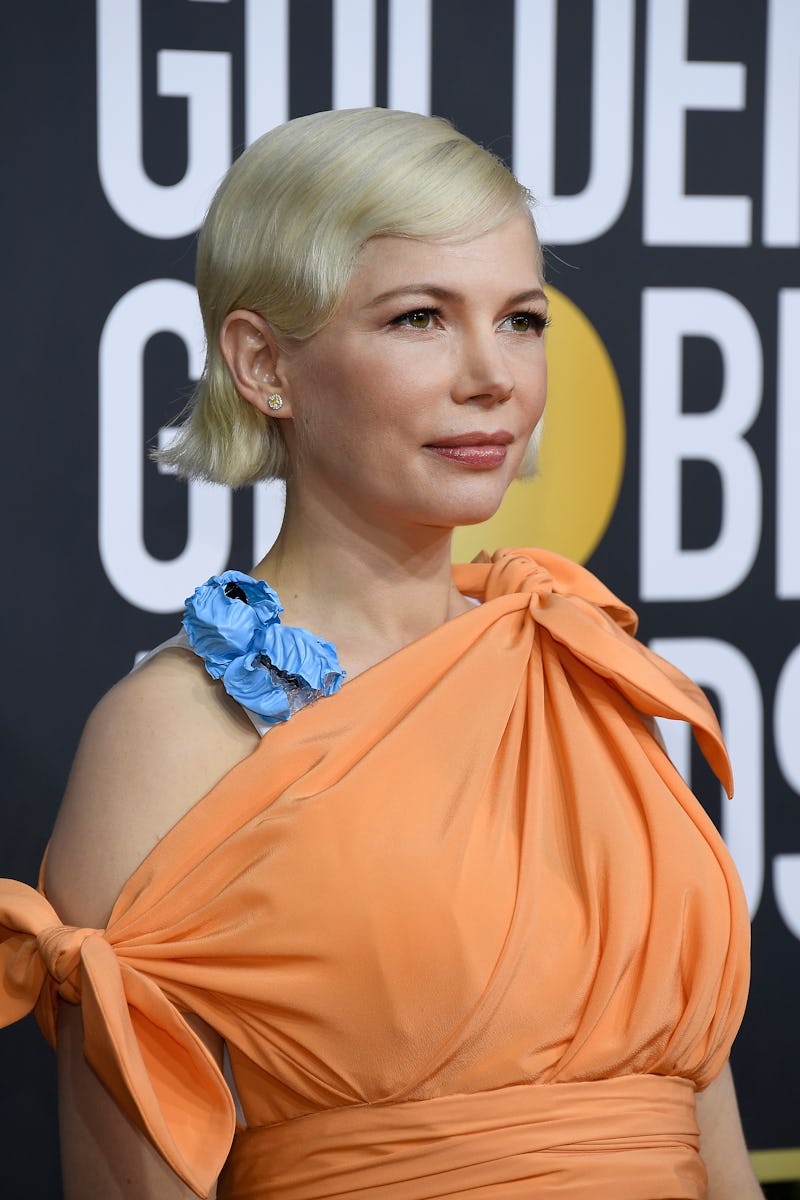 Kevork Djansezian/NBC/NBCUniversal/Getty Images
Although Ricky Gervais called for celebrities to use their time on stage to simply thank their agent and stay away from politics, Michelle Williams used her 2020 Golden Globes speech to advocate for a woman's right to an abortion. It was one of the most activist moments of the night, during a show in which even controversial host Ricky Gervais seemed almost nervous about talking about anything even verging towards politically earnest.
Williams, who won for Best Actress in a Limited Series or a Motion Picture Made for Television for FX's Fosse/Verdon, wasted no time getting straight to her point. She said that she was grateful to be acknowledged for her professional choices, but that she was also "grateful to have lived in a moment in our society where choice exists."
Williams continued:
Because, as women, and as girls, things can happen to our bodies that are not our choice. I've tried my very best to live a life of my own making and not just as a series of events that have happened to me, but one that I could stand back and look at and recognize my handwriting all over. Sometimes messy and scrawling, sometimes careful and precise but one that I have carved with my own hand. But I would not have been able to do this without employing a woman's right to choose.
Both women and men in the crowd were nodding adamantly, and if you listen very carefully to the clip below, you can hear presenter Tiffany Haddish screaming "Preach" behind Williams.
Williams closed out her speech begging women to vote in their own self interest. "It's what men have been doing for years," the actor added.
Williams' statement at the Globes was especially poignant given that she recently announced that she was expecting a child with her fiancé, Fosse/Verdon director Thomas Kail. The 39-year-old actor also has 14-year-old daughter Matilda with the late Heath Ledger.
On social media, some anti-choice advocates noted that it made "no sense" for a pregnant mother of one to advocate for abortion, largely missing Williams' point that the right to choose to terminate or keep a pregnancy is basic health care that empowers women to lead lives based on their own choices. For example, 60% of abortions are obtained by women in their 20s, when they are just beginning their careers; 59% of abortions are obtained by women who already have children, according to the Guttmacher Institute.
Her speech was moving and timely. Under the Trump administration, the constitutional right to an abortion has been under targeted attacks from activist states and legislators. On Jan. 1, 2020, for example, over 200 Republican leaders signed an amicus brief asking the Supreme Court to overturn Roe v. Wade. In 2019 alone, 15 states have moved for abortion bans after six weeks of pregnancy, before most women know they are pregnant. Overall, in the first half of 2019, 378 abortion restrictions were introduced across the United States, again according to the Guttmacher Institute.
With the fate of a woman's right to choose in the balance of the Supreme Court, heading into what is bound to be a contentious election year, Williams' choice to use her platform to address abortion and the interests of women couldn't have been more on point.