Tom Hanks' Reaction To Ricky Gervais' Globes Monologue Was The Real Winner Of The Night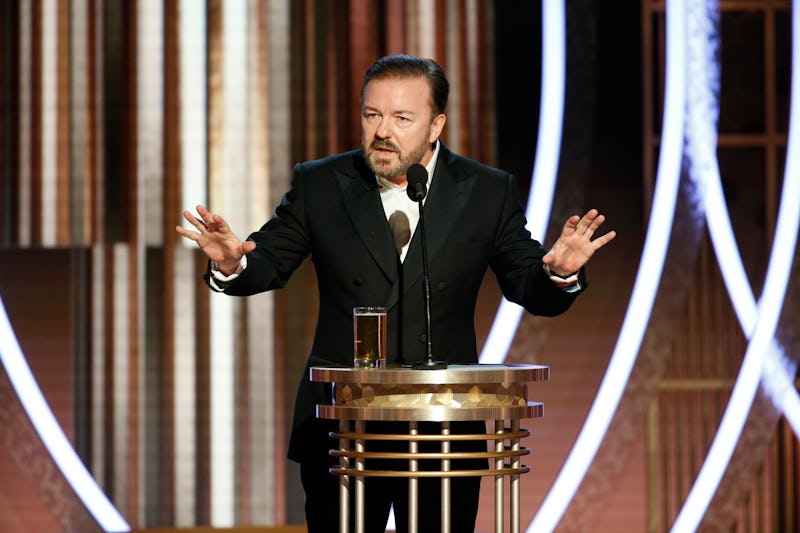 Handout/Getty Images Entertainment/Getty Images
If the looks on the celebrities' faces during Ricky Gervais' 2020 Golden Globes monologue were a gauge of his success, he may be glad this is his last year hosting the awards show. While opening the Sunday, Jan. 5 NBC telecast from The Beverly Hilton in Los Angeles, the comedian tackled subjects ranging from the recent college admissions scandal to Kevin Hart's removal as Oscar host — and even referenced Dame Judi Dench's nether regions.
When Gervais joked that Felicity Huffman had made his limo's license plate, Tom Hanks' exasperated reaction seemed to be one of the first indications the fifth-time host was losing the room. After the audience audibly groaned, he shushed them. "It's her daughter I feel sorry for," he went on to say of Huffman and William H. Macy's child. "That must be the most embarrassing thing that's ever happened to her... and her dad was in Wild Hogs."
Gervais, perhaps only half-jokingly, announced during his opening that he doesn't "care anymore" because this will mark his final stint as host. Taking back the reins from 2019 hosts Sandra Oh and Andy Samberg this year, he previously emceed the telecasts from 2010 to 2012 and again in 2016. He implored the audience to remember his words were "just jokes" and that "we're all gonna die soon" anyway.
From there, some jokes landed better than others, though halfhearted, uncomfortable laughter seemed to prevail, as he went on to broach more taboo subjects like Jeffrey Epstein's death ("I know he's your friend," he said) and Ronan Farrow's sexual assault investigative reports. "He's coming for you . . . perverts," quipped Gervais. Also targeting the Hollywood Foreign Press Association's supposed inability to speak English or understand Twitter, he further poked fun at Martin Scorsese for his height and Leonardo DiCaprio for his preference for dating much younger women. (For the record, both men seemed to take the roast in good humor.)
Even Gervais second-guessed his Dench joke, while discussing Cats criticism. "I can't do this next joke..." he began. But he did it anyway, announcing that Dench was "born to play" the role "because she loves nothing better than plunking her ass down on the carpet, lifting her legs and licking her own [bleep]." He then implored every winner to not talk about world events, since many of them had barely finished more schooling than Greta Thunberg. Tom Hanks yet again had the best reaction.
Suffice it to say that when Gervais announced the evening's first presenters, Reese Witherspoon and Jennifer Aniston, many were relieved.
To be fair, Gervais had promised fans a lively show after the HFPA announced him as the 2020 Globes host in November. "This is the very last time I'm doing this, which could make for a fun evening," he teased in a statement at the time. In a subsequent interview on BBC One's The Graham Norton Show, the Office alum revealed he wouldn't be rehearsing, adding, "I'm going to say what I want."
That's not to say his comedic barbs aren't meticulously mapped out ahead of time, however. Gervais acknowledged in a recent interview with The Hollywood Reporter that fans may have thought he would just "get drunk and say off-the-cuff [things]" onstage, but he actually began writing "bulletproof" jokes as soon as he secured the gig. Citing Hart's 2019 Oscar scandal, Gervais explained "there's more pressure" to make sure his jokes hold up in 10 years' time. "It's the world [watching]. This isn't me in a comedy club," he noted.
Even so, that hasn't exactly motivated him to take anyone out of his sights, either. "People like the idea of freedom of speech until they hear something they don't like," Gervais, who said he tried to "play the outsider," added to THR. "So there's still a pressure, but that doesn't mean I'm going to water it down or back down and not say what I want."
That's certainly been on full display when the Brit has fronted the Globes in the past, as he's roasted everyone from Ben Affleck to Justin Bieber and Mel Gibson to Madonna. During his 2016 hosting gig, many labeled Gervais' Caitlyn Jenner joke, which poked fun at her fatal 2014 Malibu car accident, as particularly offensive.
While he might not have crossed too many lines on Sunday, Gervais' monologue definitely got mixed reviews. Especially from Tom Hanks.