The Co-Creator Of 'The Bachelor' Is Cryptically Tweeting About Nick Viall & Fans Are Losing It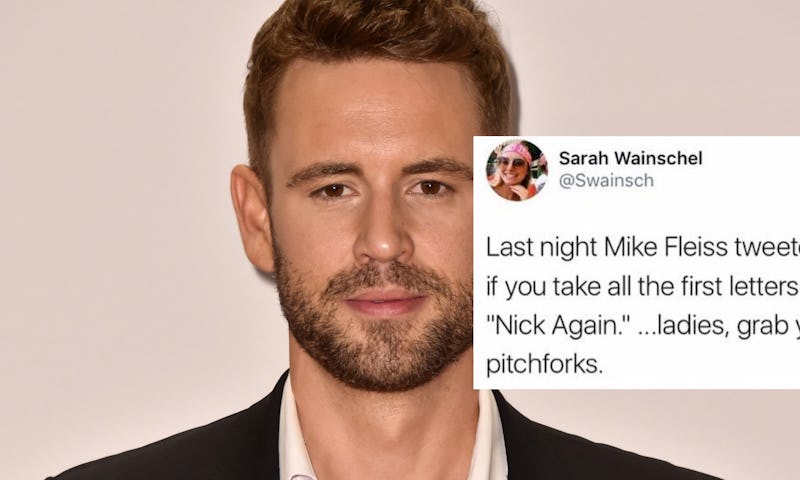 Getty Images/Bustle
The race to see who will be the next Bachelor is officially on, and no one is more aware of the excitement than series co-creator Mike Fleiss. On Saturday night and Sunday morning, Fleiss posted two tweets hinting that Nick Viall would be The Bachelor. Again. Viall, who has appeared on two seasons of The Bachelorette, a season of Bachelor in Paradise, and his own season of The Bachelor, is not fans' first choice for Season 22. In fact, after Fleiss' tweets, Bachelor Nation made it clear they were not here for another season of Viall looking for love.
For his part, Viall quickly shot down the rumors on his own account when he tweeted that he was glad he wouldn't have to miss any Packer games this season. In other words, he'll be at home this fall and not filming another season of the Bachelor. Still, that doesn't explain Fleiss' since deleted tweets. In one tweet, he wrote, "Just in the nick of time?" and in the other, "Now It's Common Knowledge After Grief All Is Nothing." If you take the first letter of each word the message spells out "Nick Again."
The teasing didn't stop there though. The Bachelor co-creator then popped up with a third tweet declaring his account had been hacked by someone in Burbank. Burbank happens to be where the ABC Studios are located, so either Fleiss is being serious or he just made the worst dad joke ever.
If the entirety of Bachelor Nation has a collective migraine now, it wouldn't be surprising. Seriously, what is going on? Fleiss has always enjoyed hyping up the new seasons, so perhaps he's trying to throw fans off the trail of the actual new Bachelor by focusing on Viall. As far as most fans are concerned, the leading contenders are Peter Kraus and Eric Bigger, who came in as the first and second runner up, respectively, on Rachel Lindsay's season of The Bachelorette.
Since, Viall was quick to assure Bachelor Nation that he has other plans this fall, he seems sincere in saying that he's not ready to hand out more roses just yet.
There's also the small possibility that the new Bachelor could be a different Nick entirely. One of the franchise's other famous "Nicks" is pro-golfer Nick Sutter from Andi Dorfman's season of The Bachelorette, but he's kept a low profile since his short stint in Bachelor Nation, which would make him an odd pick to anchor the next season. Current Bachelor in Paradise contestant Nick Benvenutti would be the more likely choice.
While Benvenutti hasn't emerged as a fan favorite, Fleiss is not above suggesting the man who introduced himself to JoJo Fletcher as Santa Claus is next in line for the Bachelor throne. After his two previous "Nick" tweets disappeared, Fleiss shared an update featuring Benvenutti that should at least have fans raising their eyebrows. One thing is certain, no one could say they saw it coming if Benvenutti does turn out to be the next Bachelor.
Nick conspiracy theories aside, the most likely answer is that Fleiss is trying to build up hype around the forthcoming announcement. He's also promised on Twitter that fans "will be shocked" when they find who the new Bachelor is. And let's be real, there would be nothing shocking about Viall taking a fifth turn at finding love in the franchise.
Relying on predictability isn't going to do The Bachelor any favors, as fan reactions to all of the Viall teasing proves.
For now, it's best not to get too worked up over Fleiss' disappearing tweets. The Bachelor maestro is far too smart to reveal his hand on social media. You can bet that the official announcement will come with its share of fanfare, and it will likely be about a man who is not named Nick this time.