Not To Worry Anyone, But Could Nick Be The Bachelor Again?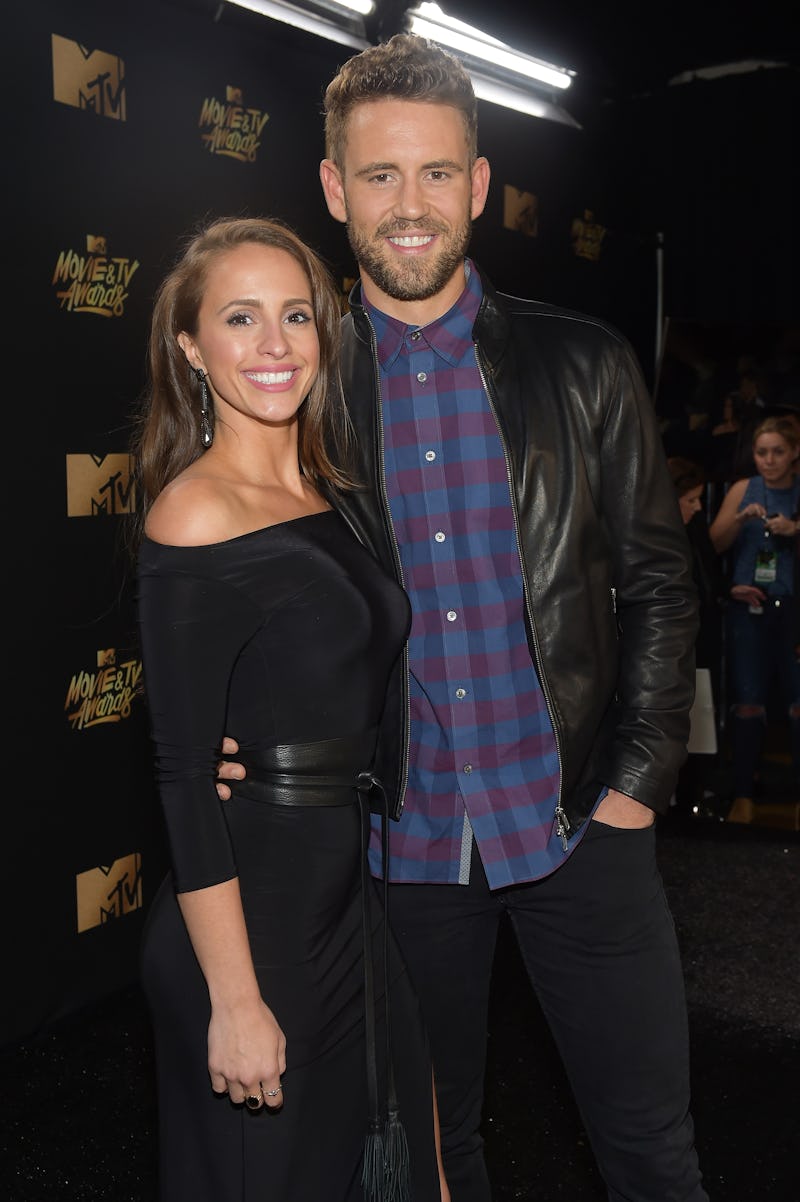 Matt Winkelmeyer/Getty Images Entertainment/Getty Images
Well, that didn't take very long. Most recent Bachelor Nick Viall and his fiancée, Vanessa Grimaldi, have split up just five months after the finale of their season aired. In a joint statement released to E! News, Viall and Grimaldi said, "We are saddened we did not get the fairytale ending we hoped for." Viall has been on two seasons of The Bachelorette and one season of Bachelor In Paradise as a contestant, and was the lead of The Bachelor's 21st (wow) season. It seems like he's just unlucky in TV romance. But still, his breakup with Grimaldi begs the question: will Nick Viall be the Bachelor again? No way. Not a chance. But... maybe? Anything is possible on The Bachelor!
A two-time Bachelor is not unprecedented. Brad Womack was the show's star both in Season 11 and Season 15. But for Nick to return there would really have to be some serious fan demand. Bachelor tradition is usually that the next dude is chosen from the crop of suitors of the previous season of The Bachelorette. Rachel Linsday, the last star of the show, sent finalist Peter Kraus home after he said that he wasn't ready to propose, despite the fact that he loved her. She burned him with a bit of truth that broke the fourth wall of the show on After The Final Rose, and said, "I just don't think this world, this show is for you." Still, fans love Kraus, regardless of his commitment issues and would love to see him as the next lead.
But Viall is a different story. The world of The Bachelor definitely is for him. In fact, he can't seem to stay away. Even after he made it all the way to the finale of Andi Dorfman's season in 2014 to be sent home in favor of Josh Murray, he came back for more the following season to woo Kaitlyn Bristowe, again reaching the final two to be turned away. (Seems a little masochistic, dude!) But he soldiered on in his search for TV love, popping up on Bachelor In Paradise Season 3, and finally, The Bachelor. But he's never been able to make it last.
And now, Bachelor Nation does not seem to be in Viall's corner. Not only are fans on Twitter decidedly unsurprised about the breakup, they are very vocal about not wanting Viall to come back.
Everyone saw it coming:
Some threaten to abandon their fandom if he returns:
The passionate anger is palpable.
But in an alternate timeline, Viall lives in his own Groundhog's Day of Bachelor shows and all its spinoffs:
Some viewers are being way harsh, Tai.
You'd almost feel bad for the guy, if it didn't seem like he was just punishing himself and/or chasing fame coming back again and again. After all, following his turn as The Bachelor and getting engaged to Grimaldi, Viall traded roses for choreography to compete on Dancing With The Stars.
So, will Bachelor Nation be successful in renouncing Nick Viall? Probably, as fan demand has seemed to play a big factor in choosing new contestants (many fans wanted him to star the first time around), and fans are still pulling for Kraus (even though he's unsure) and there have also been many fans supporting the idea of Wells Adams as Bachelor. There are plenty of other TV shows Viall could star in if he can't get enough of the spotlight. As for love, perhaps he should try Tinder.