The Chances That We Might See Nick Viall On 'The Bachelor' Again Aren't Exactly Slim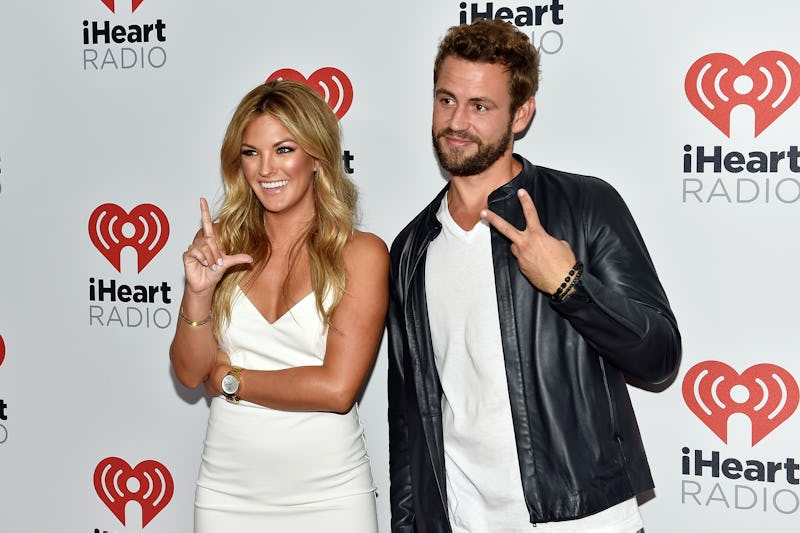 David Becker/Getty Images Entertainment/Getty Images
In the wake of the news that he and Vanessa Grimaldi have ended their engagement, it's time to wonder if Nick Viall will be on The Bachelor again. For any other contestant within this franchise, it's a notion that might be easily dismissed. When Ben Higgins and Lauren Bushnell broke up, for example, any question of whether Ben might return as the Bachelor fizzled out pretty quickly. But with Viall, this is a question that needs to be considered, because coming back for more has sort of become his brand within the franchise. Not only that, but he's always done things a little backwards and out of order.
In most other seasons, you might expect to see the runner-up on The Bachelorette helming their own franchise of The Bachelor. But after Viall made it to second place on Andi Dorfman's season, that's not the way things played out for him. Instead, he returned the following year as a contestant on Kaitlyn Bristowe's season, again reaching the finale and again meeting with rejection. Even then, he didn't jump straight to being the Bachelor, instead logging a round of Bachelor in Paradise in the spinoff's third season.
Only then, after he'd won back the audience a little bit, was he granted his own season of The Bachelor in 2017, almost two years after he'd last appeared as a Bachelorette contestant. So while he doesn't have the most traditional timing, there's one thing he does have: consistency. For the past three years, we've watched him pick out diamond rings for women on television who don't go on to wear them. Why should 2018 be any different?
True, the franchise has an entire stable of men from Rachel Lindsay's season to choose from. But with Dean Unglert on BIP and Peter Kraus essentially ruled out by the show's creators themselves, there's no easy frontrunner. (Eric Bigger, if you're reading this, please come back and be our next Bachelor.) But, at this point, Viall feels almost inevitable as a choice. If they've given the Wisconsin native four chances at love, why not give him five? What's the difference?
The software salesman wouldn't even be the first contestant to appear as the Bachelor twice. That honor belongs to Brad Womack, who was the star of both Season 11 and Season 15. Ultimately, it will just come down to who the producers think will make the best television. And even if Viall isn't selected as the next Bachelor, he'll likely crop up on The Bachelor Winter Games, a new spinoff premiering in February 2018, or just the old reliable Bachelor in Paradise. The newly-single 36-year old seems to have forgotten that there are other ways to meet women besides going on television, so it's unlikely that we've seen the last of him within Bachelor Nation.