Millie Bobby Brown's Golden Globes Dress Is One Of Her Boldest Looks Yet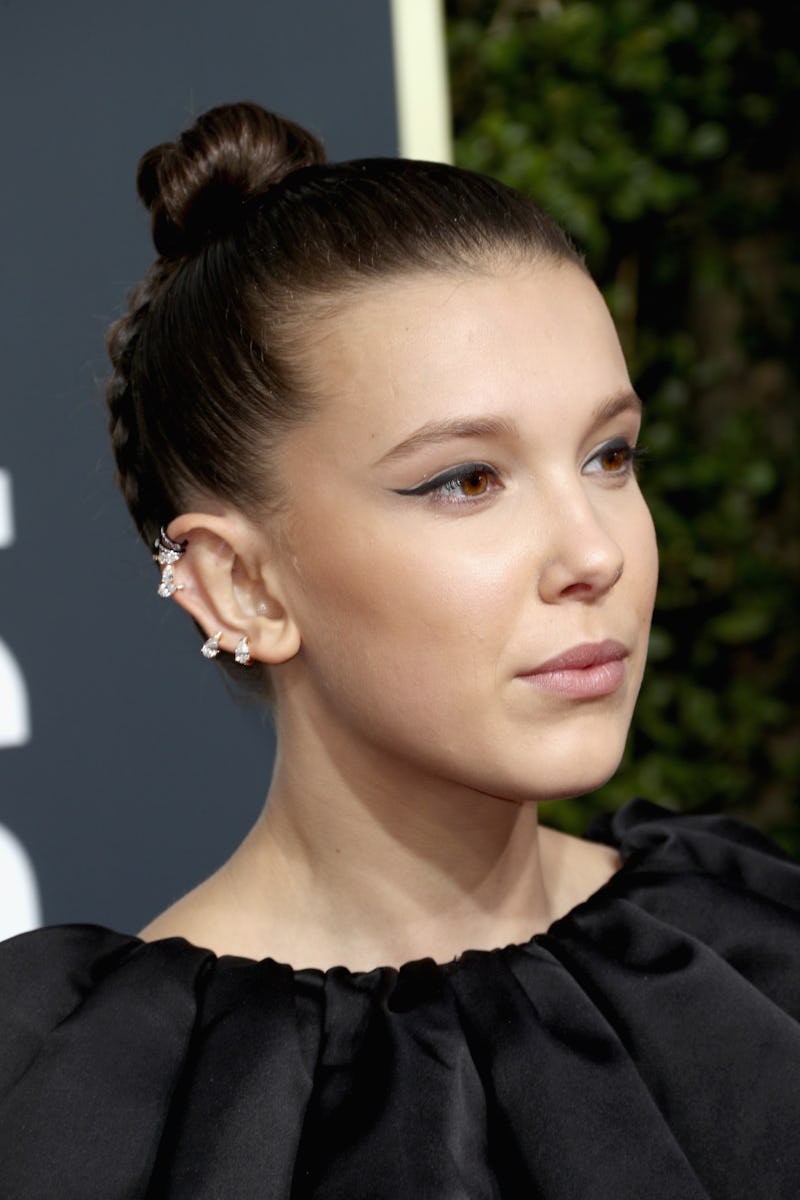 Frederick M. Brown/Getty Images Entertainment/Getty Images
She never fails to impress with her red carpet looks. And, I think we can all agree, it's been amazing to watch her personal style evolve since she first came on the scene a few years ago. But Millie Bobby Brown's 2018 Golden Globes look is truly next level, proving once and for all the Stranger Things star is officially one to watch.
Brown stepped out in a black Calvin Klein dress, which she wore to help protest gender inequality, sexual assault, and violence in Hollywood. She's awesome like that, so the fact she wore black — as so many celebrities did on Sunday night — really came as no surprise. But what was just a tiny bit shocking, in the very best way? The sheer boldness of her look.
The star looked every bit the fashion icon she's starting to become by walking the red carpet in a little black dress. But there was so much more to the look that made it truly special. It featured a voluminous neckline, which gathered around her shoulders; the dress was short, which is always a chic choice for the red carpet; and, it had pockets.
Seriously, take a look at this.
Pretty amazing, right?
This look is definitely a new one for Brown, who usually goes for something red carpet-worthy, but just a tiny bit sweeter. (She is young, after all!)
Remember the pretty red dress and headband she wore to the SAG Awards last year? She looked super cute. But this LBD is lightyears beyond anything she's ever worn in the past, and proves the actress is really growing up. Tear.
Again, what made the Calvin Klein dress so special was the neckline. It had tons of volume, and came all the way down to her elbows, thus creating a truly interesting silhouette.
I don't know about you, but the whole look was like nothing I'd ever seen before. It was sort of futuristic. Sort of Old Hollywood. And yet, Brown rocked it effortlessly, like it was something casual she's worn every single day.
The real magic of the dress, though, was the open back. It was framed by even more ruffles and volume, which bloomed out like a pair of wings. Again, this created a bold silhouette, and one that was entirely different from the front. Calvin Klein truly out did himself with this one.
And, can we talk about those shoes? They added even more edge to the overall look, with their spiky heels and zippers.
To go along with it all was her super chic makeup, which was perfectly applied by makeup artist Kelsey Deenihan. The cat eye paired perfectly with the dress, as did the nude lip, creating an overall effortless effect.
And how about those earrings? A simple hoop or stud earring would have looked out of place with the rest of this look, so it made perfect sense that Brown would go for diamond studs and cuffs all the way up her ear.
And finally, can we talk about her hair? The top knot had a large part to play in the overall feel of this look. By pulling her hair off her face, and slicking it back, Brown instantly morphed from lovable child star, to total icon status.
Add in the fact she had a surprise braid crawling up the side of her head, and what more could you ask for?
Each element came together to create quite the bold look for the young star, who I don't doubt will keep impressing us with her amazing style, and incredibly acting skills, for years to come.