Milo Ventimiglia Denies This 'Gilmore Girls' Fan Theory... Again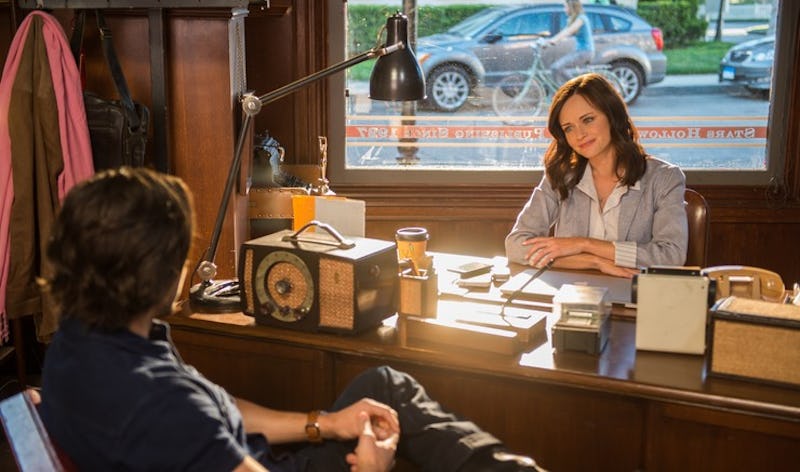 Neil Jacobs/Netflix
Ever since the truly shocking final four words of the Gilmore Girls revival revealed that Rory is pregnant at the end of A Year In The Life, fans have been beside themselves in determining who the father could be. Everyone has a theory, and, if your heart 'ships the same Gilmore Girls couple that mine does, then what I'm about to tell you will ruin your day. Milo Ventimiglia confirmed that Jess isn't the father of Rory's baby, which obviously, shook me. However, the more I think about it, the more I've come to realize that the question of paternity isn't so important that we have to keep asking about it. In fact, I think it's time we all stopped.
As reported by Movie Pilot, the actor made the revelation regarding the paternity of Rory's baby during a Gotham-themed panel at London's Heroes & Villains Fan Fest on Saturday. Without sparing too many words on the subject, Ventimiglia simply said, "just so you know, it isn't Jess' kid." And though I have no proof of what his face looked like as he said this, I imagine one of Jess' signature frustrated scowls accompanying the statement. And a copy of Howl being strategically pulled out of his pocket so he can deflect any further questions on the subject. Naturally.
Though disappointing on various levels, Ventimiglia's blunt confirmation that Jess isn't the father feels almost like the final word that we need on the topic. After all, back in March, he had already revealed that Jess isn't the father of Rory's baby during an interview with Build, in which he said, "No, it is not Jess' baby. I feel like everybody's like, 'But what if he came out with a pompadour, leather jacket and a smart brain?!'"
So, at this point, I honestly think we need to give a guy a break and just stop asking this same question. Because honestly, the identity of the father of Rory's baby really isn't all that important to the overall story. Like, at all, guys. If for nothing else, being a biological father doesn't automatically mean that a person is going to be a great Dad. So to focus on who the father of Rory's baby is feels shallow.
And that's especially true when you consider how the show champions alternative family set-ups that don't necessarily rely on biological parents. We saw this throughout Gilmore Girls with the complicated relationship that Rory had with her own biological father, Christopher, who could be kind of the worst. However, as a single mom raising her child in a supremely supportive small town, Lorelai was the best parent a child could want for, and it seemed as though Rory never lacked for friendly father figures within Stars Hollow. We also saw it, however, with Jess' own biological father and the close bond he develops with his Uncle Luke.
With that in mind, why keep asking who the father of Rory's baby is? Especially so when you consider that "Fall," the final episode of A Year In The Life, featured a whole segment in which we saw Rory talking with her dad and subtly making the decision to be a single mom. That seems to suggest that the biological father — be it Logan Huntzberger, the random Wookiee Rory had a fling with, or poor forgotten Paul — is only incidental to Rory and to the overall story, too.
And let's be clear about something: if more episodes of Gilmore Girls are to happen in the future and Ventimiglia isn't too busy with This Is Us to star in them, then there's still a chance that Jess could raise Rory's baby with her. The character might not share a biological bond with the child, but I'm so here to see him step up and be the best father to that baby, regardless.
So, can we maybe leave this line of inquiry now? Because as fans, we don't need to know about it, just as the cast doesn't need to keep commenting on it, and the overall Gilmore Girls story doesn't depend on it, either. Let's pour ourselves a tall coffee and just move on with our lives.