Milo Ventimiglia's 'This Is Us' Stache Is Gone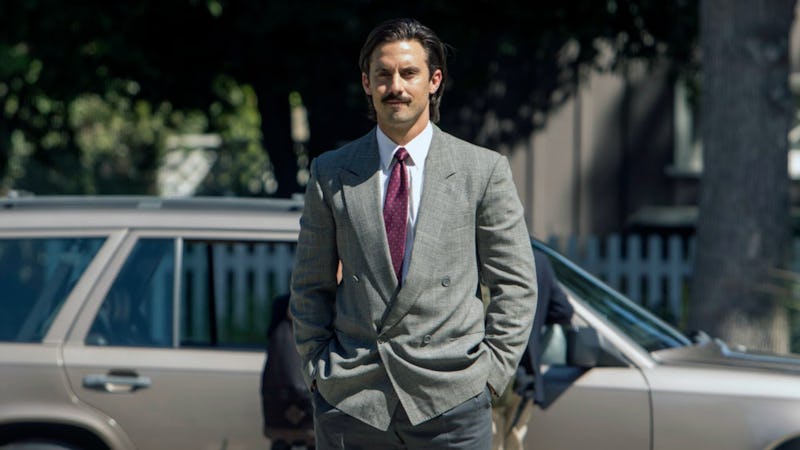 NBC
When you're a fan of This Is Us, you have to be prepared for anything. One week you're in 1980, in the next its 1990, and, in between, you have to sort out your complicated feelings about Kevin's love life. Now the show is throwing a new curve ball at fans: Jack Pearson's mustache is gone, and the Internet is freaking out. In a series of tweets, executive producer Ken Olin and Milo Ventimiglia revealed Jack's clean-shaven face, along with a couple of crucial teasers.
The first came from Olin, who promised the final four episodes of the season will take the show places it has never been before. The second hint from Ventimiglia was way less vague as he straight up told fans they were going to see Jack "way back when." When the initial shock of seeing Ventimiglia beard-less — and the subsequent Jess Mariano flashbacks wear off — consider what a young Jack episode could mean for Season 1.
According to Twitter, Mandy Moore has wrapped filming on the season, but Olin tweeted Ventimiglia is still working. The show has offered up almost all of Jack and Rebecca's relationship milestones, from their wedding day, to the night their kids were conceived, to a future where their kids are teens and their marriage is, ever so slightly, strained. The one thing fans haven't seen? The moment Jack and Rebecca met.
The show also hasn't shown the moment Jack died. Given the way This Is Us loves to emphasize inter-connectivity, what if the season ends with two pivotal past moments in Jack's life — the day he met Rebecca, and the day he died. Wrapping the beginning and the end of their love story around the present day events would finally give context to Kate, Randall, and Kevin's lives after losing their father. It would also make for an emotional powerhouse of an ending to the show's first chapter.
Face it, if This Is Us isn't making you sob uncontrollably by the time the credits roll, it is not doing its job. All of the love and sacrifice Jack has poured into his family has been Season 1's defining feature. For the Pearson family, there is life with Jack and life after Jack, and after they lost Jack things became way more complicated for all of them.
So far, Jack's youth has been lightly sketched. His father was abusive, and Jack seemingly kept him away from his family at all costs, while also vowing to never be like him. I would say, Jack's big three defining moments in his life were the day he met Rebecca, the day they got married, and the day his children came into the world. If the show is planning on stretching back to the moment Jack and Rebecca first fell for each other, then the answer to how Jack died can't be too far off. After all, for Rebecca and the Big Three, losing Jack was a major defining moment in their lives, and a missing piece of the puzzle for fans who are enthralled by their present day drama.
Yes, a few shots of a beardless Ventimiglia are packed with that much meaning about just how This Is Us is going to wrap this season. One way or another there is a big Jack story just around the corner, and the only way to prepare for the inevitable heartbreak is with tissues, ice cream, and memories of that beautiful stache.