Milo Ventimiglia's Reaction To Losing At The Emmys Will Make You Love Him Even More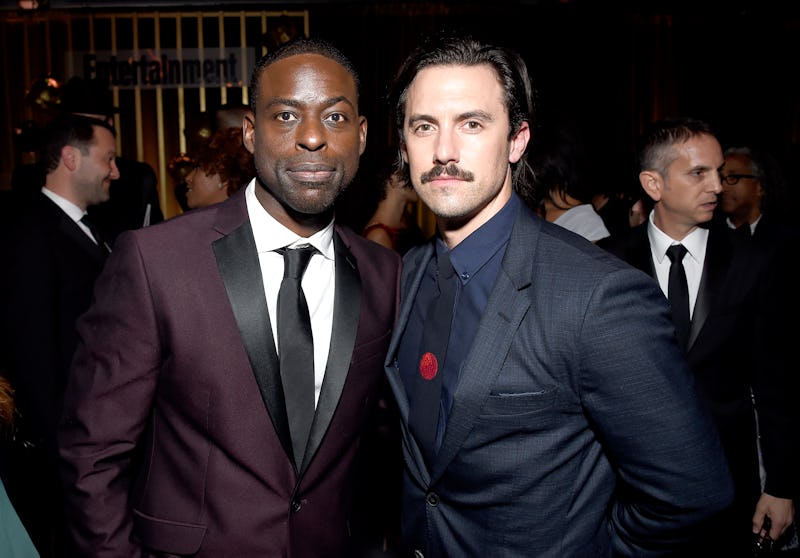 Matt Winkelmeyer/Getty Images Entertainment/Getty Images
There was a friendly family rivalry at this year's Emmys — sort of. The This Is Us father-son duo, Milo Ventimiglia and Sterling K. Brown, faced off in the same category. Ultimately, Sterling K. Brown won Outstanding Lead Actor In A Drama, but there's no doubt that Ventimiglia supported the other. As fans know, the Pearson family sticks together.
Brown's TV Pops immediately hopped up and hugged his costar. Ventimiglia lingered in the aisle, congratulating him and beaming until Brown finally took to the stage (video below). Ventimiglia honestly could not have lost to anyone better or closer to him personally. While the two actors don't get to share that many scenes together, their fictional father and son bond was palpable. IRL, Ventimiglia was so proud of Brown. There wasn't an ounce of disappointment in his demeanor. It would be wrong to call this a snub, because Sterling K. Brown more than deserves this honor.
Brown's speech was everything, of course, and also not enough. He got to thank his TV parents "Milo and Mandy," calling them the best white family anyone could ask for, and made one heck of a Mad Men joke, but his hilarious words were cut off by some particularly jaunty music. However, as far as This Is Us fans are concerned, the Pearson love was the best part. They really are the perfect TV family. Ventimiglia talked about his fatherly bond on the E! red carpet. They're always calling each other Dad and Son on Twitter. It's the best. Remember when they all did that push-up challenge from the show?
According to Entertainment Weekly, Ventimiglia actually tried to vote for his fictional son instead of himself and was upset that he couldn't. "I went on the Emmy website and I tried to vote for him," he said, "and I realized I couldn't vote in my own category, and it kind of broke my heart. I was voting for Sterling. I was in my trailer, and I was like, 'I've got some time. I'm going to vote.' And I went on to vote and my category wasn't there, and I was so pissed. I ended up walking over to his trailer and saying, 'Hey man, I tried to vote for you, but it wouldn't let me. So I'm just telling you that I wanted to vote for you."
Also speaking to Entertainment Weekly, Brown joked that "Normally I would say Dad is supposed to let me win. But I'm actually older than Dad, so maybe I'm supposed to let him win?" They were mostly just happy to be invited together. It's always fun when actors embrace the flashbacks and/or supernatural elements that cause them to play parents and children despite any significant age difference. Before This Is Us, the cast of Once Upon A Time used to have fun with that.
On Sunday night, it was never a rivalry between the two leading men, let's be real. They love each other way too much to have more than a comic competition. Honestly, the Pearsons cannot be stopped. This whole cast is too freakin' cute to boot. It definitely makes the show's sadder moments easier to handle to know they all love each other IRL. The Big Three was living it up at the Emmys Awards.
Hopefully This Is Us will be on the air for many years, and the Emmy love will go all around that figurative dinner table. Ventimiglia will surely get his trophy one day. For now, fans can revel in the love shared between a kid and his father — as unconventional as this duo may be. Brown was the rightful winner on Sunday night, and the family support is just icing on the cake.