Mindy Kaling's Baby Is Officially Here, So Prepare To Jump For Joy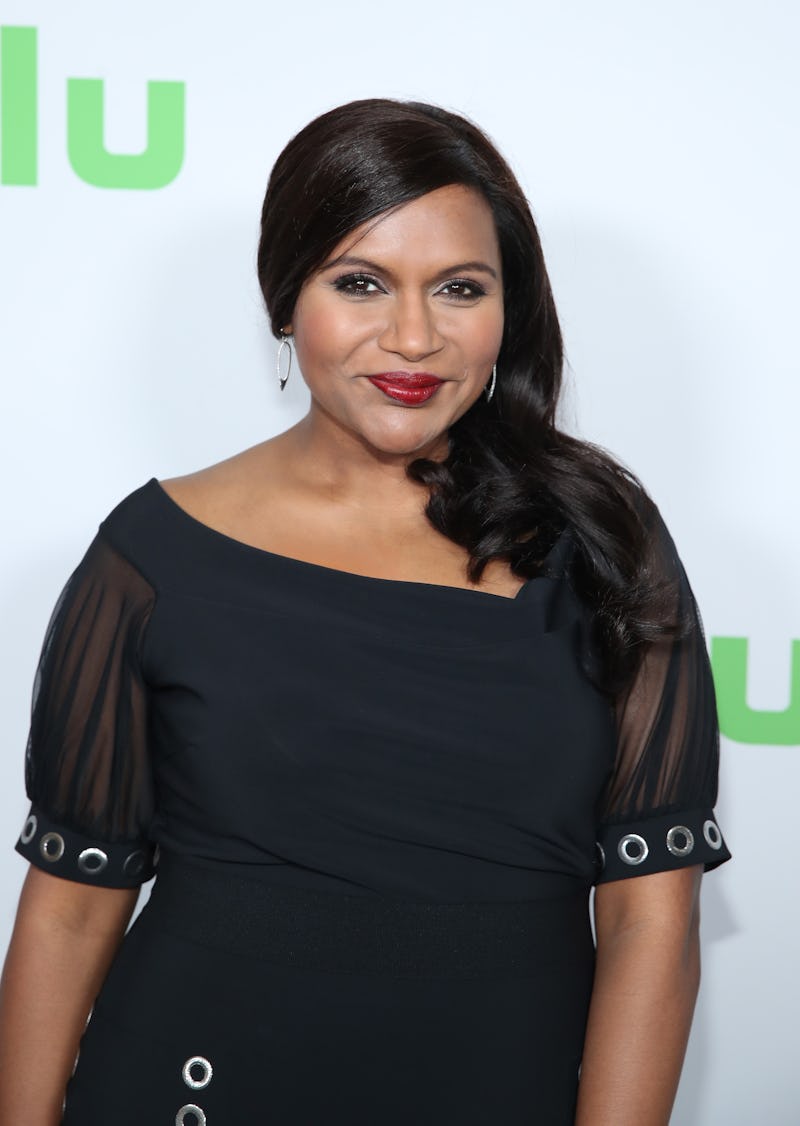 Jonathan Leibson/Getty Images Entertainment/Getty Images
In news that will make fans jump for joy, Mindy Kaling's baby is officially here. According to E! News, Kaling reportedly gave birth to a daughter named Katherine Kaling on Dec. 15, and Twitter is already incredibly excited about the arrival. (Bustle reached out to Kaling's rep for comment, but did not receive an immediate response.)
It's officially a huge week for the actor, who also appeared on the cover of TIME magazine, alongside her A Wrinkle In Time co-stars Reese Witherspoon, Oprah Winfrey, and Storm Reid. The trailer and poster for Ocean's 8, where Kaling is one of the leading ladies, also dropped this week. And interestingly enough, Kaling has been posting on social media in the days following giving birth, without even mentioning the baby. Clearly, she's able to keep a secret and continue working, like it's NBD. It just shuts down any outdated notion that moms can't do it all.
Suffice to say, landing on the cover of TIME, releasing a new movie trailer, and welcoming a new baby into the world are major causes for celebration — the latter being especially exciting. Rumors that Kaling was expecting a child first broke in July, but it wasn't until a month later that she confirmed the news herself in an interview with TODAY. Or actually, if we're being technical, it was her pal Oprah who first confirmed Kaling's baby news when she spilled the beans at Disney's D23 Expo in July. Oprah said at the time, "My mouth dropped. 'What did you just say?' she said, 'Oh, Oprah, I don't think you know. I'm 5 months pregnant.' And I said, 'WHAAAAT?!'"
But not even the Mindy Project star could be upset with the legendary talk show host and her Wrinkle In Time co-star. As Kaling said on The Ellen DeGeneres Show in October,
"At first it was like, 'If anyone is going to announce big news about your private life, Oprah Winfrey is the person.' You can't complain that much about it."
Honestly, that's a totally valid point. It seems near impossible to be mad at Oprah. Now, it's only a matter of time before her co-stars spill any more details about Kaling's daughter's arrival. (Or who knows, maybe Oprah learned a big lesson the first time?)
Even if it may be a while before Kaling opens up about her newborn baby and subsequently shares adorable photos, Twitter couldn't be more excited in the meantime. Some were just as thrilled, as if they knew the star personally. Given her personality in interviews and roles on TV, she's like everyone on the internet's BFF — at least in their minds.
She's Pretty Much Having The Best Week Ever
And quite frankly, she deserves to bask in all that joy.
Some Used Appropriate GIFs
There's no better time to bust out all the celebratory images — whether from The Office or The Mindy Project.
Others Pointed Out This Brilliant Choice
Yes, the baby has her last name — as she should. Would you expect anything less from such a badass star?
It's Like A Gift To Us All
Having another Kaling in the world is practically an early Christmas present. Especially when most of other news lately is a total bummer.
There Is Genuine Joy All Around
Unsurprisingly, the internet is a big fan of good things happening to good people.
Seriously, People Are So Pumped
The excessive caps lock truly speaks for itself.
A huge congrats are in order for Kaling — not just on her daughter's birth, but also her two major movies in the works. She's practically taking over the world right now, and all of that happiness is so well-deserved.