Sound The Alarm, Because The 'Ocean's 8' Trailer Is Finally Here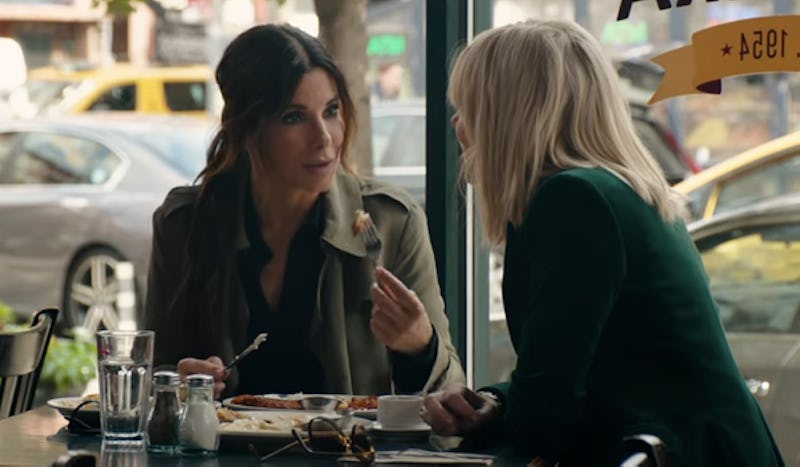 Warner Brothers
After teasing fans for nearly a year, Warner Brothers finally released first Ocean's 8 trailer. Since the first photos of the set were released in January, people have gone wild for the upcoming women-led reboot. The heist classic was originally made as Ocean's 11 with Frank Sinatra in the lead role, and George Clooney famously took over as Danny Ocean in Steven Soderbergh's 2001 remake. The 2018 spin-off Ocean's 8 stars Sandra Bullock as Ocean's sister Debbie, recently out of prison and assembling her gang for a major heist. And her gang amazingly includes, Rihanna, Mindy Kaling, Cate Blanchett, and more.
Once the Ocean's 8 poster was revealed on Dec. 14, movie fans knew a teaser trailer wouldn't be too far away. Warner Bros. had already released film stills to Entertainment Weekly and on Rihanna's Instagram. The movie gods finally gave fans the thing they've been begging for: an Ocean's 8 trailer worth swooning over.
In the trailer, fans first see Debbie being released from prison and promising she's changed her ways — but there's not a chance that that actually happened. Soon, she and Blanchett are gathering their group of women, who all seem pretty easily convinced to join once they hear how big the bounty is.
As you can tell from the trailer, Ocean's 8 isn't a remake of Ocean's 11. To be clear, Ocean's 8 isn't quite a reboot or a revival either. It's a spin-off of the franchise that was rebooted by the 2001 film. (The original Ocean's 11 was released back in 1960.) While the newer Ocean's 11 trilogy takes place in Las Vegas, Ocean's 8 moves the caper to chic New York City. Is the heist planned around the annual Met Gala? Why, of course it is, for the better to include celebrity cameos with, my dear. A-Listers like Kim Kardashian and Zayn Malik have already been announced as guest stars in the movie. And, honestly, it makes sense that a seasoned thief would plan a heist at the Met Gala since it's an ingenious marriage of money, celebrity, and distraction. The glam fam that leads Ocean's 8 could get around anywhere with the right attitude, disguises, and flash photography to keep everyone else misdirected.
In Ocean's 8, everything that happened in Ocean's 11, Ocean's 12, and Ocean's 13 will have already taken place. It's unclear what Debbie Ocean's role would have been at that time, but it's likely that the film will at least address it in some way. Also, what's great about the Ocean's 8 title — apart from the fact that it brings together eight brilliant, hilarious, and creative performers — it sets up the possibility of sequels without running into a numbers problem. When Ocean's 8 is an inevitable hit, there's the chance of new installments jam-packed with even more talent. A sequel could be Ocean's 9, and a three-quel would make Ocean's 10; three new Oceans's films, with the first trilogy untouched.
But even with the trailer, so much remains unknown about the Ocean's 8 film. For instance, will star Rihanna be on the soundtrack? How many dazzling outfits will Mindy Kaling rock? (It looks like quite a few.) Is the correct adjective to describe the scene that includes all of them studying up for their heist car "perfect", "supreme", or "sublime"? These are the things fans need to know.
The official release date for the movie is June 8, 2018, but, based on the look of this trailer, audiences would definitely be OK with Warner Bros. moving up the release date.