Mischa Barton's Photo With These 'Hills' Cast Members Shows She's Fitting Right In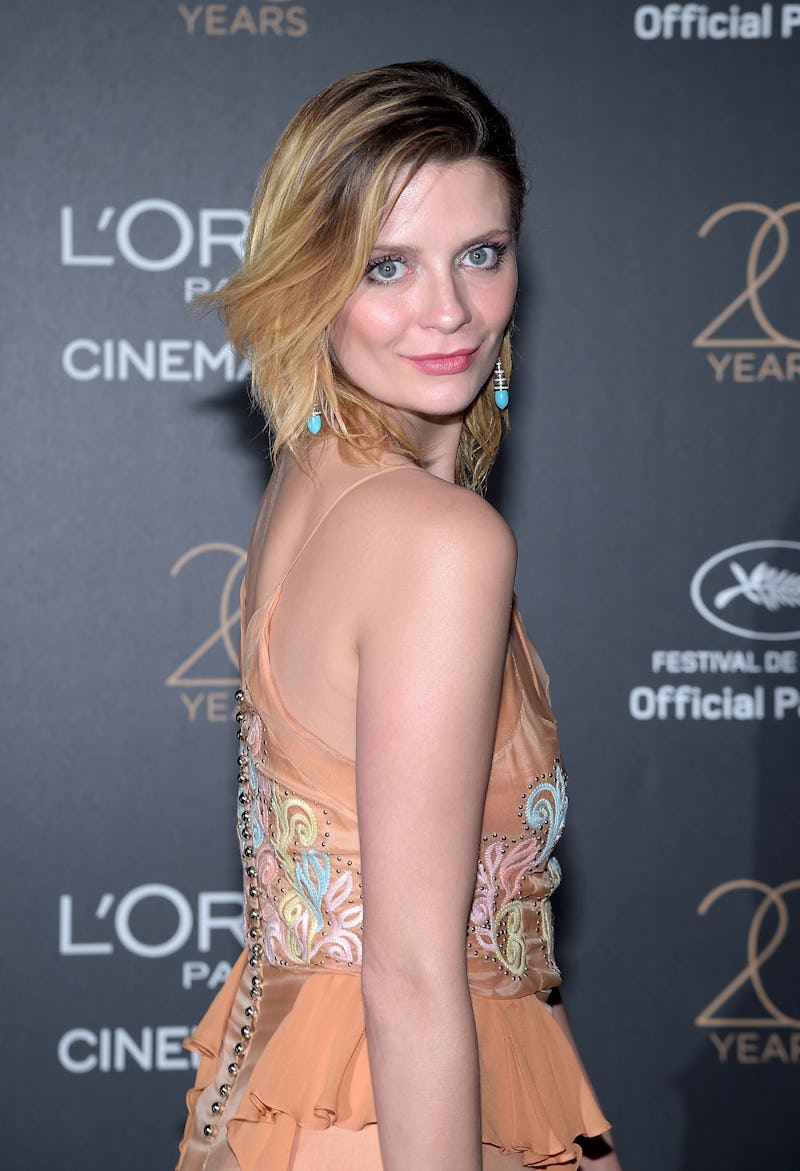 Pascal Le Segretain/Getty Images Entertainment/Getty Images
The new girl is no mean girl. In Mischa Barton's photo with The Hills cast members Audrina Patridge and Stephanie Pratt, the former star of The O.C. released her inhibitions and put her own spin on two iconic lines from 2004's Mean Girls. "On wednesdays we wear whatever we want... and you can totally sit with us 💋" Barton, a newbie to the franchise, captioned the amazing Instagram photo, posted in the earlier hours of Saturday, Oct. 13.
Pratt, who appeared on the original MTV hit from 2007 until 2010, also shared the same photo of the trio, writing, "Hanging out in #TheHills" and also tagging her two cast mates.
Barton first announced she had joined the reboot titled, The Hills: New Beginnings on Oct. 3 in a fab Instagram video. "The secret's out... I'm joining the cast of The Hills," she captioned the video of herself in a car, listening to Natasha Bedingfield's "Unwritten" (AKA The Hills' theme song). "When MTV approached me with the chance to be a part of the reality show that was inspired by The OC, it felt like the perfect opportunity for an irresistibly inviting new chapter."
Adding a special touch of drama to the Instagram post, Barton removed her sunglasses and happily said: "Welcome to The Hills, b*tch."
The Hills: New Beginnings — which is slated to premiere in 2019 — "will reunite original cast members, alongside their children and friends, and follow their personal and professional lives while living in Los Angeles," per Deadline. During the 2018 MTV VMAs in August, Patridge and Pratt reunited with fellow OG cast members Heidi and Spencer Pratt, Jason Wahler, Justin "Bobby" Brescia, and Frankie Delgado to announce the reboot. That same night, MTV debuted the first trailer for the upcoming series which featured aerial views of Los Angeles, with Stephanie saying in a voiceover: "It's like we're all growing up. It's weird." (An acoustic version of "Unwritten" was also playing in the background, natch.)
Delgado recently revealed how Barton might fit in with the cast. "I think they're keeping it as real as possible," he told Us Weekly on Oct. 11. "I know Brody [Jenner] used to be friends with her, but I only met her once 10, 12 years ago maybe — back in the day when she was on The O.C. … it'll be interesting the way they bring her into our cast and into our friendships because we're all really tight with each other. But in the end, I think we have a really cool dynamic between all of us."
Although she didn't walk the VMA's pink carpet with the rest of the cast, Whitney Port will also be in The Hills' reboot. Don't expect to see her one-time BFF Lauren Conrad to return to the reality show, however — though not for lack of effort on Port's part. "I have tried to convince Lauren through people," Port told The Hollywood Reporter in September. "I haven't gotten directly to her, but I recently spoke to one of her friends and I was like, 'Tell her to do it!' ... Who knows? Maybe she'll say yes in the future. I feel like the door's always open."
Either way, there are no hard feelings, with Port adding to THR: "I get it. We're all at different points in our lives. Most of us have young families and everybody needs to protect their families in the way they feel is right ... I don't judge Lauren for not wanting to do it."
Also absent from the reunion: Kristin Cavallari, who previously admitted she "would love nothing more than a Hills reunion" on Heidi and Spencer's podcast, Make Speidi Famous Again, earlier this year. She has a good reason for not returning to her MTV roots, however. The Uncommon James founder revealed in August that E! renewed her reality series Very Cavallari for Season 2.
While the rest is still, yep, unwritten, Barton's photo shows that she's already making her mark on The Hills — and fans will have plenty to look forward to next year.