The 'Sherlock' Finale Explained Moriarty's Fate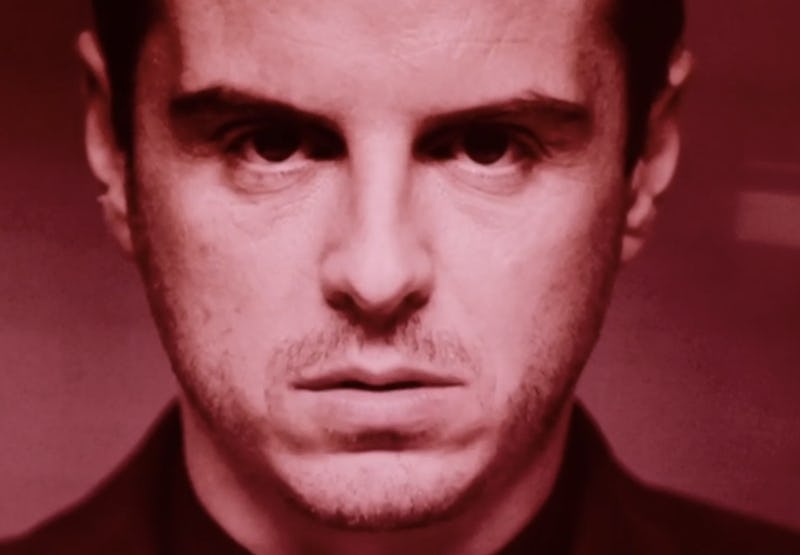 BBC
Season 4 of Sherlock was filled with major surprises, and Sunday's finale was no exception. "The Final Problem" wasted no time in exploring the most exciting revelation of the series so far. Major SPOILERS ahead. While "The Final Problem" was all about Sherlock's sister Eurus, and the island of Sherrinford on which she'd been imprisoned since childhood, fan favorite Moriarty came back in Sherlock Season 4 to terrorize Sherlock and Watson too. The Sherlock finale may have featured him, but Moriarty is definitely still dead.
The villain first appeared in "The Final Problem" on a set of monitors, repeating the words, "I'm here now. Did you miss me?" And, more importantly, it was finally revealed what actor Andrew Scott was doing in fan photos on a beach dressed in character.
In a flashback to five years ago, viewers found out that Moriarty visited Eurus at Sherrinford, and that the pair had a unique connection. Clearly, this friendship was an incredibly bad idea, and Sherlock's brother Mycroft came to regret setting up the meeting between the pair. Meant as a Christmas present for Eurus, Moriarty helped Eurus construct "The Final Problem", a series of challenges she created for her brothers. As it turns out though, Moriarty is still dead, but he recorded several messages and video clips for Eurus, which were played on screens throughout the episode.
While Andrew Scott's return wasn't the resurrection from the dead that fans had hoped for, it was interesting to see the character appear in a flashback. Arriving on the island of Sherrinford in a helicopter, Moriarty was shown listening to "I Want To Break Free" by Queen, relishing every moment of his arrival.
Fans had long-speculated about Moriarty's return, as actor Scott was listed in the IMDB credits for "The Final Problem," and the Season 4 trailer included a shot of what appeared to be his head and shoulders as he walked across a beach. There were also all of those fan photos and videos of Scott that corroborated the story.
Moriarty may be dead, but fans are hopeful that there will be a Season 5 of Sherlock at some point in the future. And if Moriarty returned from the dead once, he can hopefully do it again.