If Hearing About This Weekend's Mass Shootings Is Triggering, These 7 Strategies Can Help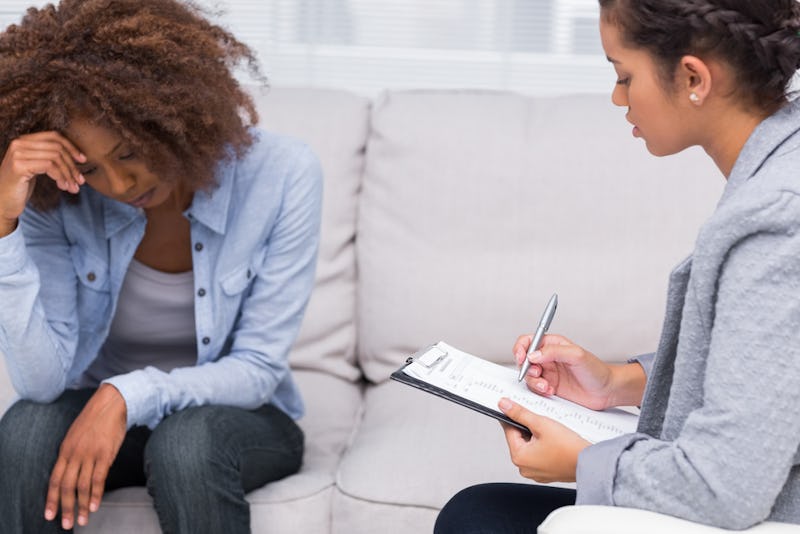 Shutterstock
In the space of 13 hours during the weekend of Aug. 3-4, 2019, 29 people were killed in two mass shootings in El Paso, Texas, and Dayton, Ohio. Even if you're not directly affected by these events, the American Psychological Association said in a post following the tragedies that it's normal to experience shock, sorrow, numbness, fear, anger, disillusionment, grief, and other emotions. And if you're feeling triggered by news about the mass shootings this past weekend, there are some things you can do to ground yourself.
Esther Saggurthi, primary clinician at Maryland House Detox, a Delphi Behavioral Health Group facility, tells Bustle that people often experience heightened fear and a decrease in perceived safety after a tragedy because traumatic events can make us feel out of control. What's more, miring yourself in the tragedy via the 24-hour news cycle can contribute to feelings of overwhelm.
"If you're able to distance yourself from it for a little bit, you again get to have control over the situation instead of the situation having control of you," she explains. She also recommends an exercise to help you ground yourself and take back some of your power. It's surprisingly simple, but very effective. If you're sitting, stand up. It will naturally bring your body back into alignment and change your breathing pattern, which allows your mind to shift its focus. If you're standing, sit down. Focus on your breath.
While it's normal to feel upset after a tragedy, feeling triggered is different. Rather than sadnesses, triggering events can emotionally transport you back to a trauma. This in turn initiates the body's fight or flight response. But whether you're feeling sad, angry or triggered, every emotion is valid and there is no shame in reaching out to friends, family, or a therapist for help. In addition, here are six more things you can do to take back your power.