Everything You Need To Know About Nick Viall's Christmas Movie This Weekend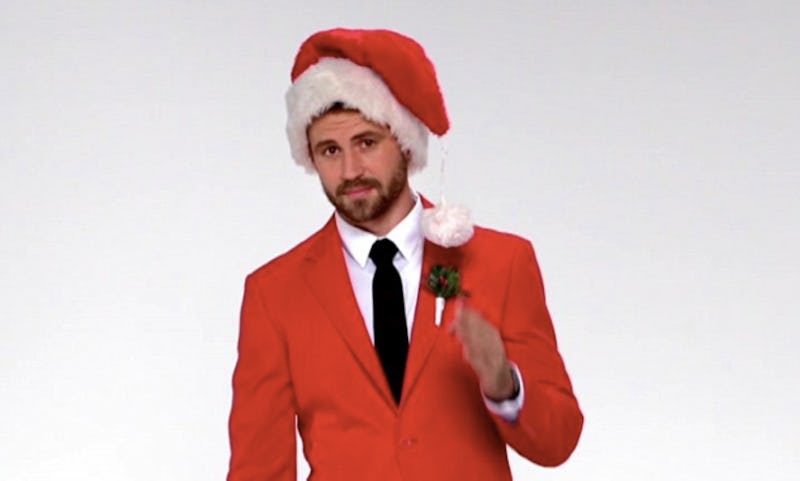 ABC
When reality television first started, it was a cool, new way to see how other people lived. But, 30 years after The Real World started, reality television sometimes just feels like a way to get famous. That's why there are, like, 760 Instagram-sponsored Bachelor contestants — why not make a living selling grocery boxes and teeth whitening kits? Going on The Bachelor is a step into becoming a household name (well, maybe), and that's what it seems that former Bachelor Nick Viall's going for — staying in the spotlight. He's been on The Bachelorette (twice), he's been on The Bachelor, he's been on Bachelor In Paradise, he's been on Dancing With The Stars, and now, he's trying something else — wholly scripted TV. Nick Viall is starring in A Christmas Cruise, which is set to air on ION on Saturday, Dec. 16, with reruns on Christmas Eve and Christmas Day. Clearly, he's not a man to turn down some screen time and a chance at a fully-fledged acting career.
Just to be clear here, Viall is not the marquee star of the film. That would be Vivica A. Fox. Soap opera stars Jessica Morris (One Life To Live), Kristoff St. John (The Young And The Restless), and Rib Hillis (General Hospital) fill out the lead roles. Viall, according to IMDB, will play Bob, the Hotel Cruise Manager. I guess that's like a captain or something? As for the movie's plot, the blurb from the ION website is as follows: "When her best friend invites her along for a holiday themed sail, an aspiring novelist, Pam, unexpectedly finds the love of her life on board. But what will happen when the ship returns to port for Christmas?"
Indeed, what WILL happen when the ship returns to port, and will Viall just stay on the ship forever and try and turn it into a Bachelor-themed cruise? Just take a look at Viall in his outfit, er, costume!
Of course, this isn't the first time Viall has acted. Like I said, he was on The Bachelor 12 times (I kid, sort of). Viall was also on an episode of Speechless this year (#ABCSynergy) — he played Tyson, a friend of JJ who he meets on a college visit. As for his other gigs, Viall also started a men's grooming line called The Polished Gent in 2017, but the website now redirects to something about pillow discounts and finding an agent, so my best guess is that it has shuttered. He's certainly not heading back to The Bachelor — he told Entertainment Tonight that he has "zero plans" to do more reality shows. He's also taking acting classes, per ET. Feel what you may feel about Viall and his Bachelor brethren, but you have to admit — this guy has hustle.
Besides his new acting gigs, life looks very much the same for Viall, who is single again these days. He and Vanessa Grimaldi, the woman got engaged to on his season of The Bachelor, announced their separation in August 2017. Of the split, Viall told E! News, "I still love her very much. I'm not afraid to say that." Grimaldi told People magazine, "In the end, as much as we loved each other and tried to make it work, we just realized we were different people fighting to keep a relationship when ultimately we just weren't the best fit for each other." From the looks of Viall's Instagram, he's been relying on his family, his friends, and a lot of selfies to get through it.
Going through a breakup is hard on everyone, and Viall is clearly directing his energies into a career. That's a nice, healthy way of dealing with heartbreak — I usually settle for dipping French fries into a pint of ice cream, so I applaud Viall's restraint. A Christmas Cruise is Viall's next step forward, both in his life and in his passion, and whether the movie is bad or good or so-bad-it's-good, it will surely be interesting to watch.