Nicki Minaj & Eminem Released A New Song That Has Fans Officially Ready To Ship Them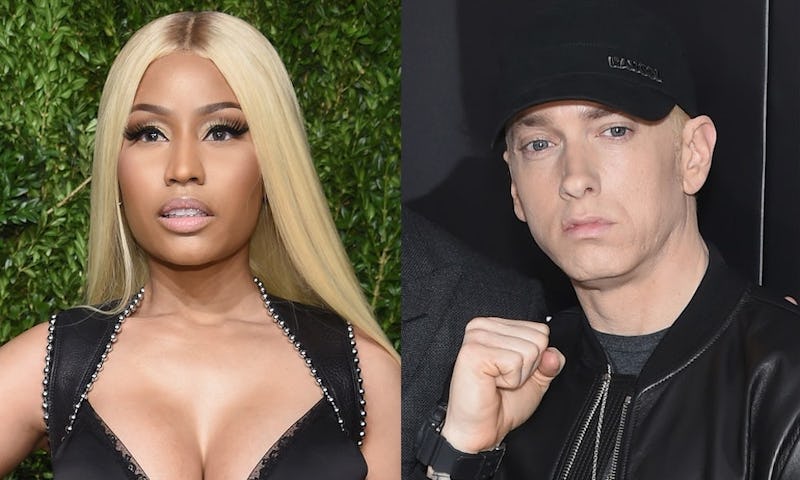 Dimitrios Kambouris/Getty Images Entertainment/Getty Images (2)
After multiple release date changes, Nicki Minaj's fourth studio album Queen is finally here. The 19-track LP arrived Friday, Aug. 10, and is filled with a mix of diverse sounds and features from some of the industry's biggest names to date. Eminem's feature on Nicki Minaj's "Majesty," in particular, is causing a frenzy of its own, however. And if fans weren't ready to ship Minaj and Slim Shady off before, they certainly are now.
Minaj has been making headlines with her highly anticipated album for months on end. The artist announced on a few occasions that Queen was going to be delayed — the most recent reason being unforeseen clearance issues with a Tracy Chapman sample — resulting in a Friday, Aug. 17, release. Surprisingly, however, Minaj was able to release Queen ahead of schedule, bringing the album to fans a full week before. With features from Ariana Grande, Lil Wayne, The Weeknd, Swae Lee, legendary rapper Foxy Brown, and even Labrinth, consensus on the internet is that Minaj's album is a guaranteed hit. But it's Eminem's feature on "Majesty" that really caught fans' attention, especially those convinced that the "Chun-Li" and "Barbie Tingz" rapper could even have a new relationship too.
"Majesty," which is all about Minaj reveling in her own power, loops rapper Eminem's perspective and playfully hints that the two are fully prepared to rule their kingdom... together. Closing out one of his verses, the Detroit native raps, "Let me keep it one hundred, two things shouldn't be your themes of discussion / The queen and her husband, last thing you're gonna wanna be is our subjects." And fans are convinced that these lyrics serve as another hint that Nicki, being the queen of the album, and Eminem, taking on the role of her husband in the song, may be more than friends.
Rumors of Minaj and Eminem dating first surfaced in May, when the Queen rapper promoted her feature on YG's "Big Bank." In the May 25, post Minaj wrote, "#BIGBANK OUT NOW!!!!!! @yg @2chainz @bigsean 🔥🔥🔥🔥🔥 Told'em I met Slim Shady. Bagged a EM!!! 🤑💵💸." And when her reference of the Detroit artist prompted a fan to ask whether or not this meant the two were dating, Minaj simply replied, "yes."
A lot of people were convinced that Minaj was just joking, or trolling her fans, with her response. After all, being a celebrity does come with the occasional, pesky dating rumors, and maybe Minaj's response was just a cheeky version of telling folks to mind their business. Either way, Eminem's presence on the album, and what he says on it, is making people think that there's some truth to the gossip.
After "Majesty" debuted, Minaj continued to fuel the flames of a rumored relationship during her Apple Music Beats 1 "Queen Radio" show on Friday when she gushed over Eminem's verse on the track."Eminem on 'Majesty' delivered what will be one of the greatest verses in rap history," she said. And after listening for themselves, people on Twitter seemed to agree.
The flirtatiousness of "Majesty" is the tell-tale sign for a lot of folks on the Internet that there's some "shipping" going on between the two. But, no matter what's really going on, it seems that one thing's for sure: Eminem sure likes Minaj, and she's definitely not complaining — and neither, it should be noted, are fans.