Nicki Minaj's New Album Is Now Being Released On A MAJOR Day For Ariana Grande, Too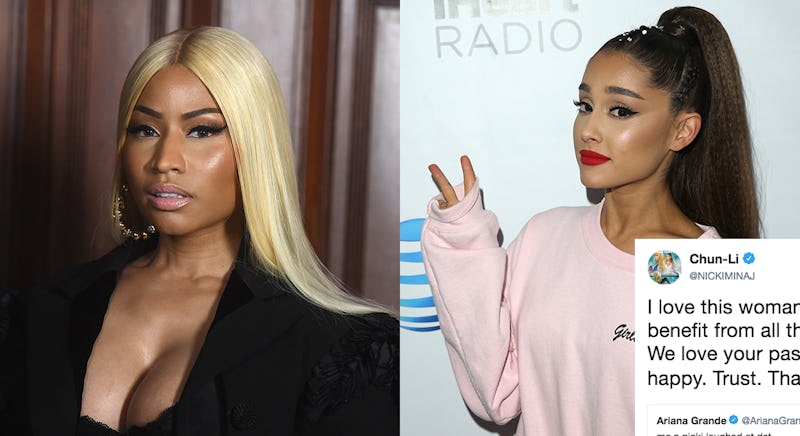 Jamie McCarthy/Getty Images Entertainment/Getty Images; Jesse Grant/Getty Images Entertainment/Getty Images; NickiMinaj/Twitter; ArianaGrande/Twitter; Bustle/Screenshot
It looks like the Barbz will be waiting a little longer for "Chun Li" rapper Nicki Minaj to release her next studio album. According to the artist herself, via Billboard, Nicki Minaj's new Queen release date has been pushed back again, this time to Friday, Aug. 17. And, coincidentally, it's super significant for one of her main collaborators — Ariana Grande.
The rapper announced later the brand new Aug. 17 release date in the note tied to her Apple Music Essentials playlist, writing (according to Billboard):
"I hope you enjoy my playlist. Can't wait for you guys to hear my 4th album QUEEN ON AUGUST 17!!!!!!!"
In case you haven't already guessed, Minaj's fourth studio album's release date aligns with that of Ariana Grande's album Sweetner. Also Grande's fourth studio album, Sweetner features her recent hits "God is a Woman" and "No Tears Left to Cry," as well as the highly anticipated ode to her new finance "Pete Davidson." With Minaj and Grande being frequent collaborators and having hits like 2014's "Bang Bang," 2016's "Side to Side" under their belts, as well as upcoming features on each other's Aug. 17 releases, their albums coming out on the same day shouldn't cause any bad blood. And instead, will only make the third Friday of August pretty exciting for fans.
Anyone following the two artists knows how much they adore and respect each other. In fact, in a note attached to her recent Apple Music Essentials playlist, as reported by Billboard, Minaj expressed her love for the Sweetner singer, writing,
"I'm super excited about my recent collaboration with Ariana Grande. She's one of the realest artists I've had the pleasure of working with."
And confirming the mutuality of their love on her end, Grande made it clear in an Wednesday, Aug. 1, tweet that the two artists aren't here for any "competition" rumors.
According to a screenshot taken by The Shade Room, a now-deleted tweet on Tuesday, July 31 showed Minaj detailing exactly what holding up Queen's release. She wrote, according to The Shade Room.
"So there's a record on Queen that features 1 of the greatest of all-time. Had no clue it samples the legendary Tracy Chapman - do I keep my date and lose the record? Or do I lose the record and keep my date? Do we push #Queen back 1 week? Ugh, I'm torn y'all help"
And to aid in sorting all of the responses, the rapper posted a Twitter poll displaying both of the options.
It's unclear whether or not Minaj took the fans' input to heart. Along with keeping the, now, highly anticipated Chapman sampled track, Nicki has some pretty cool surprises in store for fans. According to the rapper, Nicki Minaj enthusiasts won't find out the big news until the day before the album's release, but she promises that it's going to be "huge." So far, the only tracks announced on the upcoming LP are her certified platinum smash "Chun Li," and features "Bed" and "Rich Sex," with Grande and Lil Wayne, respectively.
The new release date marks the second time Queen has been delayed, so here's to hoping Minaj gets the official blessing from Chapman to move forward.