Nicki Minaj Postponed Her Tour Dates In A Super Honest Video Message To Her Fans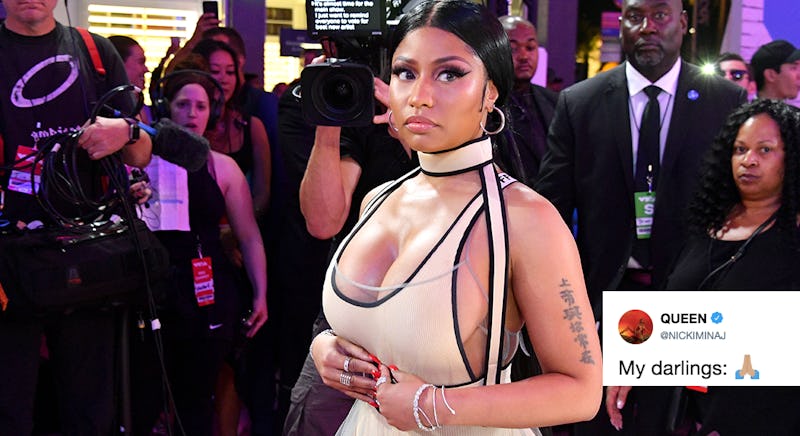 Dia Dipasupil/Getty Images Entertainment/Getty Images; NICKIMINAJ/Twitter (screenshot)
With the release of her new album Queen, and especially after witnessing her bring the house down during the MTV Video Music Awards, seeing Nicki Minaj on tour is almost a priority. According to the rapper, however, American fans will have to wait a little longer than expected to see her on the road, as Nicki Minaj is postponing her world tour dates, which she announced on Twitter.
The news of Minaj and Future's world tour being postponed came straight from the "Chun-Li" rapper, herself. And in a Wednesday, Aug. 22 video published to her Twitter account, she said,
"This is all happening because I pushed my album back two months, and I just finished writing and recording, literally, hours before the album came out. So now, I just simply don't have the time to rehearse, and be on the road in time to give you guys the level of the show I need to give."
The "Barbie Dreams" rapper was scheduled to co-headline a world tour with fellow rapper Future, kicking off Friday, Sept. 21 in Baltimore, Maryland. But, seemingly because of scheduling conflicts between the two stars, (including Minaj having to push back the release of her fourth studio album two months) the world tour will now kick off with the European leg first at the top of 2019, followed by the American leg in May 2019. Besides having to refund a mass amount of ticket sales to concert goers, the change also means that Minaj will likely have to, either, find a new co-headliner, or introduce opening acts into the mix.
The artist went on to say how she and creative director Jamie King, who is most famous for working with Michael Jackson, are "working tirelessly" to give fans what Minaj considers to be "the best show of my life." But, even though Minaj apologizes for the postponement, she's reassured fans that the wait will be worth it.
Refreshing, to say the least, Minaj's transparency with her fans is something that doesn't come very often in Hollywood. The artist is constantly keeping her Barbz abreast a lot of inside information that they, normally, wouldn't be privy to. Even when thinking about Minaj having to delay Queen more than once past its original release date, the rapper consistently took to her social platforms to give fans first-hand information as to why — even so much as turning to her Twitter account to have fans vote on whether or not she should include a Tracy Chapman-sampled track on the album.
Understandably so, fans have expressed their disappointment for the tour push, but Minaj coming to her fans directly with her reasoning for doing so helped to cushion the blow for some.
Minaj's relationship with her fans is a bit out of the ordinary, even with the help of social media. With her willingness to connect with them personally, however, she's revamping the heavy disparged relationship between the celebrity and fan. For Minaj, the love and support from her fans is seemingly of huge importance, and this definitely something to be celebrated.