Nicole Kidman Has 4 Films Set For The Cannes Festival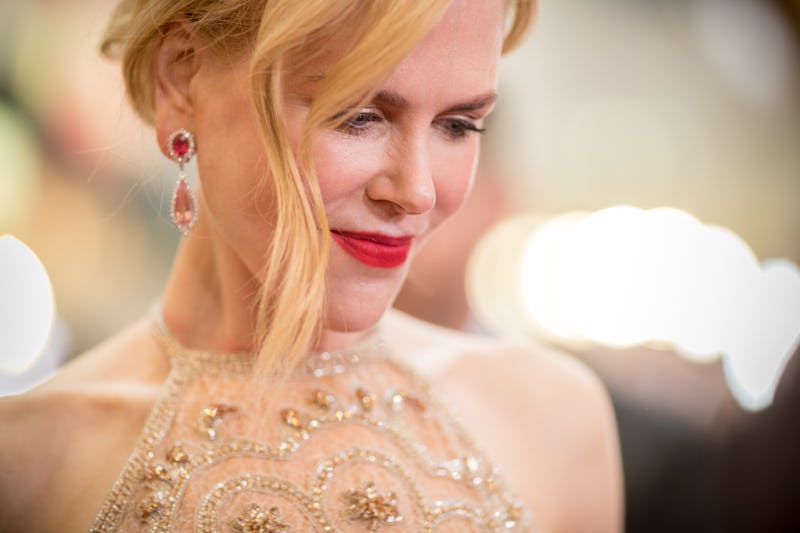 Christopher Polk/Getty Images Entertainment/Getty Images
If Nicole Kidman doesn't win an Emmy for Big Little Lies, I'll eat my hat — and it looks like her triumphant performance on that HBO series was just the beginning of a superlative year for the actor. Nicole Kidman will star in four films premiering at Cannes this May, proving that 2017 really is the Year Of Nicole.
Any actor would be lucky to get just one role as terrific as Celeste Wright on Big Little Lies; Kidman's searing and incisive portrayal of the emotionally and physically abused woman earned her some of the best reviews of her career. And yet the Oscar winner isn't content to rest on her laurels. She's already premiered one feature film since the HBO limited series ended its run earlier this month: Werner Herzog's epic Queen Of The Desert, in which she plays real-life cartographer Gertrude Bell. Now we're about to experience a delightful deluge of Kidman performances, thanks to Cannes.
The venerated film festival officially announced its 2017 lineup this Thursday morning, and among the films selected for screening are a whopping four projects starring the acclaimed Aussie. First up is Sofia Coppola's The Beguiled, a remake of a Clint Eastwood film of the same name by the Oscar-winning filmmaker of Lost In Translation; as the headmistress of an all-girls boarding school during the Civil War, Kidman leads a stellar cast that includes Kirsten Dunst, Elle Fanning, and Colin Farrell.
That period thriller will screen in competition for the coveted Palme d'Or prize — as will Kidman's second entry in the festival, the intriguing drama The Killing Of A Sacred Deer, which tells the story of a surgeon and his wife who take a troubled boy under their wing. Outside of the festival's main competition, Kidman will also star in the sci-fi romance How To Talk To Girls At Parties, based on a short story by Neil Gaiman. Finally, Kidman will appear in a special festival screening of Top Of The Lake Season 2 as Julia, a mother whose life collides with that of detective Robin Griffin.
All of this isn't just good news for Nicole Kidman fans, either. The fact that a female actor of Kidman's age is dominating an industry event as high-profile as Cannes is encouraging in and of itself. And she's not alone there; the festival is also highlighting other female-driven films, with projects starring the likes of Julianne Moore, Tilda Swinton, Isabelle Huppert, Marion Cotillard, Michelle Williams, and more.
Women's influence at Cannes extends behind-the-scenes as well; according to The Hollywood Reporter, the number of films made by women (with Coppola and Campion among them) is up 33 percent from last year… although the publication acknowledges that there's still a long way to go for gender equality at Cannes.
The question is, will this news be enough to finally cement Kidman's status as one of the all-time greats? The one downside of the actor's acclaimed performance in Big Little Lies has been people's tendency to treat it as a "revelation." You know, as though Kidman hasn't been churning out incredible performances for the past three decades, including four Oscar nominations and one win for her wrenching portrayal of Virginia Woolf in 2002's The Hours.
As BuzzFeed asked recently, "How many times does Nicole Kidman have to prove herself?" Well, hopefully this will be the last time she has to. Can we all just agree that she's wickedly talented?