Here's Where To Follow Noah Centineo On Social Media, If You're Peter Kavinsky's #1 Fan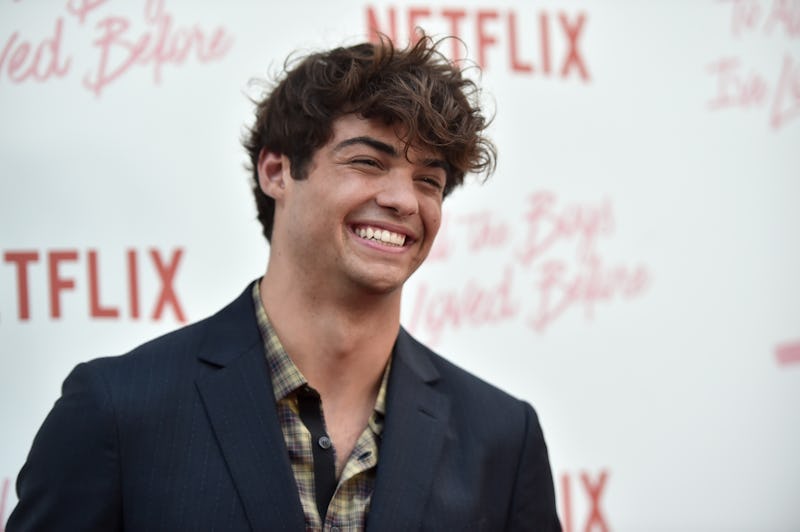 Alberto E. Rodriguez/Getty Images Entertainment/Getty Images
To All The Boys I've Loved Before just dropped on Netflix last weekend, but fans of the film are already obsessing over one cast member in particular. If you're looking to Noah Centineo's Snapchat account for a glimpse into the actor who plays Peter Kavinsky's off-screen life, though, you might want to shift your focus elsewhere. According to PopBuzz, Centineo's Snapchat handle is @noahcent. However, that user doesn't appear to have posted anything recently — but don't fret. He has a verified Instagram account (@ncentineo) and posts updates there much more frequently. Phew, crisis averted.
So, a little background first for those not familiar: To All The Boys I've Loved Before is a new Netflix rom-com based on the eponymous book by author Jenny Han. The plot revolves around Lara Jean (played by Lana Condor), a hopeless romantic teenage girl, who writes love letters to her crushes that she never plans on sending. Eventually, her love letters get mailed out behind her back — and one of those letters goes to Peter Kavinsky (Centineo).
Kavinsky evolves into this totally crush-worthy character, so it's easy to see why fans want to know more about the real-life actor behind him. Good news: You can learn a lot about Centineo through his recent Instagram posts, and it turns out he's totally crush-worthy off-screen, too.
First of all, it's worth noting that Centineo is relatively new to Instagram. He only just posted his first photo — a behind-the-scenes shot from The Fosters, which he starred on for three seasons — in January of this year. By the way, in case you haven't heard the good news: Centineo will also be starring in The Fosters spinoff, titled Good Trouble. He confirmed the casting news via his Instagram Story on Aug. 21, so that's already one pretty solid reason to follow his account.
Another good reason: Centineo posts a lot of selfies. It's a pretty wide-ranging collection, too. There are brooding selfies, silly selfies, bearded selfies, professional selfies (technically those are like, headshots?), black-and-white selfies, color selfies ... You get the picture (pun intended). Lots of selfies.
Fans can also get glimpse into Centineo's hobbies by scrolling through his Instagram. For example, when he's not busy acting, he appears to enjoy going on hikes in the desert. Well, he went on one hike in one desert one time, at least. He also enjoys playing the guitar, pumping iron at the gym, and dabbling in amateur photography.
For the record, Centineo has a Twitter (@noahcent), too, if that's more your speed. He posts a lot of career-oriented news on that account, like photoshoots and interviews and whatnot. There's also more than a few cryptic, one-line tweets about love, so have fun dissecting those until they drive you mad.
Basically, there's a solid amount of information about Centineo on his various social media accounts. Great news, right? Would it be cool if there was more information about him out there? Definitely, but this is a pretty good place for fans to start.