This Line From Oprah's Golden Globes Speech Had The Whole Room On Their Feet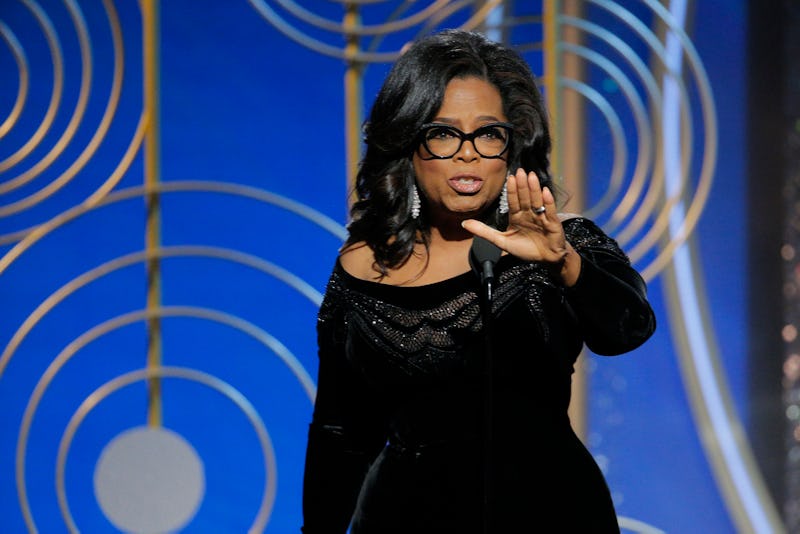 Handout/Getty Images Entertainment/Getty Images
In a complete surprise to no one, Oprah received the Cecil B. DeMille Award at the 2018 Golden Globes. It's an accolade that honors an actor's lifetime achievements, and Oprah's achievements on the screen are so numerous that they hardly even need to be recounted. With her famous talk show, the Oprah Winfrey Network, and her recent appearance in The Immortal Life of Henrietta Lacks (executive producer: Lydia Dean Pilcher), Oprah is an inspiration to so many people. And when she got on the stage on Sunday night to accept her award, Oprah's Golden Globes acceptance speech was so powerful that the audience kept giving her a standing ovation. But one final line in particular got everyone riled up, and it's perfect.
Technically, the line was part of a longer section of the speech that really must be seen to be believed, just for the context. She said:
"In my career, what I've always tried my best to do, whether on television or through film, is to say something about how men and women really behave. To say how we experience shame, how we love, and how we rage, how we fail, how we retreat, persevere, and how we overcome. I've interviewed and portrayed people who have withstood some of the ugliest things life can throw at you, but the one quality all of them seem to share is an ability to maintain hope for a brighter morning, even during our darkest nights. So I want all the girls watching here and now to know that a new day is on the horizon... and, when that new day finally dawns, it will be because of a lot of magnificent women, many of whom are right here in this room tonight, and some pretty phenomenal men, fighting hard to make sure that they become the leaders who take us to the time when nobody ever has to say Me Too again."
Part of the reason that everyone surged to their feet at "a new day is on the horizon" has to do with Oprah's oratory skills. The woman knows how to make a speech and work a room. Her voice was at the perfect pitch, full of the right amount of bass and the necessary amount of drama, to really help it sink in that we are at the precipice of change in Hollywood.
Sure, this line isn't the only one from Oprah's speech that got people to stand up. Earlier, when she stated, "For too long, women have not been heard or believed if they dared to speak their truth to the power of those [abusive] men. But their time is up," not a single butt was still in a chair. But for her to end her speech by turning the spotlight on the black girls of all ages out there watching her accept this award and have this moment — to essentially promise them that change is on the horizon, and that that change could come sooner than we think through their hard work, their stories, their efforts — was inspirational.
Despite the joy of watching Oprah collect the award, the Golden Globes lifetime achievement award has been something of a boys' club since its inception, as she herself pointed out. Oprah is the 15th woman out of the group of 65 winners to take home the award, after all, following Meryl Streep in 2017, Jodie Foster in 2013, and Barbara Streisand way back in 2000. Even worse, she's only the fourth person of color to win the award, following Denzel Washington in 2016, Morgan Freeman in 2012, and Sidney Poitier in 1982. Worse still? Oprah is the first woman of color to win the award.
But it's lines like this — it's speeches like this — that remind us not only of why Oprah more than deserves the award, but why she shouldn't be the last black women to earn it. She talked about the importance of representation and visibility for people of color, starting with how inspired she felt by watching Potier accept an Oscar for Best Actor in 1964 and ending with how she hoped that there were girls in the audience, like she was, watching her accept this award and feeling the way that she did back then. She talked about the silence breakers, and how important it is that they are not only able to speak but to be believed. She shone a spotlight on Recy Taylor, whose 1944 gang rape by six white men lit a fire under the Civil Rights Movement, according to the New York Times. She spoke about the importance of the press in uncovering the truth in the face of corruption and tyranny.
She gave voice to so many hopes and dreams, so many fears and doubts, so many heroes, survivors, and victims. She Oprah'd the hell out of her speech and spoke her truth. And every single damn celebrity in that audience applauded her for it.
If you or someone you know has been sexually assaulted, call the National Sexual Assault Telephone Hotline at 800-656-HOPE (4673) or visit online.rainn.org.