Panera Launched Customizable Mac & Cheese With 7 Toppings — Including Frizzled Onions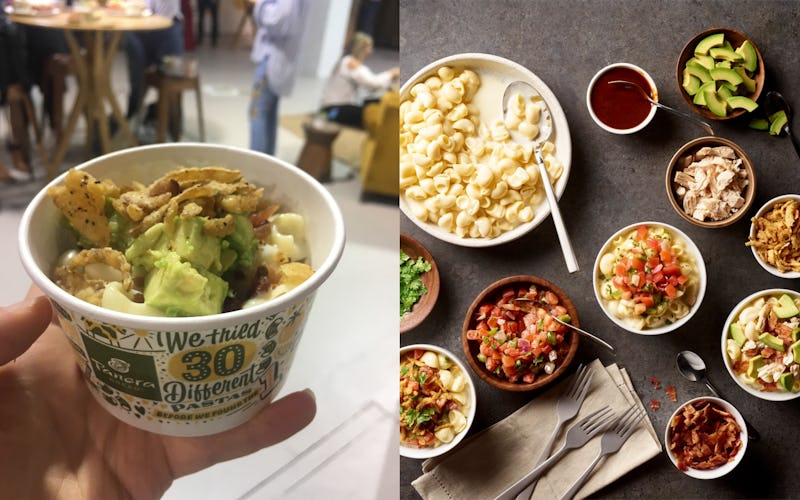 Emma Lord/Panera
2018 has been such a year in Panera Mac & Cheese innovation that I'm guessing we all did something cheesy in a past life to deserve it; now, not only do we have the three new custom Mac & Cheese bowls (including bacon-topped!), as well as the birth of the glorious monster that is the Double Bread Bowl, but starting Thursday, Sept. 13, Panera is introducing Panera's Build Your Own Mac and Cheese to its website and app nationwide.
Before we go into how you can make that dream a reality, I should warn you that this Build Your Own Mac function is not here to play. In fact, let's all take a moment to look at the things you can now top your Mac & Cheese, which has more individual combos than math I am willing to do (so let's call it infinite). Brace your cheese-loving bones.
Toppings
Pico de Gallo
Zesty BBQ Sauce
Frizzled Onions
Fresh Cilantro
Premium Toppings
Smoked Pulled Chicken
Bacon
Avocado
According to Panera, you can order up to five toppings, including up to two "premium toppings," per Build You Own Mac and Cheese order. Not to brag, but mine is the best combo to ever grace your Panera-stanning eyeballs — below is a Mac & Cheese bowl topped with avocado, bacon, and frizzled onions that I am going to humbly dub The Emma.
"Our Mac & Cheese is so well loved, the idea of messing with a great thing was something we did not take lightly," said Tom Sadler, Panera's VP of Food & Beverage Product Development, in a press release. "But we also think food should be fun — so we got into the kitchen and carefully selected toppings that we knew would complement our Mac & Cheese and offer fresh, exciting flavors. The new 'Build Your Own Mac' option gives guests one more layer of personalization to craft the flavor that's perfect for them."
Okay. OKAY. Now that we've all taken a deep breath and emotionally prepared ourselves for the power that's about to go to all of our mac-loving heads, you can order the new customizable Mac & Cheese on Panera's website here, or on the mobile app (and if you're feeling fancy, for delivery!). And if you're especially impatient and have the ability to get your human self to New York City, Panera will be celebrating with a Mac & Cheese pop-up at 718 Broadway near Union Square, giving away free Mac & Cheeses from 11 A.M. to 6 P.M. or until supplies last.
Of course, if that is still a little too intimidating for you to handle, Panera has got your back: the Baja, BBQ Chicken, and Bacon Mac & Cheese are all on the national Panera menu. Considering they were curated by the very people who brought you Panera Mac & Cheese in the first place, it's safe to say you're in good hands. Anyway, this has been your biweekly reminder that this is the Panera Mac & Cheese's world, and we are all just living in it.