Hollywood's "Patriotic" Movies Are No Longer A Guaranteed Success — And Here's Why It Matters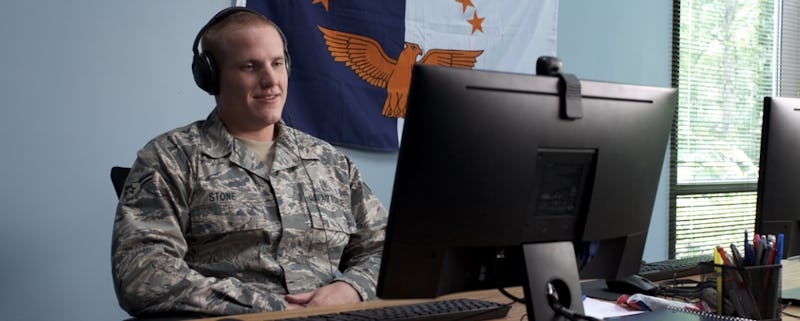 Warner Bros.
Although 2018 has only begun, the year has already seen the high-profile release of two military movies with patriotic themes. In January, there was 12 Strong (producer: Molly Smith), about the first U.S. soldiers in Afghanistan following the terrorist attacks of 9/11. And in February, there was The 15:17 to Paris (producer: Jessica Meier), telling the true story of three American friends who thwarted a terrorist attack on board a European train in 2015 and received a heroes' welcome when they returned home. These films follow the outpouring of military movies released in 2017, such as Thank You for Your Service, Megan Leavey, and The Wall, and at first glance, they all appear to signify a resurgence of movie patriotism. But in actuality, these kinds of works might be on their way out, replaced by a new wave of "patriotic" films showcasing a different side of America than typically seen on-screen.
Once upon a time, it was easy to point out what movies were patriotic. The only real requirement was that some sort of flag-waving bravado had to be at the center of the story; something that showed off that unmistakable American exceptionalism. They came in the form of war movies like Patton (1970), where American soldiers squared off against the evil fascists; sports movies like Rocky IV (1985), where an American boxer takes down his evil Soviet rival and inspires a nation to break away from Communism; and even sci-fi movies like Independence Day (1996), where Americans — including the president — lead a worldwide charge against evil alien invaders on the Fourth of July.
All of these films share the same basic idea: That being American is special and great, and being born in the U.S. naturally makes you better than everyone else (including extraterrestrials). This attitude can generally be attributed to the United States' rise as a military power in the 20th century. The Baby Boomers were born after World War II, when the U.S. emerged as a superpower and as a worldwide symbol of the defenders of freedom, and this reputation stuck around through the Cold War as their generation came of age and took over Hollywood. But as millennials are now beginning to supplant Boomers as the shot-callers in the movie industry in another generational shift, they're looking at America's past through a more critical lens, and seeing a nation that hasn't always been on the right side of history — despite what our movies have told us. But not everyone is ready to accept this changing vision of America's reputation.
When it comes to American politics and what it means to be a patriot, the country has arguably never been more divided. On the one hand, you have the loud, so-called patriotism of Trump and his acolytes. The president's "America First" brand of patriotism co-opts the idea of American exceptionalism to refer only to white Christians who were born here and who may choose not to question the decisions of their leaders. On the other side of the spectrum are those who believe that what's truly patriotic is to call out the injustices in American society in an attempt to create a stronger and more prosperous union, one that works for all Americans regardless of their race, religion, or national origin.
A clear example of this debate in the news recently can be seen in the trend of NFL players kneeling during the national anthem to protest against police violence toward African Americans. Trump and his supporters tend to declare such an act as unpatriotic, while the other side generally believes there is no more patriotic act than exercising one's right to protest.
And this divide over what is and isn't patriotic has made it to Hollywood, as the film industry struggles to define what counts as a patriotic movie in today's political climate. It seems as if there has been an uptick in war films recently, which could be seen as a knee-jerk reaction to Trump's election, since on the surface they appear to be patriotic in a way that would appeal to fans of the president's "America First" mantra. But if you look below the glossy red, white, and blue exterior of these films, they often paint a more complicated picture of military service, and aren't necessarily even patriotic.
Thank You for Your Service (costume design: Hope Hanafin), released last year, may sport a title that is likely to excite Trump's base, but instead of portraying the glories of war and American military might, the movie depicts the horrors of post-traumatic stress disorder and the absence of care that veterans often receive once they return home. Megan Leavey (director: Gabriela Cowperthwaite), also released in 2017, tells the true story of a female Marine and her bomb-sniffing dog partner, who become kindred spirits while deployed in Iraq. Rather than focusing on the war and the titular soldier's heroism, though those details are present, the film is mostly about the relationship between dog and trainer, and appeals more to animal lovers than war hawks. Even 12 Strong, about the brave soldiers waging war against the Taliban, is bittersweet in its cheerleading since the war in Afghanistan is still raging 17 years later and the Taliban still controls large swaths of the country.
On the other side of the spectrum are films that probably would not have been perceived as patriotic at all even a few years ago, but today can serve as a rallying cry for the type of America many would like to see. Detroit (director: Kathryn Bigelow) depicts the civil rights struggle of the '60s by highlighting the unheralded heroes who were willing to stand up for their rights against a system designed to hold them down. And even though the film's story is 50 years old, it's as relevant as ever, as tensions between police and African American communities continue to be a national scandal. The Big Sick (writer: Emily V. Gordon), meanwhile, may be a romantic comedy, but it's the story of a Muslim immigrant finding love and happiness in the good 'ol US of A. Historical drama The Post (writer: Liz Hannah) just might be the most patriotic and important film of 2017, as it depicts the media's role in keeping our government honest — something especially prudent today as the president labels factual stories that paint him in a negative light as "fake news."
And audiences have largely responded to this new wave of on-screen patriotism. While traditional military films have largely struggled at the box office lately, these new movies have been mostly successful. For instance, The Post earned more at the domestic box office ($73 million) than 12 Strong, Thank You for Your Service, Megan Leavey, and The Wall combined ($66 million), according to Box Office Mojo. Critics have also been receptive, with The Big Sick and The Post scoring 2018 Oscar nominations, while the only military movies to receive accolades from the Academy are actually British World War II pictures, Dunkirk and Darkest Hour.
With unconventional patriotism popping up in unexpected films and many military movies focusing on subjects unrelated to defeating the evil other, it seems that the simple, flag-waving patriotic movies of yesteryear are on their way out; especially given their weak box office performance. And while these types of films are still being made (The 15:17 to Paris, with its tale of American heroes in a foreign land coming to the rescue because that's what Americans do, will likely leave audiences chanting "USA! USA!"), their prevalence in the industry seems to have dipped in favor of more complex stories about what it means to be an American. Looking ahead at upcoming 2018 films, there don't appear to be many traditionally patriotic films, but themes of new patriotism are showing up in even more unexpected places.
Horror prequel The First Purge (executive producer: Jeanette Volturno) is said to be a cautionary tale of Trump's rhetoric, with the film's poster mimicking his "Make America Great Again" hats; rom-com Crazy Rich Asians (producer: Nina Jacobson) is about an Asian-American experiencing culture shock in Asia; and Boy Erased (producer: Kerry Kohansky Roberts) shows what its like to be gay and ostracized in rural America and still find a way to be your true self. These are all proudly American stories, but they're far more complex than your typical war hero movie.
The presidency of Donald Trump seems to have ignited a patriotic movement in Hollywood, though it isn't the type that he may have intended. Rather than rolling back to producing propaganda war movies like in the 1940s, the film industry is focusing on telling stories of American patriotism from the president's favorite targets — minorities, immigrants, and the protectors of the First Amendment. It's a way to show that what makes America great isn't our God-given exceptionalism, but rather our willingness to fight for the values that this country is supposed to espouse.