How "Fate Of The Furious" Pays Tribute To Paul Walker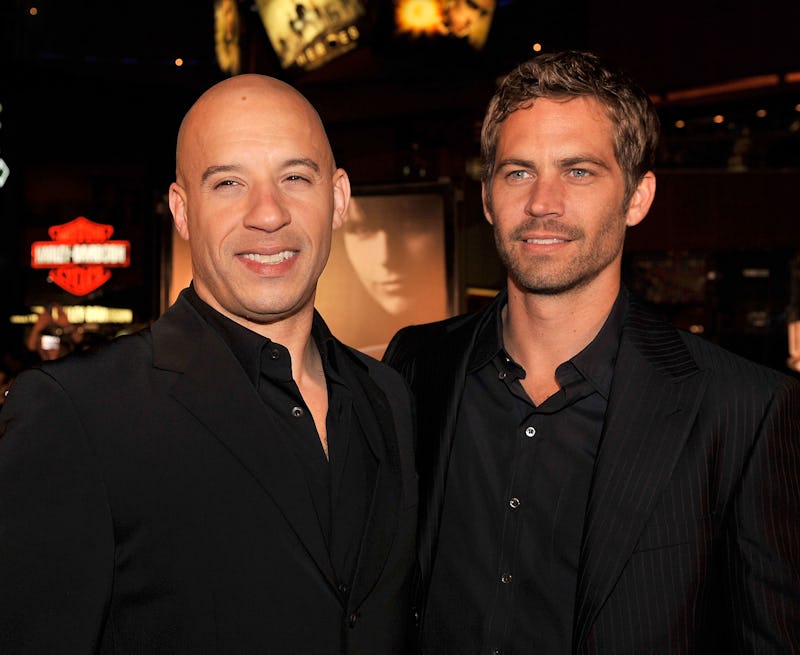 Kevin Winter/Getty Images Entertainment/Getty Images
Paul Walker is gone, but he hasn't been forgotten by his Fast and Furious family. In Fate Of The Furious, the Paul Walker references may be limited, but they're incredibly meaningful. The late actor, who passed away before the release of Furious 7, was given a heroic send-off in that movie with his character Brian O'Conner driving off into the sunset, choosing family over the fast and furious lifestyle. (Don't worry, Fate Of The Furious — spoiler alert — makes it clear that Brian is still off living the good life with Mia and his two kids and will not join the team for any reason — not even Dom going rogue.) The latest installment of the series pays tribute to Walker in its final moments, but, pay attention, and you'll realize he's honored in the film's opening race scene, too.
The film opens in Havana, Cuba where Vin Diesel's character Dominic Toretto gets back behind the wheel and pulls out Brian's signature engine move, "The Buster." Diesel told USA Today in an interview that it's a subtle nod to the character — Buster was Dom's nickname for Brian — but it's also a reference to a piece of advice Walker always gave him. "The sequence was answering something Paul would always tell me as producer: 'Vin, we need more racing, more racing,'" Diesel explained. "Cuba was a glorified race sequence in a place and environment that allowed for an old-school racing sequence."
But, Diesel told USA Today it's the final scene of Fate Of The Furious that is "the greatest tribute" to Walker. Major spoilers ahead: In Fate, Dom learns he has a son with Hobbs' partner Elena (Elsa Pataky), whom he briefly had a relationship with in Furious 6 when Letty was suffering from amnesia. Cipher (Charlize Theron) has kidnapped Dom's baby and Elena, knowing Dom will have no choice but to help her.
Dom does indeed want to help, but he certainly isn't interested in letting Cipher win. With a little help from Deckard Shaw (Jason Statham) he's able to foil Cipher's plan and get his son back in what might be the best scene of the movie. (Seriously Hollywood, team Statham up with adorable babies more often.) Dom's son still needs a name, so at a family dinner, that of course includes Corona, he let's his gang know what he's chosen.
"I want to introduce you to the most important person in my universe, and I will never give up on him," he said. "You've heard me say that you never turn your back on family. And I want to thank you all for never turning your back on me. You want to meet him? Alright. Everyone, meet Brian."
It's a sweet beat to end this latest film on, but it's also a moment of art imitating life. Diesel named his daughter Pauline, now two years old, in honor of his late friend Walker, whom he called "Pablo." It's so nice to see that Fate of the Furious pays such tribute to the cast's fallen friend, as it was, after all, Walker's idea to make an eighth movie, which is the beginning of a new trilogy. That's why, Diesel told Entertainment Weekly, Fate Of The Furious was made with Walker in mind.
"I just want you to know, there wasn't a second we made this movie, not a minute … not a day that went by that we weren't thinking about our brother, Pablo," Diesel said, "and how to bring him into the movie and how to represent him and to make something that he will be proud of." Safe to say, the movie's hard work paid off.