People Are Donating Their Jane Austen Notes For An Amazing Reason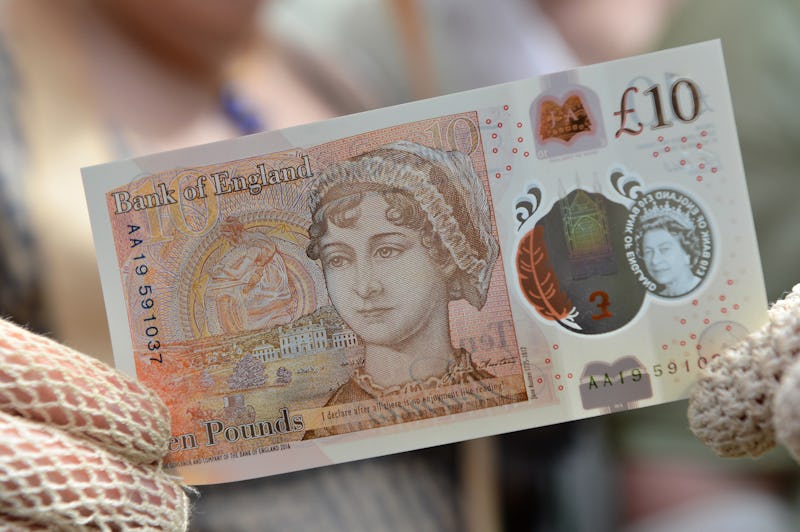 Pool/Getty Images News/Getty Images
You don't need me to tell you that Jane Austen had serious literary chops before she became the first female author to grace paper money in the U.K., but now I hope you'll be pleased to learn that the Jane Austen £10 notes are doing a lot of good for women's charities. People in the U.K. are donating their #Austentenners to worthy causes, such as Safe in Sussex, Brighton Oasis, and the Jane Austen's House Museum.
The fight to get Jane Austen on the U.K. £10 note took four long years of campaigning from Brazilian-born British feminist author Caroline Criado-Perez, who was incensed after the Bank of England announced that it intended to replace prison-reformer Elizabeth Fry, then the only non-royal on U.K. paper money — the £5 note, in this case — with former Prime Minister Winston Churchill in May 2017. Criado-Perez's campaign did not stop Churchill's placement on the banknotes, but it did secure a place for another woman in English wallets.
Following a long legal battle, the campaign succeeded in compelling the Bank of England to place Austen on the tenner, but Criado-Perez's troubles were far from over. Both she and a prominent supporter, Labour MP Stella Creasy, became the targets of gender-based harassment on Twitter. Several of the people who sent death threats to the women were brought up on charges.
After Criado-Perez wrote in Evening Standard that she would be "donating [her] first Austen tenner to [her] local women's shelter," others opted to do the same. At the time of this writing, several woman-centric charities have tweeted their thanks for Austenites' support, including Bloody Good Period, which provides menstrual products to refugees with vaginas. A few other organizations benefiting from #Austentenner donations: Fawcett Society, Rape Crisis Tyneside & Northumberland, and Women's Aid.
If you live in the U.S., and have no plans to hop across the pond anytime soon, don't worry. You can — and should! — still get in on the donation game, because $10 goes a long way toward helping people in need. Consider donating to your local rape-crisis center, HIV/AIDS health care provider, Planned Parenthood, LGBTQIAP youth resource, or any other progressive cause in your area. You can also send your $10 to hurricane relief efforts in the Caribbean or earthquake recovery for Mexico City. Let me know where you plan to send your Alexander Hamilton donation by dropping a line on Twitter!