Pete Davidson Pulled Out Of A College Comedy Show Amid The Ariana Grande Split Rumors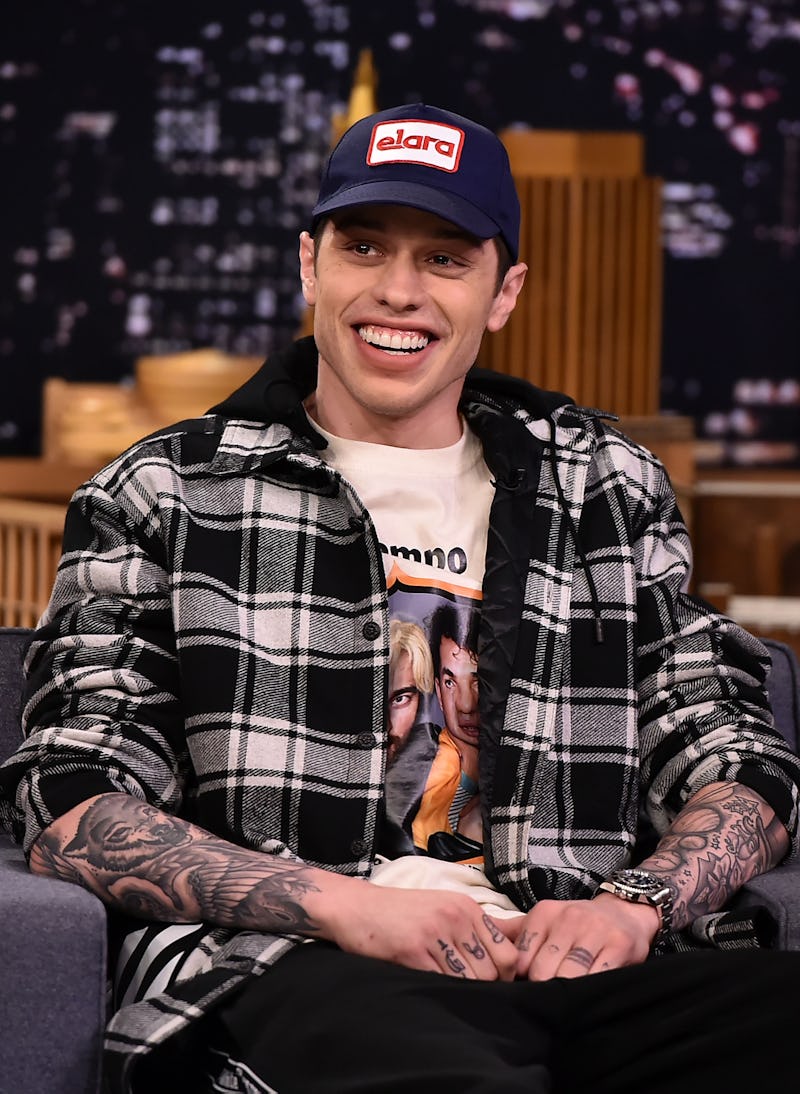 Theo Wargo/Getty Images Entertainment/Getty Images
Over the weekend, reports spread that Ariana Grande and Pete Davidson broke off their engagement. And while neither of them has confirmed the news, it's understandable they would both want some privacy at this time. With that said, it's not surprising that Pete Davidson canceled an upcoming college comedy performance, according to People. (Bustle previously reached out to both Grande and Davidson's reps about the breakup reports, but did not hear back.)
The comedian was supposed to headline a show called "Comedy Night Live," a clever take on Saturday Night Live, at Temple University in Philadelphia on Wednesday. Davidson pulled out of the performance and the school already replaced him with fellow comedian Adam DeVine. (Bustle reached out to Davidson's rep for further comment, but did not receive an immediate response.)
In a statement posted on Instagram on Tuesday night, Temple University's Main Campus Program Board said, "Unfortunately, Pete Davidson will no longer be able to do our homecoming show due to personal reasons." The rumored end to his engagement wasn't specifically mentioned as a "personal reason," but it's likely the first thing that fans suspect.
Currently, it's unclear if the two are still together, but not engaged; broken up completely; or some grey area in between. Regardless, it's probably for the best that they both get some privacy, especially given the nature of the event. Like most comedians, Davidson is known for incorporating his personal life into his comedy routine. This is probably not the best time for that given the breakup speculation. If he addressed their relationship in his stand-up, that comes with the possibility it would seem "inappropriate," or he could not mention it at all and it becomes a major elephant in the room. Plus, it's a live show, which means anything could've happened.
For the most part, both the singer and the Saturday Night Live cast member have been laying low since the news broke on Sunday, but she did fulfill a professional obligation on Tuesday. However, unlike the comedy performance that Davidson would have done, Grande's performance was pretaped since the special doesn't air until later this month, according to Entertainment Tonight. She sang the song "The Wizard and I" for the taping of Wicked's 15th anniversary special.
In an Instagram Story, Grande admitted that she hesitant to be in the spotlight at this moment. In very tiny font, Grande wrote,
"can't believe I almost let my anxiety ruin this for me today !!! not today satan ! not tomorrow or the next day either not no more u can suck my big green dick. finna sing my heart out and be a big walking vessel of love bye"
Grande also shared several photos rocking her green lipstick at the Wicked recording, but she turned the comments off on her most recent posts. Again, this is probably for the best considering how public her relationship with Davidson is/was, and the last thing she needs is everyone else's opinions cluttering her own personal photos.
For his part, Daily Mail reported that Davidson's Instagram account has disappeared ever since the breakup speculation began. Once again, this is probably a smart move considering how invested complete strangers have been in this romance.
Grande and Davidson were so vocal about their relationship while they were in it, which is probably why some fans expected them to be more clear about their current status. But it's their relationship, not ours. Whether they are definitively broken up or still figuring it out, it makes sense they would both want to take time for themselves, even if that means canceling a few professional commitments.