Ariana Grande's New Instagram Sheds Light On What She's Going Through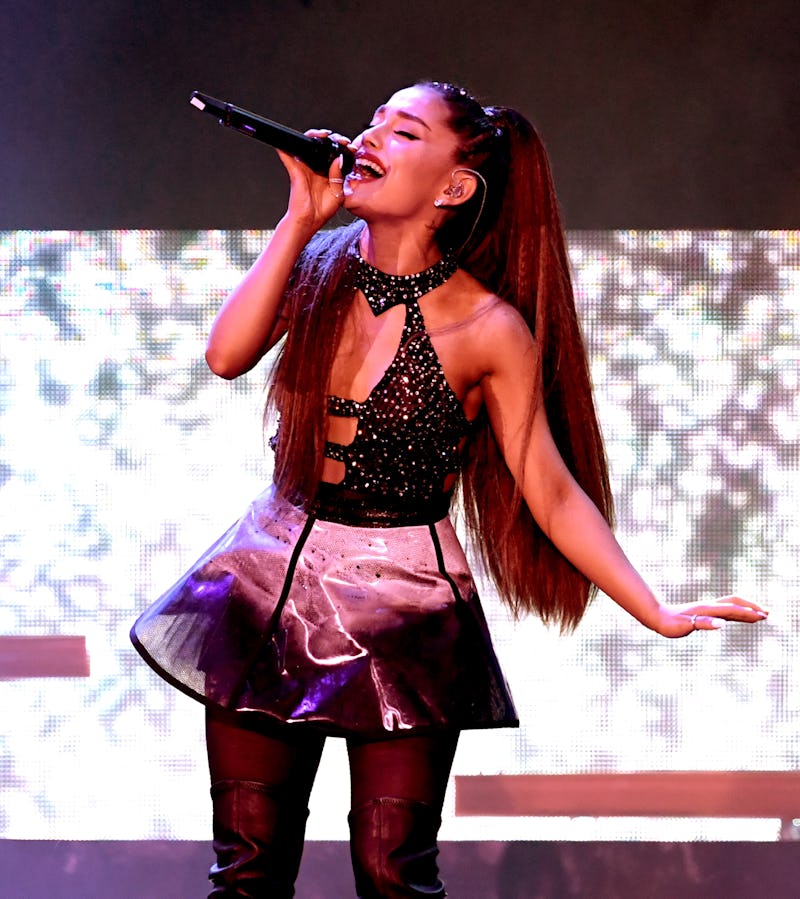 Kevin Winter/Getty Images Entertainment/Getty Images
In light of the weekend's Pete Davidson breakup rumors, not to mention her recent performance cancellation, Ariana Grande's fans have been pretty concerned. So far, the singer hasn't commented on the rumors or the cancellation. But Ariana Grande's new Instagram about anxiety — which she shared with fans via the social media platform directly as well as her IG Story — shows she's not letting anything get her down. Whatever that "anything" might be.
"can't believe i almost let my anxiety ruin this for me today!!!" wrote Grande, starting off what sounds like a very honest, and admirably vulnerable, life update for her following Tuesday afternoon, Oct. 16. Continuing, Grande segued into a brief, but nonetheless inspiring, little pep talk that most anyone who's experienced anxiety themselves can probably relate to, and maybe even learn from. She wrote,
"not today satan ! not tomorrow or the next day either ... finna sing my heart out and be a big walking vessel of love bye"
Here's hoping Grande gives herself that personal pep talk on a daily basis. (Lord knows the tiny vocalist and her enormous heart definitely deserve it.) In this case though, it sounds like the catalyst for Tuesday's uplifting IG message was a comparatively more concrete one. Those who've been keeping up with Grande's social media accounts these last few days have probably heard about the televisedWicked anniversary concert that she's due to perform in, called A Very Wicked Halloween: Celebrating 15 Years on Broadway.
Slated to air on NBC Oct. 29, the upcoming anniversary concert will celebrate Wicked's epic theatrical run over the last decade-and-a-half, by way of some stellar musical performances. Grande's included, obviously. Except, for some fans, it wasn't entirely obvious that she'd actually go through with the performance. And it would be completely understandable if she hadn't, given the rollout of emotionally taxing circumstances she's been dealing with for at least a couple of months now.
But, per Tuesday's Instagram story, it looks like Grande's theatrically-inclined followers can rest assured they'll be seeing her (or a stylized Elphaba-esque version of her, anyway) when the Wicked concert debuts on NBC later this month. How do we know? Grande's excessively green cosmetic vibe in her latest IG photo, plus her mentioning of it in the post's caption, seems like confirmation enough. There's also the fact that A Very Wicked Halloween is being taped Tuesday afternoon, which doesn't feel like a coincidence.
That said, Grande was even more explicit about her commitment to this particular professional venture, and the acclaimed Broadway musical in general, in another Wicked-centric tweet shared to the social platform one day earlier, on Monday, Oct. 15. Reassuring fans that she's just as thrilled about performing in the Wicked anniversary concert as they are about watching it, Grande wrote:
"honored to be included in this celebration of 15 years of my favorite musical of all time [heart] wouldn't miss it for the whole universe"
Her message was met with a pretty unanimous sigh of relief from Arianators on social media, many of whom were worried that Grande's recent performance cancellation at a F**k Cancer fundraiser over the weekend was indicative of more cancellations to come. (Grande's fans know the weekend's performance cancellation wasn't a first, either, since the singer decided to take a step back from the spotlight in the aftermath of her ex and friend Mac Miller's untimely passing last month.) Fortunately, judging by her Wicked-y social media posts over the last couple of days, it doesn't look like that's the case.
Still, even from a third-party's perspective, the fact that Grande has a lot going on lately feels pretty much impossible to argue with. Barely 24 hours after the F**k Cancer fundraiser, reports started to crop up claiming Grande and Davidson had called it quits, allegedly ending the engagement they'd announced on Instagram back in June. Again, neither Grande nor Davidson has commented openly on the breakup rumors. (Bustle reached out to Grande and Davidson's reps for comment, but did not receive a response.)
But, whether they're true or not, the anxiety Grande wrote about in Tuesday's IG posts feels more than warranted, and entirely legitimate. Because, despite her super-human vocal talents, Grande is only human. And, like many of us, she struggles with anxiety. Again, that's totally understandable, especially given that she's just recently suffered a loss and might be going through her second breakup of 2018. But, amid a week of "might's" and "maybe's," Grande's new Instagram message makes one thing pretty clear: She's not letting any of it get the best of her. So, cheers to Grande, her vulnerability, and her willingness to speak so candidly about anxiety (in such a personal, relatable way) on social media.