Pete Davidson Already Covered Up His 'Dangerous Woman' Bunny Tattoo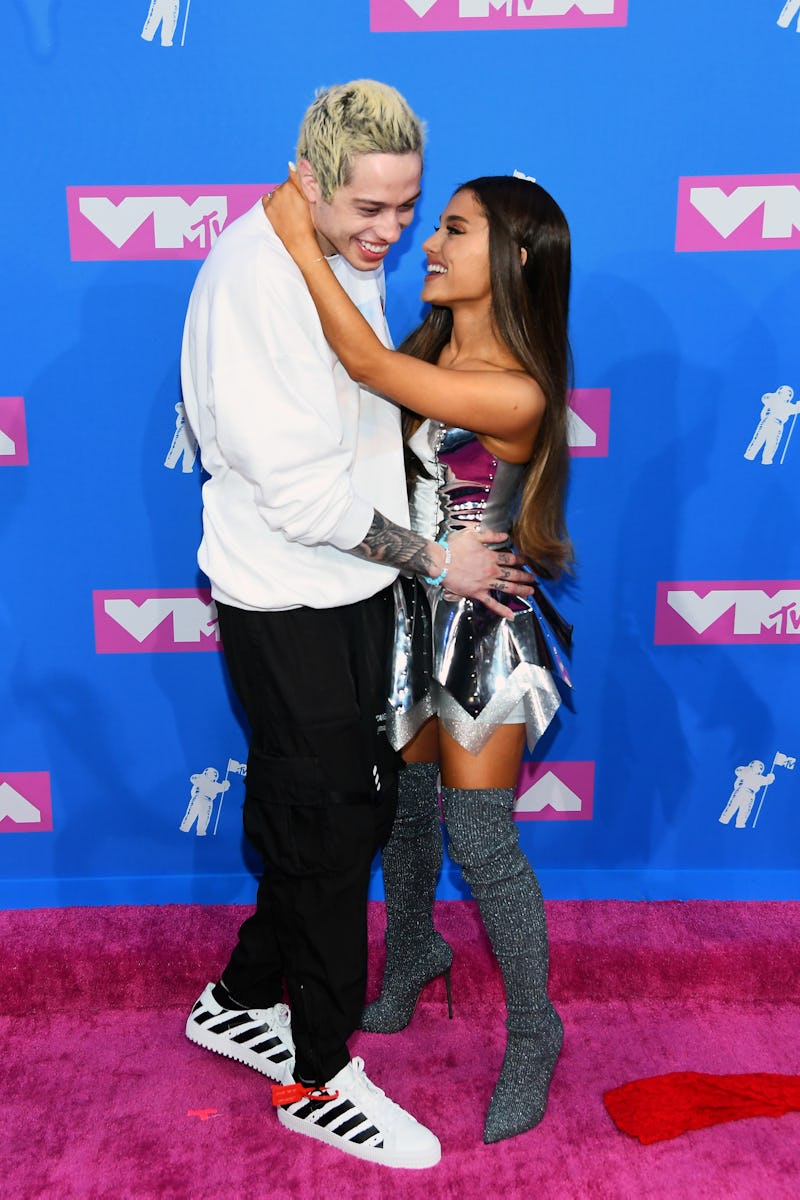 Nicholas Hunt/Getty Images Entertainment/Getty Images
Today is another day which means there's another celebrity couple getting matching, coordinating, or inspired by tattoos. In this case, though, the ink in question is more of revision than anything new. Pete Davidson covered up his Ariana Grande Dangerous Woman bunny tattoo. But don't worry, Grande and Davidson shippers. These two still seem to be rock solid — and Davidson's new ink proves it.
Back in June, Davidson made headlines for getting a suspiciously Ariana Grande-esque bunny mask tattoo behind his ear. While the actor and comedian has never officially confirmed that it was inspired by his now fiancé, it seems pretty obvious given her well-known phase of wearing all things sexy bunny ears. That ink, though, is gone now. However, it's been replaced by another Grande symbol (or at least, it allegedly is).
In place of the bunny tattoo, Davidson now appears to have the letter "A" with a heart as seen by Bustle in a recently deleted paparazzi shot. In fact this week on Saturday Night Live, Davidson's missing bunny was even noticed by fans. One person even snagged a screenshot and posted the image to Twitter. In it, you can see the large heart where the bunny ears used to be. Now, however, in the deleted paparazzi shot, the heart seems to have been joined by an "A."
Given his relationship status and the fact that only a few weeks ago he copied Grande's Breakfast at Tiffany's tattoo, it's hard to imagine this new ink being anything other than a revamp of an already Grande-inspired tattoo. While there's been no word on Davidson's new ink from either he or Grande, they've certainly got a long and well-documented track record of getting tattoos inspired by or matching their partners' own.
At the beginning of September, Davidson added to his ever growing ink collection by getting another bit of art inspired by his partner. In images of Davidson captured during New York Fashion Week, you can just make out the name Grande tattoo on his rib cage. It's an overt homage to his fiancé, but it's certainly not his only one.
Next up, is a bit of art that's less overt but certainly seems to be connected to his relationship. In case you hadn't heard, news has been swirling that Grande and Davidson allegedly adopted a pig together. In mid-September, the SNL cast member just so happened to get an adorable pig tattoo with the name Piggie Smallz underneath. Coincidence? Maybe but probably not.
While Pete Davidson's new heart and "A" tattoo could be completely random and totally unrelated to Grande, given this couple's track record, that seem pretty unlikely at this point. Instead, it seems that Davidson simply replaced an old tattoo that was based on Grande's career with a tattoo that more about Grande the person.
If you were worried that the cover-up meant this couple may not make it down the aisle, don't worry. It seems like you may get to see Grande in a wedding dress and maybe a cute piggy ring bearer.