Apparently Pete Davidson Is Dating Again & Honestly, Good For Him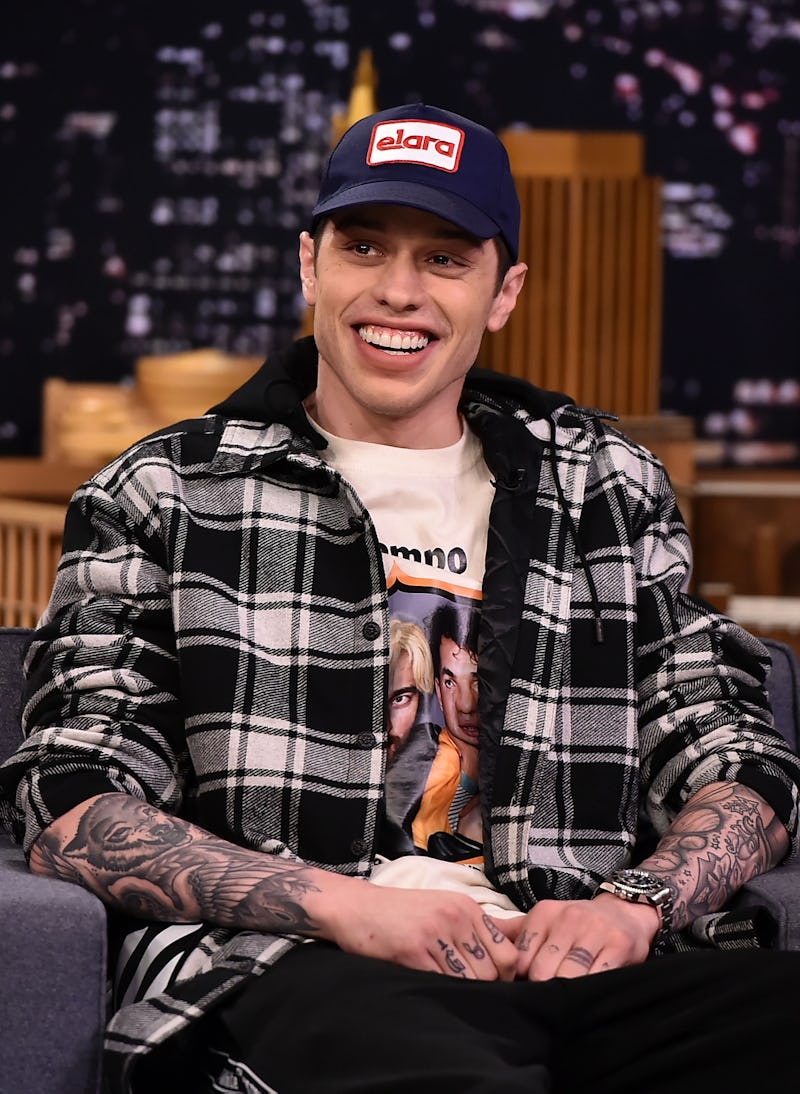 Theo Wargo/Getty Images Entertainment/Getty Images
It's been about two months since Grandson decided to go their separate ways, and it seems as if both parties are slowly but surely moving on. Ariana Grande is currently in a relationship with herself, as per her lyrics to "Thank U, Next," and Pete Davidson is reportedly dating again as well, according to sources for E! News and Us Weekly.
Hey, you know what? Good for him. There's absolutely no reason why he shouldn't be putting himself back out there if he's ready to do so, and anyone who says otherwise is definitely in the wrong. Let the man live.
The first source for Us Weekly told the publication that Davidson is currently looking for love on a dating app. Which dating app, exactly? That remains unclear. Bet his profile is pretty funny, though. A second source for Us Weekly added,
"Pete is dating again. He's in a good place and he's happy. He's not in a rush. He's focusing on himself and the future."
News of Davidson wading back into romantic waters has come just one day after the Saturday Night Live star opened up about his struggles in the wake of his and Grande's breakup. In a Notes letter to fans posted on Instagram, Davidson wrote, in part — you can read the entire letter here and below — that he's been "trying to understand how when something happens to a guy the whole entire world just trashes him without any facts or frame of reference."
First of all, it's pretty damn brave for Davidson to put it all out there like that after being incessantly bullied on social media. Whatever happened between him and Grande is just that — between them — and there's no reason for him to be on the receiving end of so much hate.
Even Grande herself felt moved to come to her former fiancé's defense recently, asking fans in a post on her Instagram Story to "please be gentler with others ... i care deeply about pete and his health," she wrote.
At the end of her statement, the singer concluded,
"so please let whatever point you're trying to make go. i will always have irrevocable love for [Davidson] and if you've gotten any other impression from my recent work, you might have missed the point."
Grande clearly wants the best for Davidson, and likely isn't too upset about the rumors that he's dating again after their split. After all, Grande's seeing someone new too: herself. As per the lyrics of her new smash hit, "Thank U, Next":
"I met someone else / We havin' better discussions / I know they say I move on too fast / But this one gon' last / 'Cause her name is Ari / And I'm so good with that."
See? Everybody involved is good. Let them live their lives. And if the reports about Davidson using a dating app are true, single ladies of New York, you may want to get swiping. Maybe just steer clear from referencing anything Grande-related on your profile, though?