Ariana Grande's Brother Broke His Silence On Her Engagement To Pete Davidson & It's So Supportive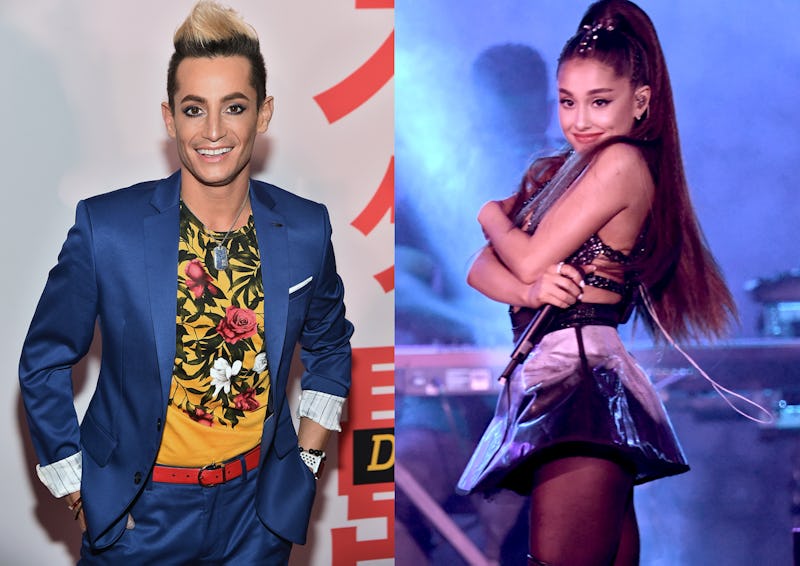 Theo Wargo/Getty Images Entertainment/Getty Images; Kevin Winter/Getty Images Entertainment/Getty Images
If you were concerned that Ariana Grande and Pete Davidson's engagement was moving too fast for her family, think again. Her brother Frankie Grande weighed in on the pop star's engagement and he couldn't be happier. He also couldn't be more excited about her big year, which includes the release of Ariana's new album, Sweetener. And yes, it will include a song about Davidson that Ariana teased on Twitter and Instagram two months before the album is expected to drop.
In an interview with Entertainment Tonight on Monday, Grande talked about his younger sister's engagement, which is now Instagram official thanks to Davidson's post that showed off Ariana's reported $93,000 diamond ring. "Oh, my God, I'm so happy for my sister, for my whole family," Grande said at Broadway Sings for Pride's Revolution Annual Charity Concert in New York City. "It's a big year for her."
Ariana's fourth album in five years comes just over a year after the tragedy of the Manchester bombing, which resulted in the death of 22 of her fans after a suicide bomber targeted the gig at the Manchester Arena. But, Grande wants to focus on the good things that have been happening to his sister, and of course, plug her new single, "The Light Is Coming," out June 20.
"Sweetener's coming — very, very excited," Grande told Entertainment Tonight. "'The Light Is Coming' is out in, like, minutes, which I'm unbelievably excited about, and just as a family, we're in a really good place. It's a time to celebrate. It's joy, it's happiness — it's the Grandes' year. Look out for us 'cause we'll be everywhere!"
If you weren't already excited about Ariana's album, Sweetener just got a even sweeter now that fans know Davidson will get a shout-out on it. On Monday, Ariana teased the interlude "Pete" on Instagram, which is named in honor of the SNL star. Grande also confirmed the romantic interlude in his interview with ET.
From the sounds of the short snippet Ariana shared, the song is a slow-grind that she tweeted was "ab[out] pete," hence the name of the song. While the singer only shared a small portion of the track, her brother has heard it, along with the rest of the album, in its entirety, telling Entertainment Tonight, "Yes, I've heard the whole thing. It's truly remarkable — it's a remarkable piece of work." Not everyone agreed, though, with one Twitter fans taking issue with the interlude's name.
But just like Frankie Grande said, the family is all about love right now, which is why Ariana clapped back when a fan called her "dumb" for naming a song after Davidson. On Sunday night, one fan tweeted, "'Pete' girl we know you love him but are you dumb." Almost immediately, Ariana decided to respond, shutting things down with one word: "nah."
Later, though, she would expand on why she wanted to dedicate a song to Davidson, letting fans know she doesn't care what they think about her quick engagement. "The truth is [teacup emoji]," Ariana tweeted on Sunday. "I been the f*ck thru it and life's too short to be cryptic n sh*t about something as beautiful as this love I'm in. so ǝʇǝԀ it is."
Sweetener isn't all love songs about Davidson, but it's certainly about love. The first single, "No Left Tears To Cry," is a tribute to the victims of Manchester. Back in May, when she appeared on The Tonight Show, Ariana said the album is "about bringing light to a situation or to someone's life or somebody else who brings light to your life or sweetening the situation."
That person or situation might not always be her new fiancé, but when Ariana releases her new album it's clear fans will be searching for any and all the references to her new love, Pete. Hopefully, her brother might be able to continue being the supportive big brother and help fans support them too.